Not only is Carly Morris set to graduate this year with her high school diploma and an associate's degree in psychology, she's also been accepted with scholarships to all 13 colleges nationwide to which she applied (she was still waiting for a response from the University of Pennsylvania as of the time this article was written.)
In addition, she's planning to attend her first choice school, Christopher Newport University, in Newport News, Va., where she's been accepted into the University's Presidential Leadership Program, which includes the Presidential Leadership Program and study abroad scholarships.
How did she do it? By taking college courses in high school through the dual enrollment program at Montgomery County Community College.
Students 15-years-old and older can take classes at one of MCCC's campuses, online or at their high school with trained faculty and earn undergraduate credits. These credits can be transferred to a four-year college or university. Courses are offered in the evenings, on weekends and during the summer.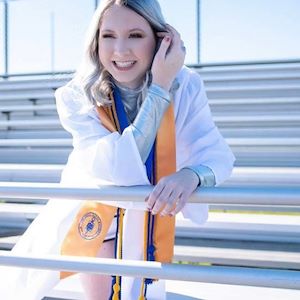 Morris, an 18-year-old Pottsgrove High School senior said her journey began after she decided to take an online introductory English course at MCCC's Pottstown Campus the summer following her sophomore year at Pottsgrove High School. Then she planned to take English 102 in person the following fall or winter semester. While she was at it, she figured she might as well take the Introduction to Criminal Justice and Introduction to Psychology courses at the College too, given her desire to major in forensic psychology, she said.
"I knew I had four courses I wanted to take," she said.
Christine Morris, Carly's mom, Grant Coordinator/Special Assignment Act101 & Gear Up at MCCC, spoke to a friend about her daughter's plan. They suggested she keep going and finish an associate's degree before graduating high school, which would really set her up for the future.
The opportunity was too good to pass up.
"Once you give me a test like that, I'm going to see it through," said Morris.
At MCCC, Morris has been a model student, involved both in and out of the classroom. She is a member Phi Theta Kappa, the International Honor Society for Community Colleges, which requires a student to have a GPA of at least 3.5 and earned a minimum of 12 credits at the College. She also is a member of Psi Beta, the Community College National Honor Society in Psychology, and the Psychology Club.
Juggling classes at Pottsgrove and MCCC presented a unique challenge for Morris, but she took it in stride thanks to the flexibility her schedule provided her on the days she attended classes at the College.
"It was cool," she said. "I got to do that at my own pace and learn at my own pace. Do assignments the way I do it, which is different from high school where everyone does assignments at the same time. It was cool to able to do other things than just sit in a class all day."
The courses at MCCC were more challenging than the ones she was taking in high school, but she appreciated the help she received. She credits her experience in the Dual Enrollment Program, for helping her to mature and take responsibility for her own education.
"Your professors, they're going to be there for you to help you to succeed," she said, "but you have to have personal responsibility to see you get there as well."
For Christine Morris, choosing MCCC was one of the best things for her daughter's future.
"I can say that Dual Enrollment was the best decision we ever made," she said. "When we first started her dual enrollment classes, we never imagined she would be graduating with her degree from Montco, let alone a month before she graduates high school. We weren't looking that far ahead! However, the entire experience has shaped her and her goals for the future."