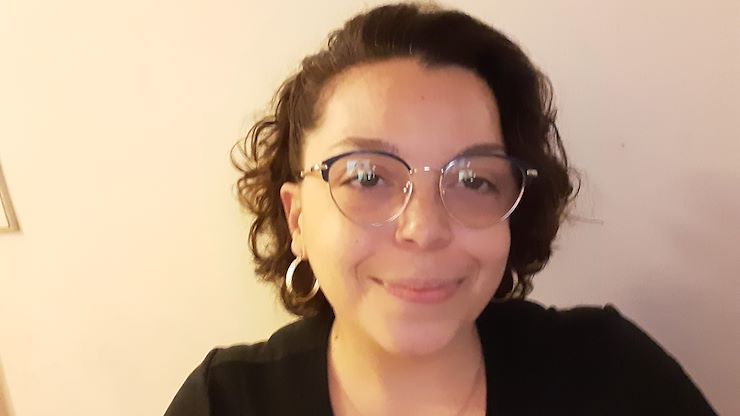 When Jennifer Williams crosses the stage to accept her associate's degree from Montgomery County Community College, it will be the realization of a dream she's held on to for decades. Plus she will be the first in her family to do it.
Williams, 40, is a first-generation college student on track to graduate this December. The Brooklyn native and psychology major, who currently lives with her husband and four children in Norristown, hopes the accomplishment will inspire her loved ones to follow in her footsteps.
"This is starting something for my entire family name. It's achieving it for everyone who didn't," she said. "It will lay out the sentiment this is something we can do in this family."
Williams comes from multicultural roots—she's Puerto Rican and Black on her mom's side of the family and Greek on her dad's side. Her heritage has played a large part in the way she was raised, she said. Growing up as an only child living with a single mother in New York, Williams said she learned to get by on her own.
"I was born and bred self-sufficient," she said. "I was a latchkey kid at 7. I was working at 11."
As a kid, she and her mom moved around the country several times, before always coming back to the Big Apple at some point. When she was 10 years old, they moved to California for six months. When she was 16, they moved to Philadelphia for a year. Her mom worked several different jobs, including as a secretary for a lighting company and as a property manager. Her dad didn't have a presence in her life.
Williams said she was a good student and has always loved going to school. Yet, life kept getting in the way. When she was 17, she got pregnant with her first child. She fought hard to keep going to school and even went to class the day her labor was induced, she said.
She tried going back to school two weeks after she gave birth and even registered to go to college in May, but it soon became too difficult to find someone to watch her baby. Then her grandmom kicked her out of the house three weeks before graduation.
"I had a dream and I couldn't achieve it," she said.
In 2000, New York City sponsored a program for students looking to earn their GED, where if you enrolled in a city college you could earn an associate's degree and a high school diploma at the same time, she said. Williams was 20 years old but her college still needed her mom's W2 form to process her application. Unfortunately, her mom sent the wrong paperwork in and Williams was forced to leave campus. When she tried to return the following year, the city had canceled the program. At 23, she took a day off from work as a receptionist to try to enroll in a GED program. The classes were already filled.
"This is starting something for my entire family name. It's achieving it for everyone who didn't." -Jennifer Williams
"I just remember thinking, 'Why is this my life and my luck?'" said Williams. "'I just want to go to school.'"
So she put her dream of an education on hold for a while. She and her husband had three more children and they moved to Pennsylvania. When she was 29 years old, Williams finally got her GED. From there she decided she needed to move up from working entry-level jobs and took a class to earn a dental assistant certificate. The certificate allowed her to land a job working at Commonwealth Oral Surgery in Lansdale, where she works currently.
Last summer, in the midst of the throes of the pandemic, Williams remembered sitting on her porch and talking to her cousin on the phone about how she was going stir crazy from quarantine.
"I said 'I'm losing my mind from being in this house. This is old,'" said Williams. "I was reminiscing about the mishaps in my life of trying to get an education, and my cousin said, 'Why don't you go to school now?' And I said, 'You're right. Why not?' The time is now. What better opportunity to get an education than when you're stuck in quarantine?"
So that's what she did. When choosing a school, Williams said she remembered when she used to commute to work in Lansdale and would drive past the Blue Bell campus on Route 202. She decided to look into an education at MCCC and soon realized it would be a great fit for her because after the pandemic was over, her classes would only be 10 minutes away from home.
"If I'm starting this, I'm finishing it," she said. "I need to make sure school is convenient to my life."
Her experience at the College has been fantastic so far. Any worries about taking online courses were assuaged quickly and her professors have been available and helpful. Her Psychology Professor Dr. Steven Baron even invited her to join the psychology club immediately after registering and starting school.
"It really made me feel like a part of the school in the absence of being in an actual school," said Williams. "First impressions are everything. I might not have been as motivated now if it hadn't started that way."
Today Williams is 25 credits closer toward an associate's degree in psychology. She's not exactly sure what she wants to do after graduation, flip-flopping between a degree in law or becoming a life coach. There is one thing she is sure of though.
"Throughout the rest of my life I somehow will always be involved in education," she said. "I love being a student."
As she continues working hard to become the first in her family to earn a college degree, Williams said she's filled with pride.
"What it means to me is everything," she said.
She hopes her children will see how hard their mom worked to get an education and it will inspire them to work just as hard.
"As a first-generation student, I'm taking my education so seriously," she said. "Grades are very important. Right now, my GPA is perfect. I have a 3.84 and I don't plan to drop. I'm showing my kids you can do this."