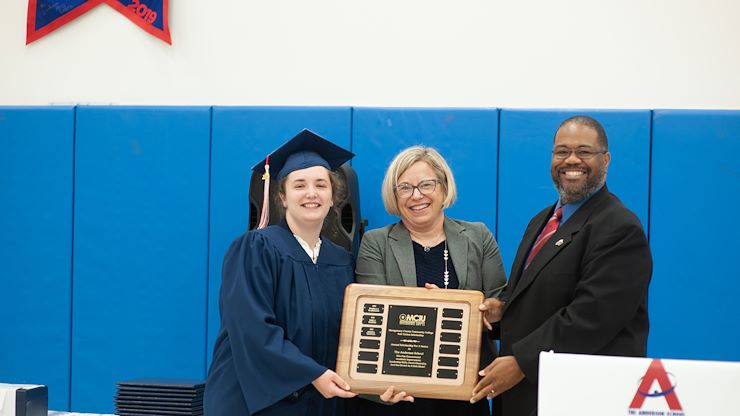 A high school graduating senior recently received a full scholarship to Montgomery County Community College this fall.
During The Anderson School's June 16 graduation ceremony, Dr. Samuel Coleman, MCCC Dean of Students, announced 19-year-old Sierra Santos as this year's recipient of The Montgomery County Community College Full Tuition Scholarship.
For 14 years, MCCC has awarded the scholarship, which covers full-tuition and fees, to an Anderson School senior set to graduate and enroll as an MCCC student. The student is someone who the school believes has demonstrated academic improvement, leadership skills, good citizenship and has served as a role model for others.
Santos was selected for the award based on an essay she wrote, which focused on the importance and need for mental health care in this country and the support she personally received as a student at The Anderson School and in therapy.
"I needed the support I found at Explorations/Anderson," she wrote. "The therapeutic environment these programs offered provided me with lifelong lessons."
Christine Raber, Principal at The Anderson School, said Santos was a very kind, caring student who overcame personal struggles outside of her control, in order to receive her diploma.
"She worked through counseling and came out shining," she said.
During the ceremony, The Anderson School officials read a blurb about Santos and why she was the right choice for the scholarship.
"Sierra always greets us with a smile and a joyful heart. She is quick to help a friend in need and spread her warmth to anyone who needs a boost. Even when things are difficult, she perseveres, asking for support and meeting her challenges head on," it said. "Sierra has positively contributed to the climate of The Anderson School through her leadership and ideas for school activities. Not only does Sierra plan awesome events, but she partakes in our sports clubs and has written for our newspaper. Her favorite subject was English. Her advice to her peers is 'You need to allow the help.' Sierra plans to attend Montgomery County Community College after graduation and major in Psychology. We wish her all the best!"
During his address to students, Dr. Coleman focused on the importance of looking to support structures in life for help when times are tough.
"I told them life is a long road filled with twists and turns," he said. "Always look to those who have supported you along the way. Or come to Montco. There are people here to support you along the way and figure out your journey and get to the next level. If you get stuck, come back to Montco or seek the help of family and friends or come back to The Anderson School. Always surround yourself with people to support you and have your back."
The Anderson School, located in Eagleville and part of the Montgomery County Intermediate Unit, accepts students in 7th-12th grades and was designed to create a learning environment that meets the academic, emotional/social and therapeutic requirements of students in need of extra support. Students who attend The Anderson School are identified and referred by their school districts.
The Montgomery County Community College Full Tuition Scholarship is just one of over 500 scholarships offered to students each year. For more information about how to apply for scholarships and awards, visit the College's scholarship landing page.