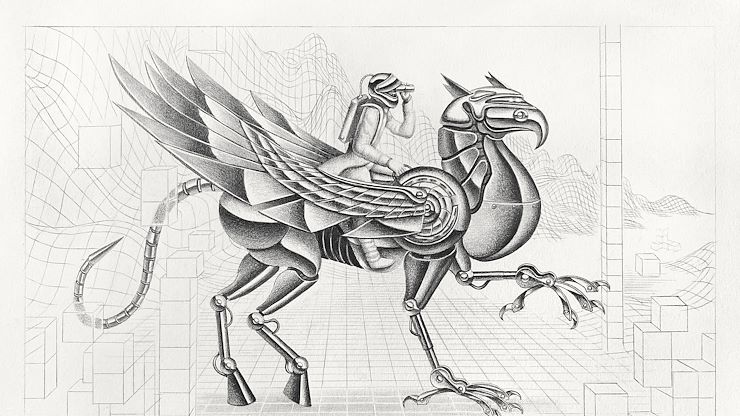 It's easy to get lost in an illustration by Armando Veve – a place where fantasy and reality converge, making anything possible in his exceptionally detailed works on paper.
In Veve's graphite worlds, you get to witness the full potential of an imagination hard at work.
"His imagination is just galactic in scope," said Patrick Rodgers, Galleries Director at Montgomery County Community College. "With Armando's style, I think his technique is so refined that it becomes easy for your imagination to get into his pieces, and from there you notice all the clever imagery and choices and even hidden references he packs into many of his illustrations."
More than 40 of Veve's original drawings, process sketches, and objects will be on view at MCCC's Fine Arts Gallery, 340 DeKalb Pike, Blue Bell, from Oct.13 through Jan. 27, 2023. The Philadelphia native will be in attendance for the opening reception taking place on Oct. 13, from 5 -7 p.m.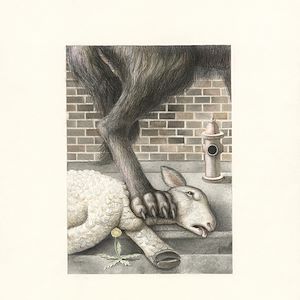 As inventive as Veve's illustrations are, they also touch on topics close to us all, from genetically modified foods to the coronavirus pandemic. Visitors can see parts of their lives, topics that interest them, controversies they pay attention to—from political to literary to scientific—illustrated on the walls in Veve's unique voice.
With appearances in prestigious publications such as the New York Times, The New Yorker, The Atlantic, National Geographic, and Wired, Veve's graphic style and sense of design, along with his knack for story-suggestion, engages readers.
"I think he makes very clever choices about how to approach whatever the assignment might be," Rodgers said, who has worked with nationally recognized illustrators including Maurice Sendak. "He keeps to the topic, but always adds some kind of wry twist or absurdist drama or surreal element that enlivens the topic ever further, and only the best illustrators can do that."
Veve's work will have widespread appeal with the varied audiences that visit the gallery given his ability as an artist to offer something for everyone.
"There's our own student audience, who are always curious about illustration careers, but want to see exceptionally good artwork that will help take them to the next level," Rodgers said. "But there's also our community audiences, whether it's art-interested adults who keep tabs on our cultural offerings and love seeing something new, or county high schoolers who come here for various programs and will be interested in how dynamic and fun his images are."
Broadly reflecting his body of work for the last decade, Rodgers discussed one of the standouts that will be included in the show.
"One of my favorites is a huge graphite drawing called, 'Crown Vic and the Atlantic Flyway'," he said. "It's a 72-inch-wide drawing from the earlier side of Armando's career depicting a streetscape with these nude figures dancing around a Crown Victoria and some buildings in the background. But then more surrealistically, there are crowded groups of birds to the right and left, and each bird is a distinct species that migrates through the Philadelphia area – a natural flight corridor known as the Atlantic Flyway."
Having a knack for storytelling and story-suggesting, Veve, who is a graduate of Rhode Island School of Design, doesn't appear confined by the parameters of his works on paper. "I'm very drawn to his graphic style and sense of design," Rodgers said. "For as packed as some of his illustrations can be, he has a light touch and an amazing sense of symmetry and white space."
Veve's level of artistic quality, clever design and subject matter choices meld traditional aesthetics and modern concepts.
"His style has the precision of a Renaissance engraving," Rodgers said. "I think modern audiences love that kind of blending of the classic and contemporary, especially when it's as subtle and clever as Armando's work is."
Located in Montgomery County Community College's 26,000-square-foot Fine Arts Center in Blue Bell, the art gallery exhibits unique local collections and the work of area artists in a variety of media. MCCC's gallery is free and open to the public Monday through Friday from 8:30 a.m. to 6 p.m. Free parking is available. Exhibits change throughout the year.
Funding for the Armando Veve exhibition was provided through grants from the Joseph Robert Foundation and the Philadelphia Foundation's Edna W. Andrade Fund. The Edna W. Andrade Fund, a Donor Advised Fund of the Philadelphia Foundation, supports grants for local or national museums or nonprofit art organizations to benefit visual fine artists from Greater Philadelphia.