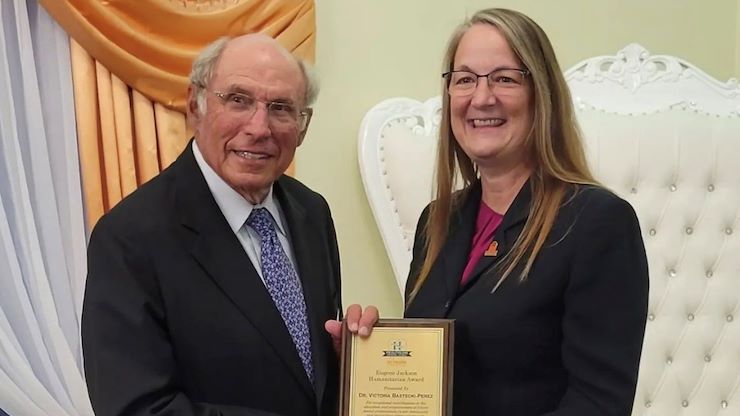 HealthLink Dental Clinic recently presented the 2021 Eugene Jackson Humanitarian Award to Montgomery County Community College President Victoria L. Bastecki-Perez, who humbly accepted the honor during the Clinic's Birthday Bash celebration.
Named after the Clinic's founder, the prestigious award recognizes "the exceptional contributions to the education and empowerment of future dental professionals in our community and stewarding strong community values in the students who attend Montgomery County Community College." MCCC also was recognized for its commitment to community service.
"Dr. Bastecki-Perez sets a wonderful example of what it means to care for the overall well-being of a community, and that is apparent when we see the dental hygiene students from Montgomery County Community College and how much they care for the patients who walk through HealthLink's doors," said Dr. Bernard Dishler, HealthLink's Immediate Past President of the Board of Directors, when he presented the award.
Because of COVID-19, both the 2021 and 2022 awards were presented this year. HealthLink also presented the 2022 Eugene Jackson Humanitarian Award to The Bresler Family. In addition, the Barbara Hartnett Volunteer awards went to the volunteer dentists who helped to start the clinic – Yuval Azulay, DMD; Jeffrey Brenner, DMD; Bernie Dishler, DDS; Anthony Ermocida, DDS; Michael J. Gallagher, DDS; Anthony Giannetti, DMD; Daniel J. Harmon, DDS; Alan Kirsch, DDS; Arnold Pfannensteil, DDS; Michael Schelkun, DDS; and Robert Singer, DDS – and volunteer Marguerite Raab. The Community Partner Awards were presented to Ann Silverman Community Health Clinic and Penn Community Bank.
During this year's event, HealthLink Dental Clinic celebrated the service of more than 28,209 patients and $12 million in free services.
HealthLink Dental Clinic is a free dental clinic in Hatboro, PA, serving low-income adults and veterans. The clinic provides free preventative and restorative dental services, and oral health education, to qualifying adults in Bucks and Montgomery counties. MCCC's second-year dental hygiene students participate in preventive services rotations, including HealthLink Dental Clinic, as part of MCCC's comprehensive Dental Hygiene program.
MCCC's Dental Hygiene associate degree program prepares students to work as dental hygienists in a variety of settings and to provide preventative and therapeutic care to the public. Students receive extensive, hands-on training in MCCC's state-of-the-art dental hygiene clinic and gain clinical experience at community-based sites. Upon successful completion, MCCC graduates are eligible to take both the National Board Dental Hygiene Examination and the regional Commission of Dental Competency Assessments examinations required to obtain licensure as registered dental hygienists.
Since 1973, the Montgomery County Community College Dental Hygiene Clinic has been providing the public with comprehensive preventive dental hygiene services, and Dr. Bastecki-Perez served as the second director of the program. Located in the state-of-the-art Health Sciences Center on the Blue Bell Campus, MCCC's facility uses modern equipment and the latest technological advances. Students within the Dental Hygiene degree program recruit and schedule patients to help meet their clinical requirements. All treatment procedures are supervised by licensed dentists and dental hygienists.