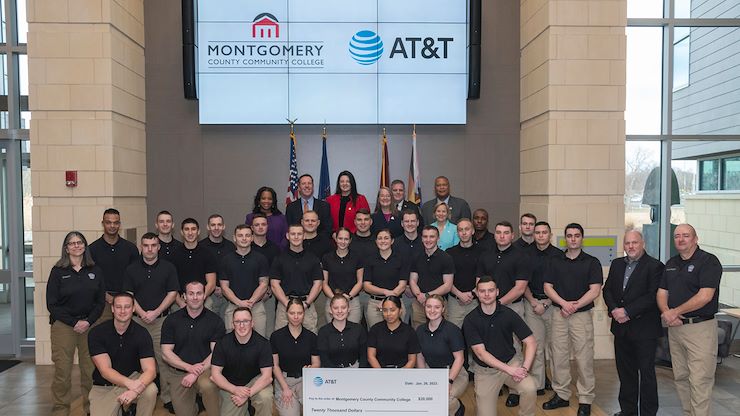 AT&T Public Safety Scholarships now are available to assist Montgomery County Community College's (MCCC) Municipal Police Academy cadets. As part of AT&T's commitment to first responders and the public safety community, scholarships will help support students who face economic barriers including the digital divide.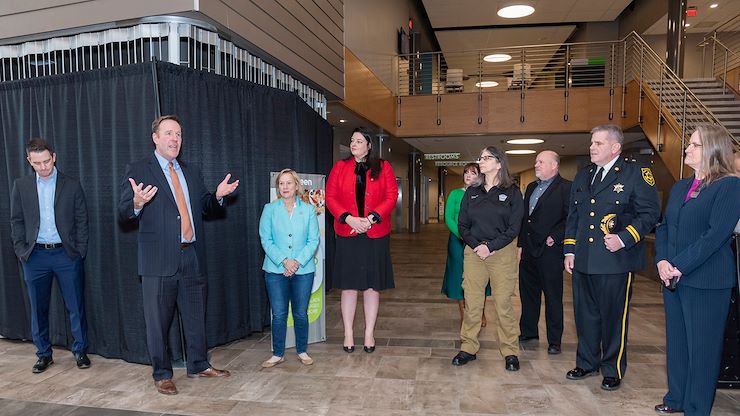 The new scholarship, which is made possible thanks to a $20,000 grant from the AT&T Foundation to the MCCC Foundation, was enthusiastically announced during a special event at MCCC featuring college leadership, state and local officials, cadets and representatives from AT&T.
"The AT&T Public Safety Scholarship program is a welcomed investment that fosters the success of our police cadets, advances the work of the Municipal Police Academy, and contributes to the safety and protection of our communities," said Dr. Victoria L. Bastecki-Perez, MCCC President. "The College is grateful for the AT&T's collaboration, supporting our students who will be serving in vital roles as first responders."
"At AT&T, we've been given the responsibility of building out the FirstNet® wireless broadband network built specifically for public safety in Pennsylvania and across the United States," said David Kerr, president, AT&T Pennsylvania. "We're also helping to inspire and prepare the next generation of first responders in Pennsylvania, which is why we created the AT&T Public Safety Scholarship program. We appreciate those who answer the call to serve their communities."
Montgomery County Sheriff Sean P. Kilkenny, who serves on Montgomery County Community College's Board of Trustees, attended the check presentation held at MCCC's Blue Bell Campus, where the Municipal Police Academy is located.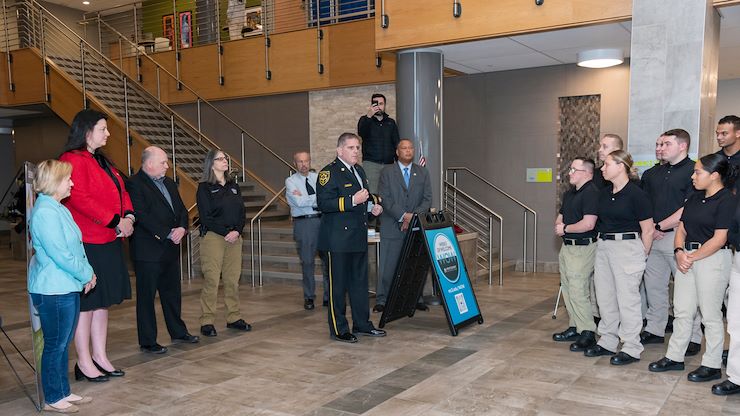 "As a trustee at Montgomery County Community College who has collaborated with the Foundation for the Sheriff's scholarship fund, I wholeheartedly believe in educational support for those pursuing careers in law enforcement and public safety. The AT&T Public Safety Scholarship will undoubtedly be of great benefit to those students and the communities they go on to serve," said Kilkenny.
Pennsylvania State Senator Maria Collett and Pennsylvania State Representative Liz Hanbidge also spoke to the cadets and attendees during the event.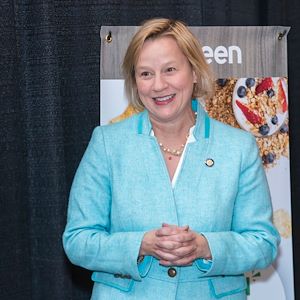 "Montgomery County Community College's Municipal Police Academy is a critical training ground for the next generation of first responders in our county and across the Commonwealth. Thanks to this investment by AT&T, even more students will be able to answer the call to serve and access this incredible program – and our communities will be safer for it," said Senator Collett.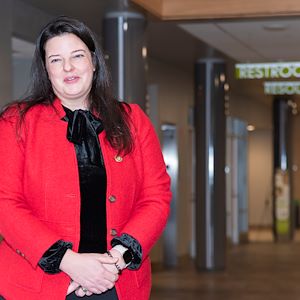 "I'm very pleased to see companies like AT&T investing in programs like Montgomery County Community College's Municipal Police Academy, not only supporting these developing first responders but also as an investment in public safety for all Pennsylvania residents and as an investment in our education system," said Rep. Hanbidge. "This is a prime example of just one of the ways we can support our incredible first responders!"
Since 1973, Municipal Police Academy at MCCC has been the training program for more than 4,100 cadets with a consistent graduation rate of more than 90 percent. The Commonwealth of Pennsylvania through the Municipal Police Officers' Education and Training Commission certifies the Academy. The 919-hour curriculum allows successful students to articulate up to 15 credit hours toward an associate degree in Criminal Justice. Many of the Academy's alumni serve as officers and in leadership roles throughout Montgomery County and the region.