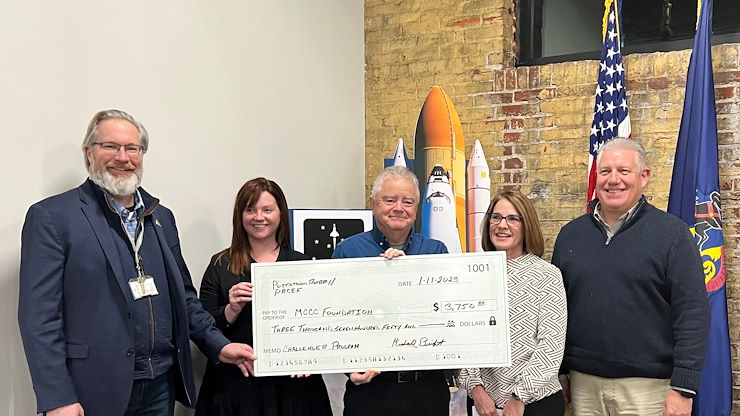 The Pottstown Rotary Club partnered with the Blue Bell Rotary Club to secure a Rotary District 7430 grant in the amount of $4,000 to provide hygiene items to the new Wellness Center on the Pottstown Campus of Montgomery County Community College. The Wellness Center, which officially opened on Dec. 2, 2022, provides resources to help students with the vital essentials they need to succeed. One of those resources is the food pantry which includes refrigerated and freezer storage, non-perishable foods, toiletries, and household items. The Wellness Center and food pantry are accessible to all part-time and full-time students.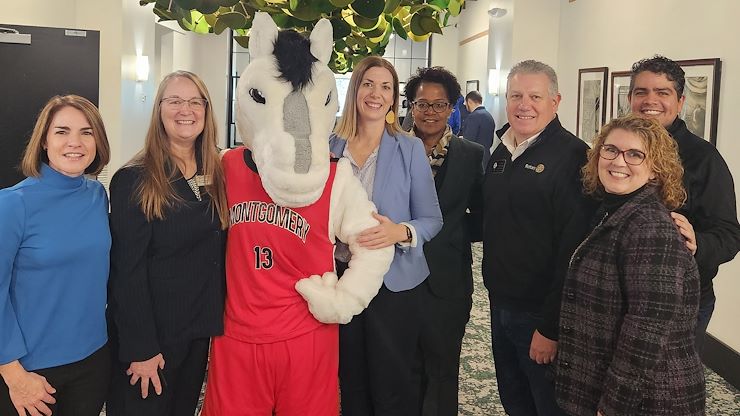 "We have been surprised throughout the pandemic by the number of students who are going without the hygiene necessities we use on a daily basis," said Dr. Nichole Kang, Director of MCCC's Wellness Center. "Students have to be in a very vulnerable position to come to us to say they can't afford toilet paper or soap. Now, with the supplies provided by the grant, students can come and take what they need while still maintaining their dignity. They are able to make sure their families have clean laundry and dishes. We're so grateful to be able to provide personal hygiene supplies to our students, thanks to the grant from the Pottstown Rotary and Blue Bell Rotary Clubs."
On Jan. 11, the Pottstown Rotary Community Endowment Fund (PRCEF) presented a check in the amount of $ 3,750 to the Montgomery County Community College Foundation to provide bussing for Pottstown Middle School students to attend the Challenger Learning Center. The grant was made possible by a generous donation from Nicole Miele and Miele Manufacturing to the PRCEF. The Challenger Learning Center is located on Montco's Pottstown Campus and is focused on science, technology, engineering, and mathematics (STEM) through simulated space missions. It is one of nearly 40 locations throughout the U.S. which were founded by the families of the astronauts who were tragically lost during the 1986 Challenger space shuttle mission.
"We greatly appreciate the support from the Pottstown Rotary Club to help cover the cost of transportation for Pottstown Middle School students to attend the immersive space missions at the Challenger Learning Center," said Kevin Orangers, Director of Educational Engagement and Innovation. "Students learn best from hands-on, interactive experiences where they can become fully engaged in the learning process in a collaborative, fun way. This grant will help us provide these opportunities to the learners in the Pottstown community, where the resources are needed and will have a lasting impact."
"One of Rotary International's areas of focus is to support education in communities. By providing these opportunities and much needed resources to the students of the Pottstown community, we are doing just that. We are pleased to be able to partner with the college and look forward to working together in the future," said Lauren McCloskey, President of the Pottstown Rotary Club.