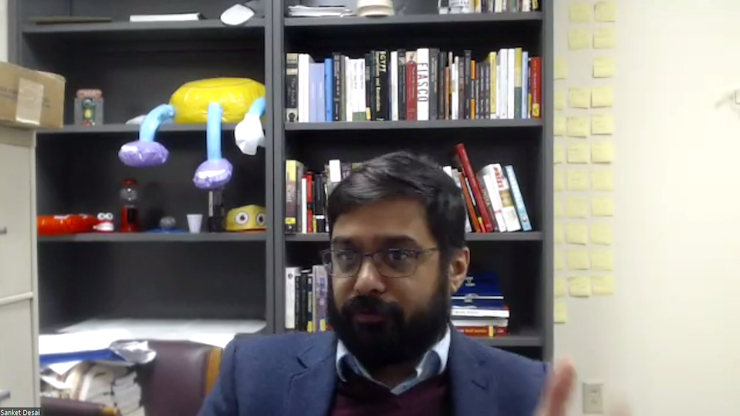 The first session of "Racism in America: The intersectionality of race, class and gender as weapons of oppression" focused on how ethnicity and culture determine one's identity.
"The focus we're really looking at is race, ethnicity and American culture," said MCCC Assistant Professor of History and Lecture Series Liaison Sanket H. Desai, who led the discussion. "We're looking at America and specifically looking at it through the lens of citizenship."
The three-session virtual series, which returned Wednesday, Jan. 18 at 12:30 p.m. is facilitated by Professor of English Dr. Fran Lassiter. The second session will be held Wednesday, Feb.8 at 12:30 p.m. followed by the finale on Wednesday, Feb. 22 at 12:30 p.m. Each online session is free and open to the public, but registration is required.
In his lecture, Desai opened the pages of history to as far back as the mid-1850s to examine how the country, through federal legislation and court cases, wrestled with the concept of who could and should be considered a citizen of the United States, both at birth and through naturalization.
"At the end of the day, it's about individuals and individual stories," said Desai. "Not just one person but about parents, children, siblings, families. Thousands living at the time but millions living after."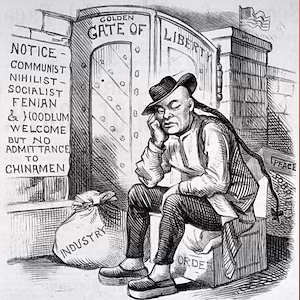 Among the legislation reviewed included the Civil Rights Act of 1866, which excluded Native Americans from birthright citizenship. They could naturalize, however, if they agreed to leave their culture and society, explained Desai.
The Naturalization Act of 1870 extended naturalization to Africans and those of African descent but the debate focused specifically on people from China.
"Congressmen at the time said they considered Blacks as part of American culture," said Desai. "'They're Christians, who have lived here and are like us.' The Chinese are a totally different issue. You can see the debates start to really show what the mood of the country and Congress was toward the Chinese."
Other examples included the Naturalization Act of 1906 which required immigrants to learn English in order to become naturalized citizens. Desai explained at the time that naturalization would also only be extended to white or Black people.
"You could be born a citizen but could not be naturalized if you didn't fall into one of those two categories," he said. "If you're from the Middle East or South Asia, you couldn't claim to be from Africa. One has a geographical distinction; the other is white. If you're not African, the only other category is white."
Desai said 52 cases were heard between the 1870s and the 1930s over whether various ethnicities were considered white, and thus eligible for naturalization.
This issue continues to rear its head. More recently following the Sept. 11, 2001, terrorist attacks, Arab communities were scrutinized on the basis of whether their ethnicity fit into American culture, leading to questions regarding their citizenship.
"Now suddenly they're being talked about in a way that's similar as the Chinese were in late 19th century," said Desai. "These are always stories about people and family. As they continue to be discussions about citizenship- there will always be stories about people and families."
The Richard K. Bennett Distinguished Lectureship for Social Peace and Justice is supported through an endowment made from the William Penn Foundation through the Bennett Fund of the Montgomery County Community College Foundation. The entire series is sponsored by The Black Reserve Bookstore.
For more information about the 'Racism in America' series and ticket information, visit the landing page.