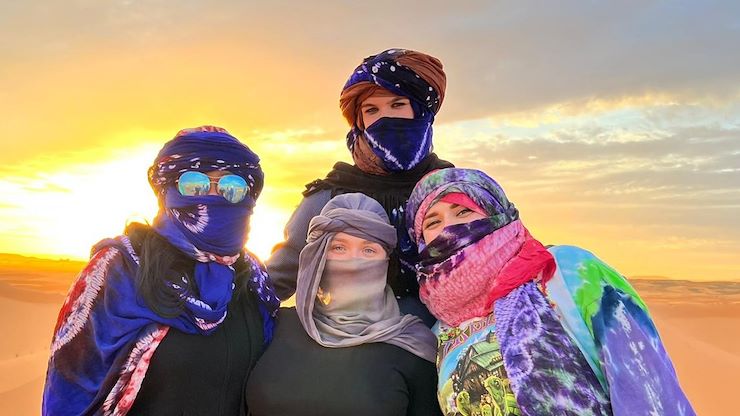 Four Montgomery County Community College (MCCC) students just returned home from the trip of a lifetime after studying abroad for two weeks in the country of Morocco.
Tourism and Hospitality Management students Tina Cobb, 46, of Elkins Park, Nicole Scarpaci, 22, of Harleysville, Gabriella Tornetta, 22, of Conshohocken, and Griffin Whalen, 20, of Warminster, traveled across the North African country from Jan. 1 through Jan. 14, as part of an academic partnership between the tourism programs at MCCC and Temple University. The trip was organized by Dr. Benjamin Altschuler and Dr. Li 'Robert' Xiang, from Temple University's School of Sport, Tourism, & Hospitality Management program.
The four globetrotting Mustangs joined Temple students studying in the Film Induced Tourism course and learned about the dramatic impact being featured in a popular film can have on a country's tourism.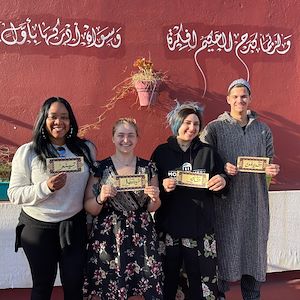 The group visited such sites as the Old Medina in the capital city of Rabat; the Chellah, a walled ruin of a town built by the Romans and UNESCO World Heritage Site; Fes, the country's second largest city; and Casablanca, the largest city overlooking the Moroccan coastline, featuring sites such as the Hassan II Mosque and the Twin Center, the tallest building in the country. The group also had the opportunity to spend a night sleeping under the stars on the sands of the Sahara Desert.
The students had an amazing experience and said it was a great opportunity to immerse themselves in a new culture and learn about the filmmaking production process.
"I loved Morocco," said Whalen. "You get out there and see different types of food, clothing, cultures, customs. It was eye-opening. I've never been exposed to something like this before."
"It was a really great experience to learn about film," said Tornetta. "I didn't know I had an interest in how films were made until the trip."
"It was an amazing opportunity that I didn't know about until (Tourism and Hospitality Management Assistant) Professor Shawn Murray mentioned it," said Scarpaci. "It was nice to get out of Pennsylvania for a while."
"It was amazing," said Cobb. "Every city had so many things to see. The itinerary was jammed packed. Not just academically. They planned the trip to be fun as well. The Moroccan people were very inviting. The food was amazing. The tour was spectacular. I didn't know what to expect going into it. Overall, it was amazing."
Each student said they had different favorite experiences. Whalen for example loved exploring the small shops in the Medina and riding on camelback across the desert.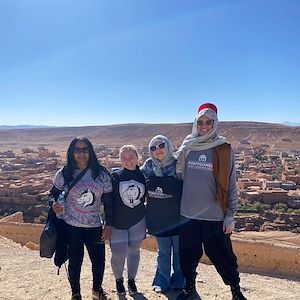 "Or you'd go to restaurants and the staff would wear traditional Moroccan clothing and get up and dance," he said. "The food is delicious and healthy. The potatoes in the market still had dirt on them from being handpicked that day."
"My favorite night was when we went to the desert and slept under the stars," said Tornetta. "You could stay up and watch the stars all night. It was the most surreal experience ever. It was phenomenal."
Scarpaci noted that the movie "Casablanca" was filmed in Hollywood and that the "Rick's Café" in the real Casablanca was opened after the film was released as a tourist destination.
"It was never real when the movie was made," she said. "That stood out to me."
She also was fascinated by the city's architecture.
"I didn't know much about it. In Harleysville, everything is the same thing. I didn't know what room we came out of. The way everything was set up, it fit inside the country perfectly. Every house was different. Every room was different."
Cobb enjoyed learning about the Hassan II Mosque.
"It's such a beautiful mosque," she said, adding she enjoyed learning about Morocco's diversity and the similarities and differences between the Jewish, Christian and Muslim communities.
For Cobb, Scarpaci and Whalen, the flight from New York's JFK airport to Casablanca was their first out of the country.
"I felt like I would be missing home more," said Whelan. "But I wasn't. I called my family twice. I felt extremely immersed in the culture. I loved it. I have a new-found appreciation for traveling."
"This was my first time traveling abroad. I'm 46 years old," said Cobb. "But I'm already a planning another trip in five years to go back."
Scarpaci already has a trip to Italy booked.
"It's nice to know I can handle an eight-hour flight," she quipped.
After MCCC, students said they have different plans. Scarpaci plans to work her way up to become a wedding planner. Tornetta will take some time off before going back to school to get her master's in business. Whalen and Cobb said they're planning to transfer to a four-year institution to complete their bachelor's degrees in tourism.
"The Film Tourism course and study abroad 14-day experience in Morocco was a life-changing experience for our Tourism & Hospitality students," said Murray. "I am truly appreciative of how Dr. Xiang (Robert) Li Professor & Program Chair and Dr. Benjamin Altschuler Associate Professor of Temple University School of Sport, Tourism, & Hospitality Management embraced these students and created this once-in-a-lifetime cultural experience to explore Morocco. This partnership is a great model of how MCCC collaborates with its academic partners. We look forward to continuing our friendship and innovative initiatives to positively impact students' academic and professional development."
MCCC's Tourism & Hospitality Associate of Applied Science degree puts students on the path toward a rewarding career in one of the fastest-growing industries. Benefits of studying Tourism and Hospitality Management include a hands-on academic and working environment, the ability to transfer 60-61 credits to four-year institutions and opportunities for entry into mid-level career leadership.
MCCC has direct program matriculation agreements with Gwynedd Mercy University, Florida International University, Temple University, East Stroudsburg University and Fairleigh Dickinson University.
Career opportunities in the business of tourism and hospitality management include hotel operations leadership roles, food and beverage leadership roles, coordinator roles with professional sports teams, convention and visitor's bureau coordinator roles, sales and marketing, convention sales, ecotourism, casino management, event planning, human resources, revenue management and beverage management, to name a few.
MCCC's Tourism & Hospitality Management Program challenges students academically through project-based learning and innovative course work and hands-on internships, preparing students to become confident industry leaders. For more information, visit the landing page.