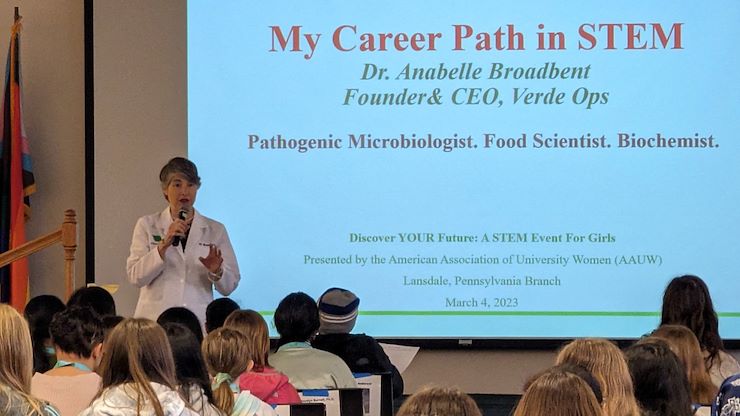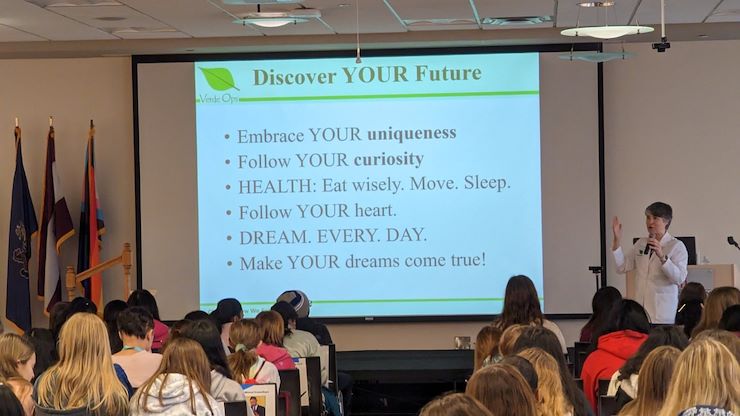 On March 4, 2023, Montgomery County Community College hosted the American Association of University Women Lansdale Branch's Discover Your Future event, which helps middle school girls to explore careers in science, technology, engineering and math (STEM). More than 120 girls were in attendance and enjoyed a day of interactive sessions on biology, chemistry, engineering, physics, astronomy, dental hygiene, microbiology, and technology.
According to AAUW's website, its goal "is not only to expose the girls to new ideas, but to women who have made careers, changed careers and balanced a personal life also."
This year's keynote speaker was internationally renowned pathogenic food microbiologist, food/nutrition research scientist, biochemist and food safety expert, Dr. Anabelle Broadbent. She is the founder & CEO of Verde Ops, whose work focuses on the intersection of Food Science, Movement, and Artistic Expression.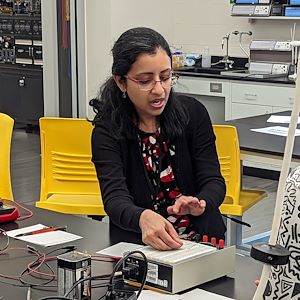 AAUW's Fran D'Angelo and Paula McDaniel coordinated and led the event, and several MCCC faculty and staff members led sessions, including Biology Associate Professor Kris Bompadre, Assistant Professor of Physics Kelli Corrado, Dental Hygiene Instructor Debbie Gnutti, Engineering Assistant Professor Gayathri Moorthy, Part-time Lab Assistant Victoria Moreira, Biology Assistant Professor Stephanie Nnadi (who was assisted by her sister Olivia Nnadi), and Microbiology Associate Professor Elaine Venuti. Student volunteers from MCCC's Dental Hygiene, Engineering, and Environmental Studies programs also helped with the sessions.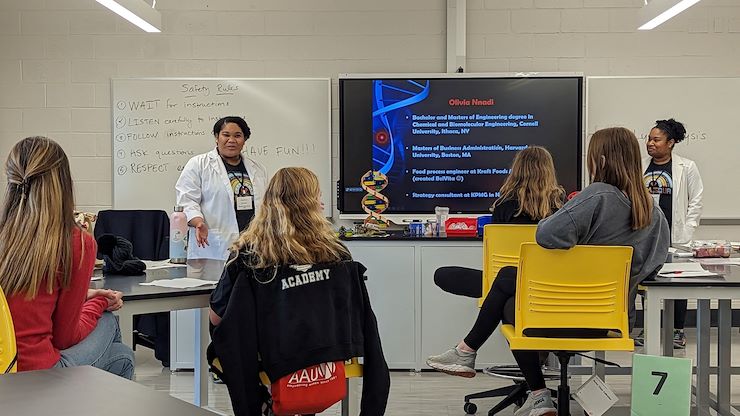 Presentations about dual enrollment, planning for college, and the value of a MCCC education were given to more than 50 family members and guests in attendance by Dean of STEM Dr. Jamie Bretz, Part-Time Enrollment Coach Adam Coleman, Coordinator of High School Programs Shannon Harley, Coordinator of Admissions & Recruitment Riley Morton, and Financial Assistance Coach Cindy Whitley.
Assistant Dean of Academic Affairs Becky Hays, Facilities Use Manager Pat Drewicz, Assistant Director of Client Technologies Eric Karol, Multimedia Specialist Frank Lieb, and others were instrumental in the planning and supporting of the successful event.