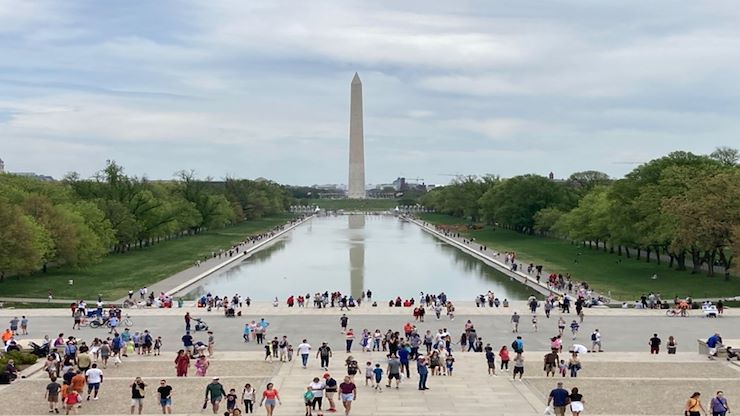 Faculty from the Liberal Arts Division at Montgomery County Community College took a trip to Washington, D.C. to explore the Smithsonian Museums to be inspired, to be engaged, and to be equipped with knowledge that can inform their teaching and scholarship. The Liberal Arts Professional Development Day in D.C. was modeled after the public historic site trails (such as the U.S. Civil Rights Trail) that provide faculty the opportunity to explore historical places and museums to inform what they teach. However, instead of having to stop at several sites, the Smithsonian trip was ideal as its museums and vast collections are conveniently located on the national mall. Furthermore, the range and scope of the museums span the disciplines that comprise the Liberal Arts Division.
"As teachers and scholars, we have to be lifelong learners in the pursuit of knowledge to be the best teachers that we can be," stated Dr. Timothy J. Brown, Dean of the Liberal Arts. He continued, "If we want effective teachers who inspire students and transform their lives, we ourselves have to be inspired and enlightened—what better place to experience this than our nation's capital and the Smithsonian museums."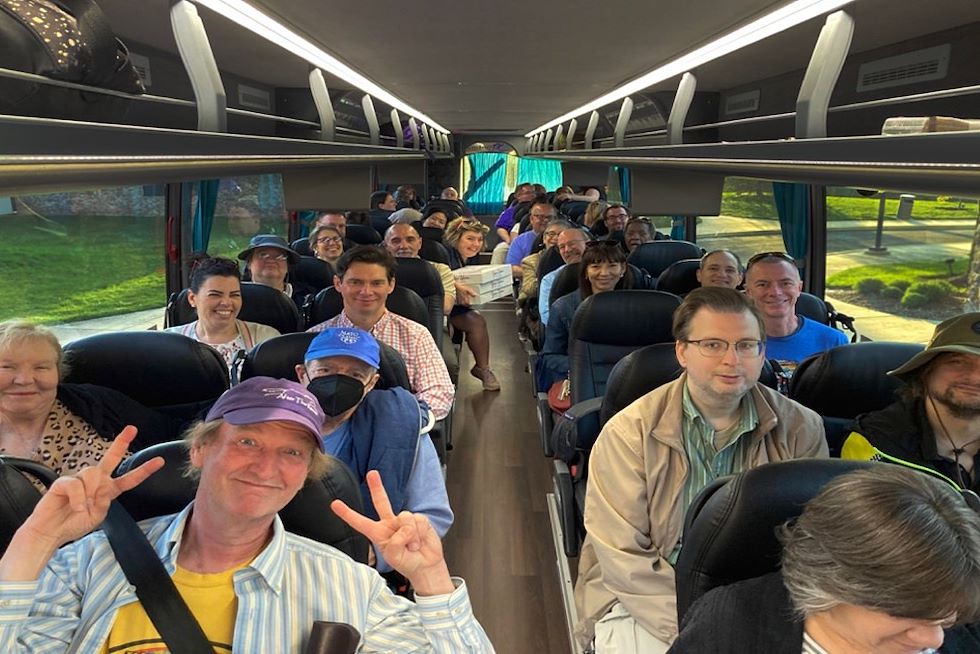 To experience the collections, exhibits, and artifacts, 40 Liberal Arts faculty and staff boarded a coach bus at 7 a.m. on Friday, April 14, to participate in a professional development experience that also functioned as community building for the group. The faculty who were involved in the professional development day reaffirmed the educational and bonding purposes of the trip.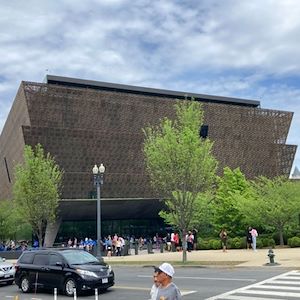 Dr. Hal Halbert, Professor of English and President of the Faculty Union stated: "The Liberal Art's Division Professional Development trip to Washington, D.C., helped feed both the mind and the heart of the faculty by allowing us to experience the power of the Museum of African American History and Culture and other Smithsonian museums as a collective group. Coming out of the pandemic, many faculty have felt isolated even with the return to campus efforts, but traveling together and experiencing the museum's presentation of the historical challenges and triumphs of African Americans brough us together in a bonding experience that helped reinvigorate our commitment to each other as colleagues and to the principles of diversity, equity, and inclusion."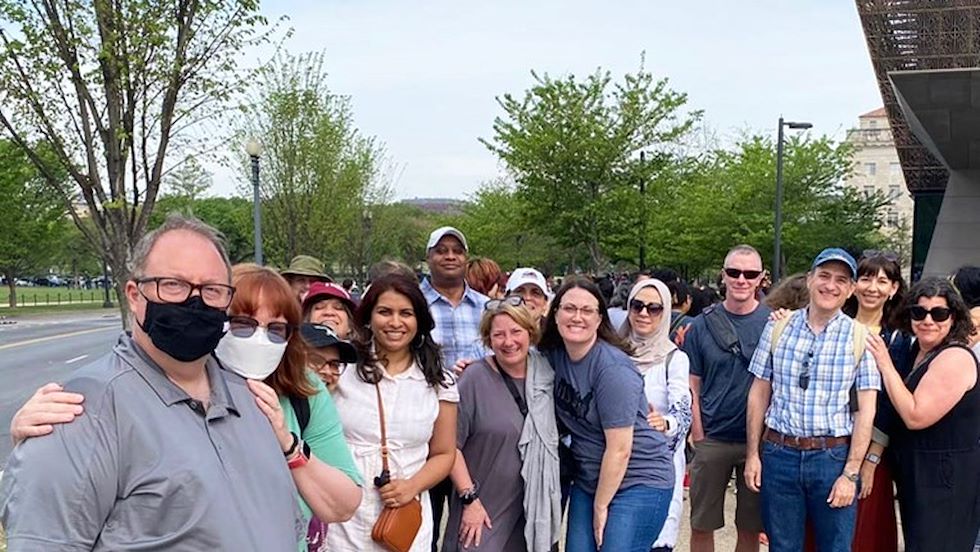 Some of the most explored sites by the faculty included the National Museum of African American History and Culture, the National Air and Space Museum, the Smithsonian American Art Museum, the Freer Gallery of Art, the National Museum of National History, the National Museum of American History, and the Dr. Martin Luther King Memorial.
Jeslin Mathew, Instructor of Communication Studies, commented: "The Liberal Arts D.C. trip was such a wonderful and impactful experience. One of the biggest takeaways was joining many of my colleagues in visiting the National Museum of African American History and Culture (NMAAHC). While I personally enjoyed seeing artifacts from famous musicians such as a stunning sequenced purple dress worn by Whitney Houston or handwritten lyrics to 'Dance with my Father' by Luther Vandross, there were many instances of inspiration to bring back to the classroom."
Mathew continued, "For example, I was able to hear clips of speeches by scholar, athlete, actor, singer, and global activist Paul Robeson. Additionally, I walked through a whole room of artifacts, pictures, books and speech excerpts by American Educator Mary Bethune and her life's work on being an educator, philanthropist, humanitarian and civil rights activist. Throughout the semester, I try to show different examples of Public Speaking to my students, so I am excited to have a new pool of examples to amplify and share."
Dr. Lynn O'Brien, Coordinator of Sociology & Anthropology added, "The trip to D.C. was great. I was really excited to visit the National Museum of African American History and Culture. I learned a lot from the museum and look forward to returning again as it seems like there was so much there to learn and absorb. I also appreciated time spent with my colleagues in this learning environment. Building connections with colleagues is a great way to share and grow as teachers together."
The goal of the Liberal Arts Professional Development Day is to provide innovative ways to inspire, inform, and equip faculty to be engaged teachers and scholars. Last year, the Division held a conference on teaching and learning that featured a keynote speech by Dr. Melissa McCartney who addressed the future of teaching and learning by discussing the impact of A.I. and virtual reality. This year's trip to the Smithsonian provided another approach to experiential learning and community building through historical sites. Patricia DeBrady, Senior Lecturer, The First Year Experience stated, "The D.C. experience was a wonderful way to reinforce collective commitments to both our patriotism and our professionalism."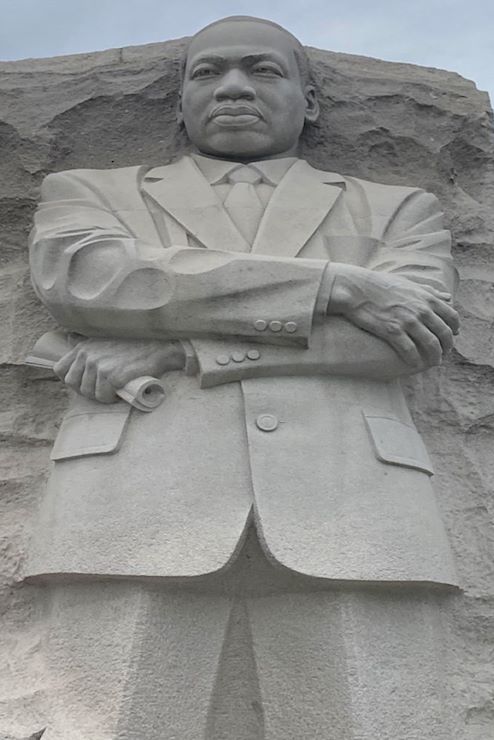 The question is what will next year's professional development day bring. "I'm glad we have a Liberal Arts Team that is open to new approaches and ideas to how we can best support our faculty," commented Dean Brown. "I'm sure we'll land on something innovative that reminds us and reaffirms why we chose to be teachers/scholars."
If you would like more information on this topic, please contact Tim Brown at tbrown1@mc3.edu.
My Reflections on The Hirshhorn Museum and The National Gallery of Art By Dianne Zotter-Mill, Associate Professor of Art & Art Galleries Liaison
This past Friday, April 14, the Liberal Arts Division Professional Development Day trip to Washington, D.C. took place. It was a wonderful collegial experience. This was the first trip opportunity since the COVID lockdown to have Dean Brown, Asst. Dean Patti McEnery, faculty, friends and family come together to enjoy all the treasures that the Smithsonian Museums have to offer. The day was filled with great conversation, laughter, the sharing of new experiences and opportunities to explore history, the arts, and so much more.
The day started quite early with a 3 1/2-hour bus ride south to D.C. Once there, we were free to explore on our own with the stipulation that we return to our bus promptly at 3:45 p.m. to begin the trek home (ahh memories of school class trips). My husband Carl joined me, along with Patrick Winston, my art faculty colleague and close friend. We decided to start our adventures at The Hirshhorn Museum followed by a visit to the The National Gallery of Art.
Of the five current exhibits at the Hirshhorn, we explored: Barbara Kruger: Belief + Doubt; A Window Suddenly opens, Contemporary photography in China; Mark Bradford: Pickett's Charge; and Put it this way: (Re)Visions of the Hirshhorn Collection. These exhibits were all outstanding, especially Pickett's Charge and Put it this way. Pickett's charge was a collage of colored paper, rope, and reproductions of the original images from the cyclorama of the Battle of Gettysburg, transformed into eight abstract constructions each 45 feet long. By cutting, tearing, and scraping through the layers, the artist revealed the many layers and complexities below the surface. The graphic, colorful, and textural works wove together the past and the present creating a narrative of America, then and now. The artwork left us enamored and entranced by the sheer scale of the presentation.
Put it this way: (Re)Visions of the Hirshhorn Collection exhibition was created by 49 women and nonbinary artists in a mixture of media all drawn from the permanent collections. The full-floor presentation was intended to encourage conversations around gender, technology, art, life, and nature. One room of the exhibit was painted black, with text and artwork covering every inch of the floor, walls, and ceiling in white chalk-like paint. The walk-through experience was mind-boggling and captivating. We were engaged both in exploring the surfaces of the room as well as watching other people react to the space. People were turning in circles, looking up, down, sideways, some were even sitting on the floor mesmerized by the exhibit and reading the captivating sayings. Here are a few select samples:
Painting tip: if you get stuck, do your worst work, just to see what happens
Civilization began when the first ANGRY person cast a word instead of a rock
If you think technology will solve your problems, then you don't understand technology—AND you don't understand your problems
Once outside of the exhibit, Patrick and I collectively smiled at the last quote noted above. I said I was going to paint the quote on my classroom walls, and Patrick responded by saying he was adding it to the top of each classroom assignment sheet from here on out. The Hirshhorn exhibitions left us thinking and smiling.
After a quick bite of food truck goodies, we headed to The National Gallery of Art. The first painting we saw and discussed was Salvatore Dali's "The Last Supper." The scale of the painting and the detail was beyond comprehension. Surrealism means "super reality," and this was most definitely super real. We then headed to hell, or rather to see Going through Hell: The Divine Dante which featured early examples of letterpress illuminated books. This visit was followed by an exhibit of early Dutch masters which was Patrick's favorite exhibit because of the minute detail that even a photographic image would struggle to capture. This gallery space was followed by Drawing in Britain, 1700-1900, Philip Guston Now, and This is Britain: Photographs from the 1970s–1980s.
My request was to visit the permanent collections of the Spanish and French Impressionist artists, which included my favorite Art Nouveau artist, Henri de Toulouse-Lautrec. We stared in wonder at the works of Monet, Renoir, Manet, Degas, Cezanne, Matisse, Cassat, Morisot and so many more incredible painters. The texture, depth and color palettes of the paintings was delightful to see in person. It is one thing to look at images in a history book or on a classroom screen, but up close and personal, there is no comparison, it's breathtaking. Finally, we saw the great works of Toulouse-Lautrec. Incredible! His drawings of Jane Averil, a French dancer for The Moulin Rouge was spectacular. His expressive line, hand lettering, composition, and colors created a wonder of text and image. It was so wonderful to see these beautiful works up close and in person. I had only just finished teaching about these works in my art history class the day before. I was left revived and inspired to share what I saw and to teach.
What a wonderful day.