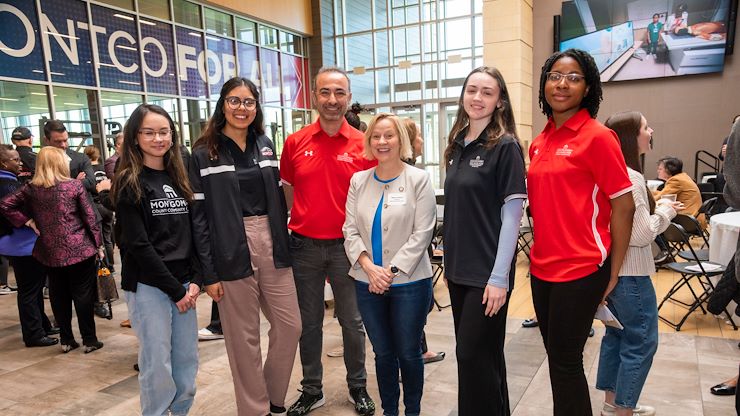 On April 20, Montgomery County Community College hosted a Legislative Breakfast for legislators to visit the Blue Bell Campus and meet with students, administrators, faculty and trustees to learn more about the Montco and the opportunities available for students and the community.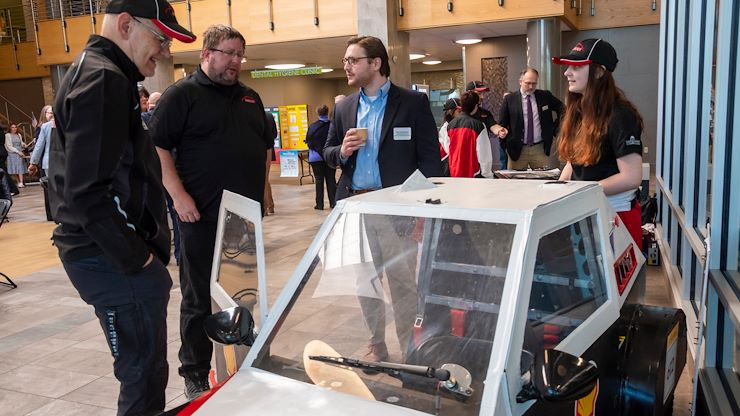 The event started with a meet-and-greet session, where students introduced themselves and shared their stories with legislators. Several engineering students, with Engineering Professor William Brownlowe and Technical Advisor Griff Francis, brought their hydrogen fuel cell-powered urban concept vehicle, INNOVA. The students recently entered the vehicle they designed and developed in the Shell Eco-Marathon Americas 2023 regional competition and won second place in their division.
The attendees included Senator Maria Collett, Senator Tracy Pennycuick, Rep. Mary Jo Daley, Rep. Steve Malagari, Rep. Ben Sanchez and Rep. Donna Scheuren. Also, staff from the offices of U.S. Senator Bob Casey, Congresswoman Madeleine Dean, Senator Amanda Cappelletti, Senator Art Hayward and Rep. Nancy Guenst.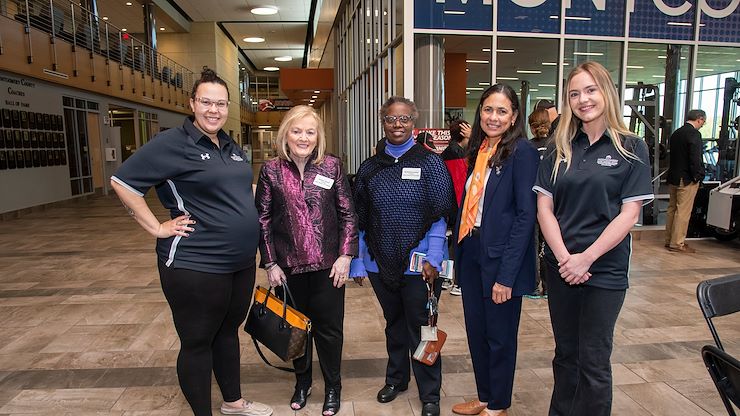 Following the meet and greet, President Vicki Bastecki-Perez shared information about the College's plans, including the 2023-2027 Strategic Plan, 2022-2023 Facilities Master Plan and the 60th anniversary starting in 2024.
"We are getting ready to launch our new 2023-2027 Strategic Plan this fall, where we actually have performance indicators and accountabilities that we will be sharing publicly to hold ourselves and others accountable for the work that we do collectively. In concert, we will be releasing at the end of the summer a new Facilities Master Plan to make sure our facilities are safe, modernized and are meeting the 21st-century skills necessary for our businesses and industries," said President Bastecki-Perez. "We must continue to invest in our facilities to provide the education our communities deserve."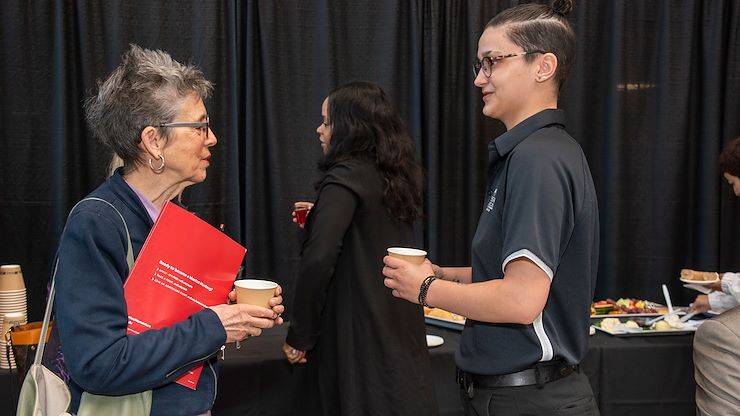 During her presentation, President Bastecki-Perez shared "Montco By the Numbers," noting that in 2022, the College saw its largest graduating class at 1,606 graduates. From an economic perspective, the College's total county economic impact for FY22 was $486.6 million, including operations, construction, and student spending as well as alumni impact. Montco's return on investment for FY22 was 2:1 (for every $1 invested in Montco, taxpayers will receive a cumulative value of $2.20 throughout the students' working lives).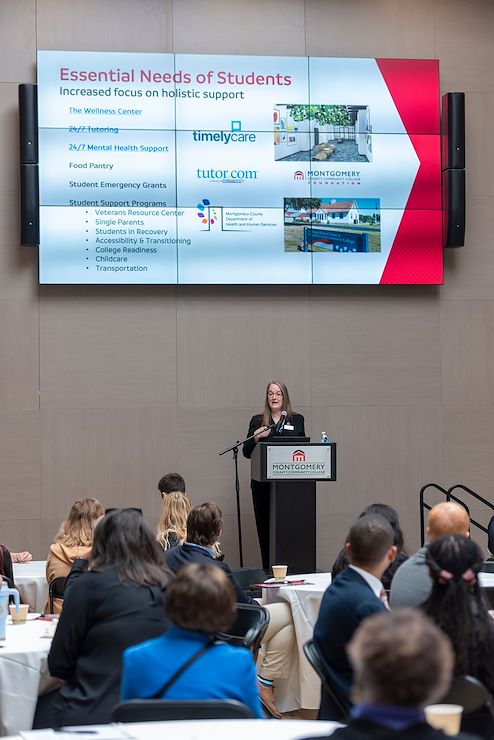 Since the pandemic, the College has increased its focus on holistic support to address the essential needs of students. For example, Montco offers 24/7 online tutoring as well as in-person tutoring and 24/7 online mental health services through Timely Care. The College also provides student emergency grants, and food and personal care items through its food pantries. In December 2022, Montco opened a new Wellness Center at the Pottstown Campus to provide an array of supportive services.
Through its strategic partnerships, Montco continues to reach learners of all ages and stages of life. Currently, Montco has 2,465 high school students taking dual enrollment courses and partnerships with 27 high schools throughout the county, including 16 Title 1 Eligible schools. Serving the workforce needs of the county and region, Montco provides education and training for high-priority occupations, such as healthcare, culinary and hospitality, industrial and manufacturing training, information technology and cybersecurity. In addition, Montco has more than 30 four-year transfer partners, enabling students to continue their education seamlessly to earn their bachelor's degrees.
Montco continues to inspire learners through its collaborations, reaching young learners through The Challenger Learning Center in Pottstown. Since its opening in August 2022, Challenger has served more than 2,000 students through hands-on space missions. The College also collaborates with the Pottstown Children's Discovery Center, which uses the Montco's Hanover Street building in Pottstown.
All educational programs and holistic services require funding to exist, and according to the Community College Act of 1963, funding for Montco was intended to be a three-legged stool model, where the state, county and students would each pay a third. In reality, however, students pay 49%, the County pays $22.4%, and the Commonwealth pays 24.4%.
"The stool is tipping too far in the area of our students, who pick up 49% of the tuition with the current appropriations at the county and state levels, and we need more assistance to continue to be able to provide high-quality education for our students," said President Bastecki-Perez.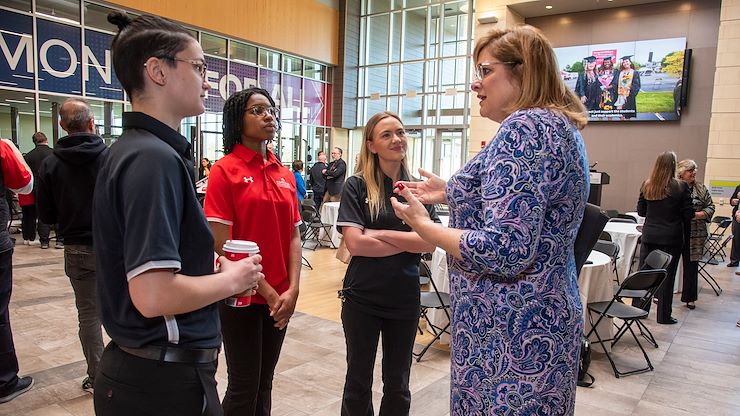 Looking ahead to the educational needs of tomorrow's students, Montco continues to transform the educational experience and will be reopening its newly renovated Science Center and theater at the Blue Bell Campus. At Pottstown, the College will continue to make improvements through the greenspace, trails and gateway project; renovations to the Hanover Street building; South Hall phase II renovations; and the Voyage Mark II Solar System Exhibit. In the future, the College will be opening a new Hospitality Institute at Blue Bell and will be upgrading the athletic fields for both the Mustangs athletic program and youth in the community.
"What I ask of you is to stay informed. Check out my monthly President's Report, our annual Year in Review, and follow us on social media. Most importantly, visit us, not only today, but throughout the year. We have so much going on at Montgomery County Community College. We are truly our communities' college, serving learners of all ages and stages of life. I look forward to continuing to work together with all of you as we inspire, lead and transform destinies and future generations," said President Bastecki-Perez.