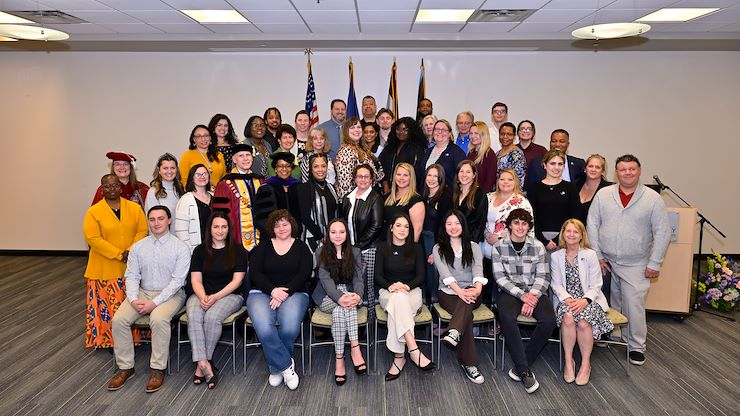 Montgomery County Community College (MCCC) recently celebrated the induction of 103 new members into the Alpha Alpha Alpha (Tri-Alpha) National Honor Society that recognizes the achievements of first-generation college students.
MCCC currently is the first and only community college in Pennsylvania to host a Tri-Alpha chapter, according to its website. Founded in 2018 at Moravian College in Bethlehem, Pa., the honor society recognizes students, faculty, staff and alumni who are among the first in their families to pursue college degrees.
As the ceremony started, My Kim Ly, one of the inductees and the Senator and future Vice President of the Student Government Association, welcomed everyone. She described her family's experience as immigrants from Vietnam and her responsibilities of caring not only for her younger sister but also for aging relatives. Despite the demands, she is working toward her goal of earning a mechanical engineering degree.
"At the end of the day, my story is only a small drop in the big pond of the stories that bring us together here today as first-generation college students," she said. "I truly hope that no matter where we have been and where we are in life, together we can all continue to grow synergistically with the opportunities at every corner in this second home we call our Mustang family."
Following her opening remarks, My Ly introduced Montco's sixth president, who also is a first-generation college graduate.
"Students, you come here with aspirations of creating better lives for yourselves through higher education," said Dr. Victoria L. Bastecki-Perez, MCCC President, to the inductees who gathered in College Hall on MCCC's Blue Bell Campus. "Many of you make tremendous sacrifices, balancing family, work and other responsibilities in addition to your academics. Every day, you and your hard work inspire me and the collective work we do at Montco."
"As the first members of your families to forge these pathways, your courage and efforts are being acknowledged tonight through induction into this prestigious national honor society among other two- and four-year first-generation college students," said Dr. Bastecki-Perez. "Congratulations on this well-deserved recognition of your accomplishments! We are Mustang proud!"
President Bastecki-Perez introduced her colleague, friend and keynote speaker, Dr. John J. "Ski" Sygielski, President of HACC, Central Pennsylvania's Community College.
In his candid remarks, Dr. Sygielski shared how education had transformed the destiny of his life. As the son of working immigrants, it was assumed he would follow their path and work in the steel mill. However, his teachers saw something in him and convinced his parents to let him go to the intercity Catholic college prep high school. Following graduation, he went to a community college and then traveled 500 miles away to earn his bachelor's degree.
Although he had the opportunity to attend college, it wasn't an easy journey, he said. He didn't know the procedures or the nomenclature. He also didn't know what resources were available, causing him to struggle his first year. It took him awhile to find a community on campus, but as he became involved, he found that community.
Dr. Sygielski concluded his speech with four key points to remember: confidence, courage, support and "mold."
"You do not have to fit any mold," he told the inductees, holding a bundt pan in the air. "Your uniqueness needs to be celebrated. You are the only one like you, and you have to be proud of that. You create your own shape and form."
Following the address, Yamilet Reyes, MCCC Program Coordinator for Equity, Diversity and Belonging, shared the history and principles of Tri-Alpha and read the induction pledge. Each inductee walked across the stage, where they were congratulated by President Bastecki-Perez before receiving their pin and certificate.
The Honorary inductees included Dr. Sygielski and Kenneth E. Lawrence, Jr., Chair of the Montgomery County Board of Commissioners and a Montco alumnus.
Following the induction, student Katelyn Farabelli spoke about her experience as a first-generation college student and how education was changing her life.
"As a first-generation college student, I am proud of the progress I have made so far. I have been able to build a successful college career with the support of my family. I have faced and overcome numerous obstacles, and I know that the lessons I have learned will stay with me for the rest of my life," Farabelli said. "I have found that having an open mind, asking for help, and being proactive have been the keys to my success in college. I am looking forward to the future, and I am excited to see where my college journey will take me after Montco."
Student Gisselle Guzman-Muraira, who will graduate on May 18, closed the ceremony, sharing one of her favorite things about her college experience.
"One that sticks out to me, and always will, is the dedication of many coaches, professors, and faculty willing to go out of their way to get me connected, seek opportunities, and help me explore my passions. I developed a commitment and gained invaluable experiences and skills that I will be taking with me after Montco," said Guzman-Muraira.
To qualify for induction into Tri-Alpha, according to its website, a student must earn at least 30 credits towards an associate's degree or baccalaureate degree and achieve an overall undergraduate GPA of at least 3.2. Neither of the student's parents, nor stepparents nor legal guardians may have completed a bachelor's degree.
Faculty and staff also may be inducted into Tri-Alpha if they meet the definition of first-generation students and are willing to serve as mentors for first-generation students. In addition, a small number of alumni and honorary inductees who meet the requirements of first-generation students and are connected to the institution may be initiated each year.
The student inductees included Michael Allen, Thalya Asari, Adem Mirac Aydin, Noah Barajas,
Jennifer Bernard, Nickietha Brown, Jenny C. Choi, Jevin Fielding Cressman, Matthew A. Daley, David DeCamillo, Jeremiah R. Diaz, Bethany Donovan, Summer Elsayed, Katelyn Farabelli, Kathryn Ferrier, Tara Fosbenner, Christine Frantz, Christopher Gatchel, Gina Geosits, Kristyna Goodwin, Rebecca Greghini-Williams, Jodie Gunster, Kristina Michelle Heebner, Emma Jackson, Corey Jones Jr., Ashley N. Justice, Tina Marie Kennedy, Bree Ann M. Kier, Haleigh S. Kline, Marylu Lopez-Silverio, Ewa Luczaj, My Kim Ly, Kimberly Malcom, William F. Manley III, Robert A. Manto, John Manzo Jr., Sabrina May, Marly-Chelsea McElrea, Alexandra Mee, Allison E. Miletto, Samantha Millione-Hackett, Gisselle Guzman- Muraira, Ali Noori, Ricki Noto, Diane N. Nyce, Beata Ostrowski, Karima Oukaci, Adam Patelunas, Cristy Peltzer, Candice Pensyl, Sherry Prislupsky, Anastasia Rees, Marc Regen, Leymary Rosado, Kyle Ruder, Jaime Cunningham, Camryn Sheahan, Emma Sheppleman, Rita Spera, Isabella Stine, Valeriya Strokachenko, Philomena Tabu, Sarah Tammany, Pedro Teles Viana Machado, Taimur Ali Tiwana, Stephanie Malek, Rickey Lee Valentine, Madison Walsh, Alison Weaver, Jaime Wetzel, Jenny Whisler, Carolyn Wombough and Joshua Woomer.
Alumni inductees include Nashay Alston and HyunhwaYoon.
Faculty, staff and administrator inductees include James Adams, Tanya Beckwith Tinsley, Wayne Brew, Melissa Brocklesby, Kristyna Carroll, Frances Collins, Therol L. Dix, JD, Patricia Drewicz, Victoria N. Giammarco, Jacqueline Green. Shannon Harley, Dr. Lianne Hartman, Claire Kratz, Beverly Labosky, Lisa Lindquist, Dr. Dominike Merle Johnson, Loretha Moore, Christine Morris, Sherry Phillips, Denise Prushan, Diane VanDyke, Dr. Victoria Vetro, Chera Watson, Tori White, Cynthia Whitley, and Jessica Witmer.