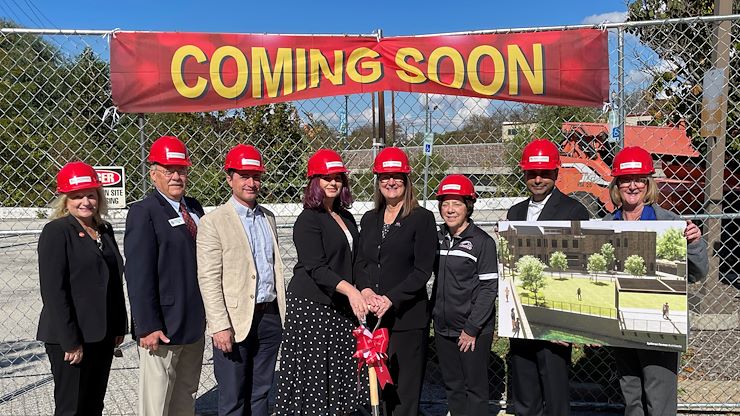 Montgomery County Community College has started construction at its Pottstown Campus to convert a parking lot into a green space that will benefit students and the community.
The approximate one-acre parking area located at the College's North Hall building, 16 E. High Street, Pottstown will be transformed into a grass-covered space with a new retaining wall, site lighting and drainage along the Manatawny Creek.
"The green space will be a place where students gather either informally or as part of an outdoor classroom," said Dr. Celeste Schwartz, MCCC Vice President of Pottstown Campus, Information Technology & Institutional Effectiveness. "It also will be a beautiful area for the community to gather for events or relax and enjoy the Manatawny Creek, and it will add to the recreational areas located nearby, including Pottstown Riverfront Park, the Schuylkill River Trail and Memorial Park."
Construction started on Oct. 24 to transform the space and it is tentatively expected to be completed by May 2024. During construction, students and the community will continue to have access to the underpass that leads from the North Hall building to MCCC's South Hall building at 101 College Drive.
The addition of the green space is one of several projects MCCC has done in recent years at the campus as part of its ongoing investment in the Pottstown community. In August 2022, MCCC opened the Challenger Learning Center at 140 College Drive. This hands-on, immersive STEM experience provides space-themed missions for students in grades 5-8 and is the first of its kind in Pennsylvania.
In December 2022, MCCC opened its Wellness Center in North Hall—a centralized tiered system of wellness resources to help students with the vital essentials they need to succeed. The Center includes a food pantry, counseling center, sensory room, collaboration space and student support programs. The project was funded by a $1 million Community Mental Health Services Block Grant from Montgomery County. These funds were marked by the State for community colleges to support the higher education of individuals experiencing mental health challenges.
In addition to these new centers, MCCC renovated the first floor of its 25+-year-old South Hall building at 101 College Drive and celebrated its reopening in April 2023. The space was intentionally reimagined and designed to support students comprehensively by bringing services together in one area and providing flexible spaces for study, collaboration and engagement.
The renovated space includes a global display system known as Science on a Sphere (made possible in part by Sylvia & Carl Landis) that can be used for all types of planetary data; Educational Furniture Solutions Esports Room for MCCC's Mustangs esports team that is part of its Athletics Program; fitness room; showers; renovated library; testing and tutoring spaces; student services area (financial aid, advising, registration); Montco Market and dining area; laundry and lactation rooms; adjustable study spaces; student commons/community area; all-inclusive restroom; and a game room.
Fifty percent of the South Hall renovation cost of $4,235,000 was a capital appropriation from the Pennsylvania Department of Education and the rest of the cost was funded by institutional funds.
At its Blue Bell Campus, MCCC currently is renovating the former bookstore into a 20,400-square-foot Hospitality Institute that is slated to open in fall 2024. The state-of-the-art facility will include student-operated educational restaurant that will be open to the community, as well as bakery and pastry shop, and pasta and chocolate laboratories. These spaces will serve as live-learning experiences for students to study various aspects of operating a culinary business.
Also at the Blue Bell Campus, the College recently celebrated the reopening of its newly renovated Science Center and 563-seat theater. Built in 1972, the 118,689-square-foot Science Center was remodeled and modernized to provide students hands-on access to the latest science and engineering technology, including robotic arms and 3D printers.
The redesigned, technologically advanced theater is the centerpiece of the College's recently launched Montco Cultural Center, which encompasses all of its arts and culture programming and venues, including the Black Box Theater and fine art galleries at both campuses.
The renovation projects at the Pottstown and Blue Bell Campuses were part of MCCC's 2012-2022 Facilities Master Plan.