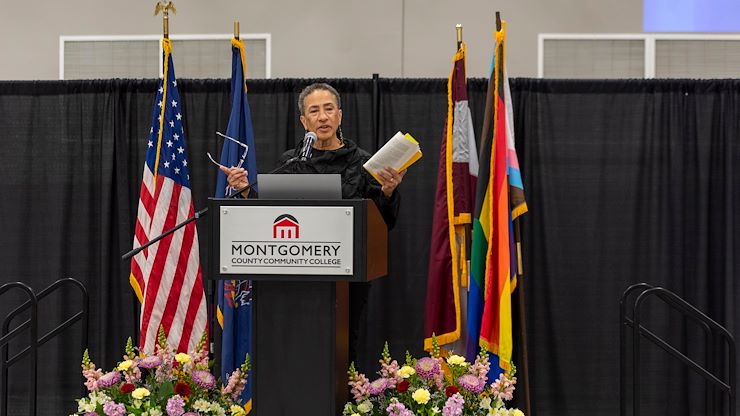 Montgomery County Community College's first-ever three-day Presidential Symposium on Diversity engaged more than 400 students, employees and community in its conversation to "Inspire Beyond Inclusion."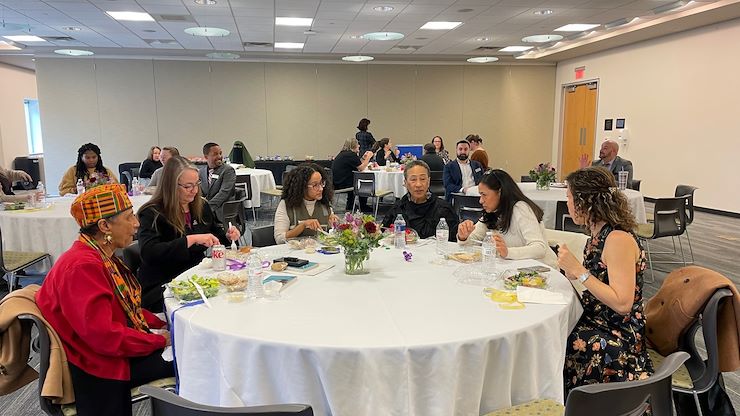 The Symposium, organized by Dr. Stephanie Allen, MCCC's Director of Equity, Diversity and Belonging, and Yamilet Reyes, Program Coordinator of Equity, Diversity and Belonging, started with a special luncheon at the Blue Bell Campus to honor the two student winners of the short story contest – Saige E. Hunt, who wrote "A Sense of Belonging," and Hasna Taylor, who wrote "To Feel Safe and Secure." The students, along with faculty and staff, enjoyed meeting the keynote speaker, Lorene Cary, an award-winning author, educator and social activist.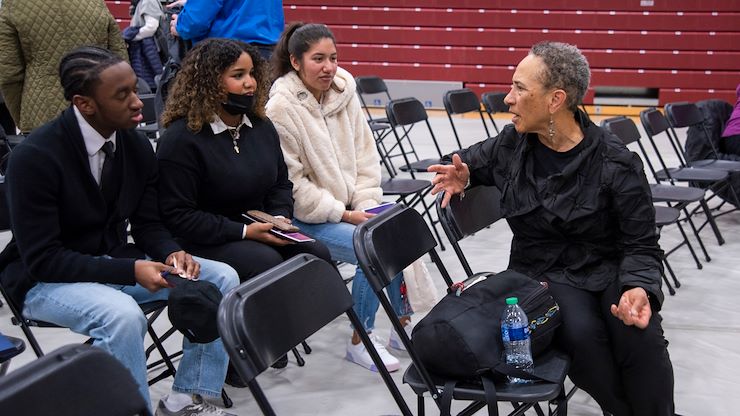 Through her writing, Cary explores the issues of race and gender, focusing on the lives of Black women and their struggles and accomplishments. Her memoir, "Black Ice," describes her experience in the 1970s when she attended the elite St. Paul's Board School in New Hampshire. Her captivating story as received many accolades, including the American Library Association Notable Book Award.
In addition to "Black Ice," Cary has published several other books and novels, including "Ladysitting: My Year with Nana at the End of her Century," "The Price of a Child," "Pride," and "If Sons, Then Heirs." Her recent play, "My General Tubman," premiered in 2020 at the Arden Theatre in Philadelphia and was featured as a virtual reading by the New Jersey Theatre Alliance in 2021.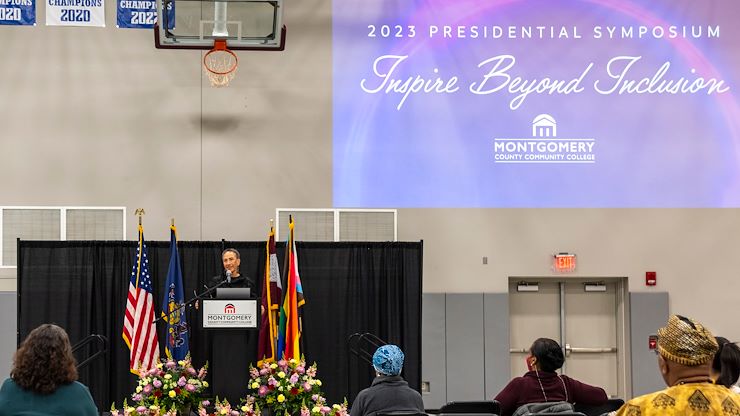 Beyond her writing accomplishments, Cary has taught fiction and non-fiction at the University of Pennsylvania for more than 25 years and has earned the Provost's Award for Distinguished Teaching. In 2018, she created #VoteThatJawn, an online platform where students could write blogs, social media posts and articles to encourage young adults to vote.
Following the luncheon, the Symposium continued with Cary's keynote presentation held in the Health Sciences Center gymnasium and streamed online. Cary started by reading a passage from "Black Ice," about her graduation from St. Paul's.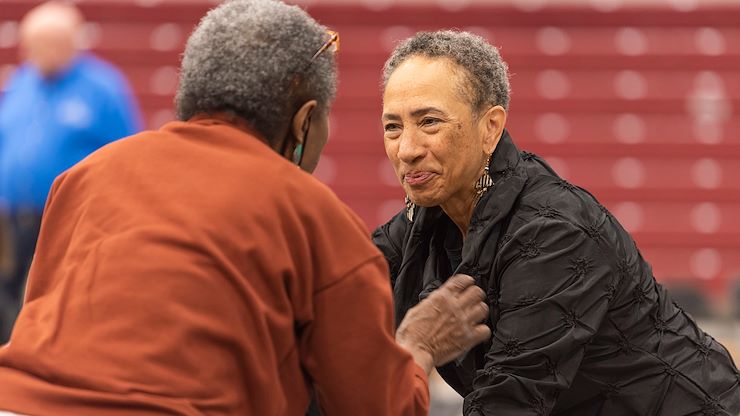 During her talk, Cary compared and contrasted the different school systems she experienced. A native of West Philadelphia, she attended the City's public school system, where the teachers would often say or imply, "what's wrong with you?" Cary described an experience in second grade when the girl in front of was made to sit in her own urine because she was not allowed to go to the bathroom until it was time. The teacher also took away Cary's asthma inhaler because students were "not allowed to have perfume in school."
In contrast, she described how students at St. Paul's were treated "as if they had "enormous potential."
"We were somebody special," she said. "We were trained to think of ourselves as worthy of such treatment for no other reason than we walked onto the campus. No other reason. We were given respect, care. All of it affects how one grows and how our minds process ideas and emotions."
Years after her graduation, Cary went back to St. Paul's and taught there. She recalls teaching and looking at the students and thinking about what makes each student special, since that was part of her contractual obligation.
While St. Paul's changed the trajectory of her life and helped her pathway to college, Cary found herself struggling with "general institutional anxiety." She felt doubt from others of whether she should be at college and would, in fact, succeed. She learned one of the so-called criteria for success - "to develop a way to make the mainstream feel less nervous around her."
In addition to her school experience, Cary also described working as an intern at "Time" magazine where she was treated differently than the white male intern, who had a mentor and was able to develop contacts that helped him advance. When Cary had her six-month review, the editor confused her work with the work of another Black female writer who had made attribution mistakes. As a result, he did not hire her.
Despite this obstacle, Cary persevered, relying on her journaling for comfort and her education to pursue another job. She said she learned over the years to identify her anxiety or gut feeling as one of "unearned shame" due to stored rage or grief.
She concluded her talk by thanking all educators for looking into their students' and colleague's eyes to see them as they are. Following her presentation, she answered questions from the audience, including one about whether she thought there has been any progress.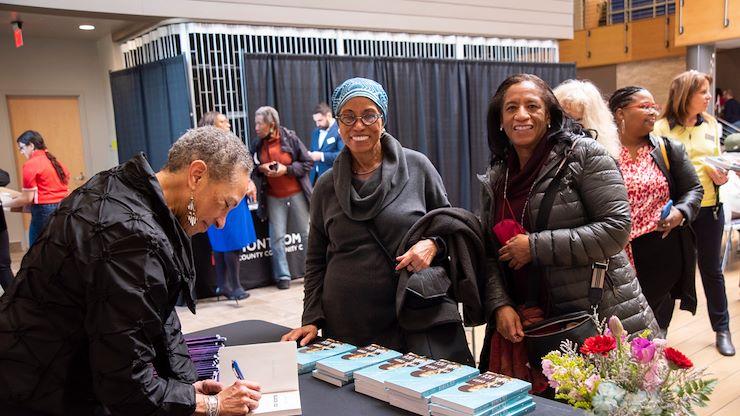 Growing up in the 1970s, Cary said she is old enough to remember when people could not vote in certain states and when her dad took part in a civil rights march in Washington, D.C. Since that time, she thinks there has been some progress, but she also believes there is "horrible claw back."
Following the discussion, Cary signed copies of "Black Ice," taking the time to talk to attendees.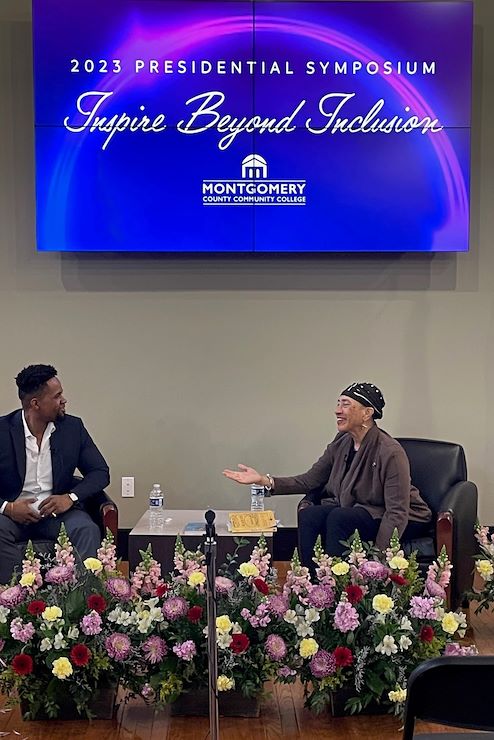 On Tuesday, Feb. 21, the Symposium continued at the Pottstown Campus with a "Black Ice" book chat with Cary, moderated by student Geoffrey Aikens. Aikens is a business management major who runs a sports data analytics business and also serves as president of the business club, Phi Beta Lambda.
During the chat, Cary spoke about value of failures and what we can learn from them, as well as the overall process of writing. The release of her memoir and exposure of her individual experiences felt like "climbing a tree with no drawers on or worse yet, with no skin on."
However, Cary felt good that over the years her book has made millions, not in terms of a profit, but in terms of jobs related to the production, sale and use of her book for discussion.
Following the book chat, Cary met with attendees to talk and sign copies of her book. As part of Day 2, several faculty members held workshops, including:
The Rapid Rapport Building: Enhancing Clinician Communication Skills to Decrease Health Disparities in the LGBTQIA+ by Dr. Isabelle Porter, PT, DPT, Director of Physical Therapy Assistant Program
Montco Library Revisits Elizabeth F. Fideler's "Still at Work" Series by Kevin Strunk, Reference Librarian Associate Professor
Healing, Forgiveness & Discrimination by Jayden Sampson, J.D., Assistant Professor of Criminal Justice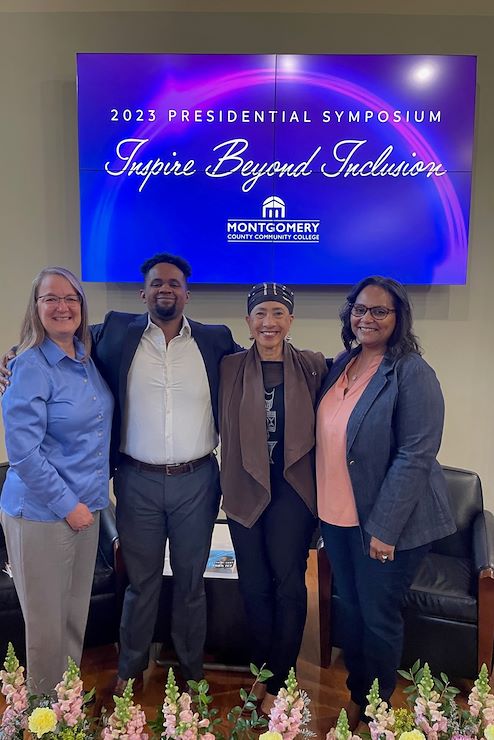 The Symposium continued on Day 3 with more workshops, including:
Teaching Honestly: Historically Responsive Literacy by Dr. Monic D'Antonio, English Professor
The Overlooked Costs of Upward Mobility by Luz Gamauf, Spanish Associate Professor
Disabilities in Higher Education by Aliyah Novelli, MSW, LSW, Licensed Social Worker
Working Towards Justice: Volunteering & Belonging by Sean Hutchison, Coordinator of Experiential Learning
As part of the Symposium, MCCC held a weeklong community service project collecting donations for the College's Stock Up for Success Food Pantry.
The annual Presidential Symposium is a capstone event that advances and facilitates ongoing public dialogue on diversity and inclusiveness among students, employees and the community.