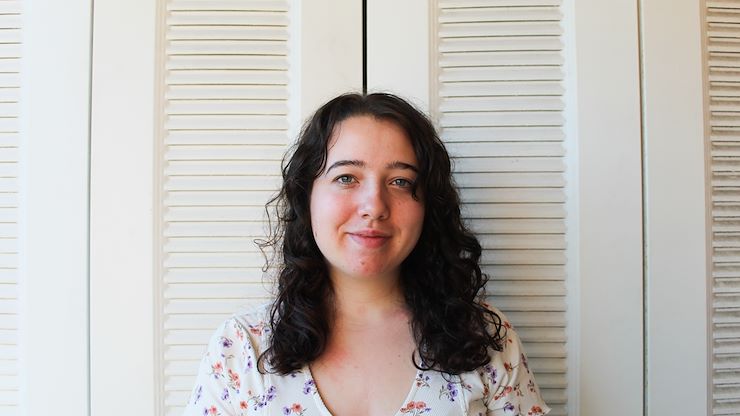 After her dad died, Fatima Ouadah's life turned upside down. At age 16, she was suddenly without a college fund or savings of any kind, and she and her mom were uprooted from their home in Norristown and moving to an apartment in Eagleville.
"We were financially struggling," she said.
Four years later though, Ouadah's life is getting better. The now 20-year-old is a Liberal Studies major and dean's list honoree at Montgomery County Community College pursuing a career as a labor and delivery nurse. The Methacton High School graduate was also recently named the recipient of the Ann's Scholarship.
The scholarship is open to students who are dining facility employees (or related to an employee) at Shannondell of Valley Forge Senior Living Community in Audubon. To be eligible, students must be in good academic standing and enrolled at least part-time. Preference will be given to hourly employees at dining services at Shannondell.
"The scholarship has allowed me to have a life outside of work and school," she said. "And not feel as overwhelmed. I get to enjoy school and work and it just helps a lot in my life and makes it easier."
The road back to a sense of normalcy has been a long and challenging one, but Ouadah said she's in a much better place today. In the wake of the loss of her dad, Ouadah started attending Methacton High School in 2016. Two years later in September, she started working as a server at Shannondell.
"It was close by and really helped financially," she said. "I got the job through a friend who was already working there. It was a great way to get to know people. There were kids from my school who worked there and there was a sense of community with a lot of people I knew."
The job gave her stability and flexibility to balance her schoolwork and free time. Soon she was accepted to several four-year colleges.
Yet just as it seemed like things were coming together for Ouadah, life threw her a curveball. Three months into the pandemic, Methacton High School canceled its graduation ceremony. The virus also prevented Ouadah from being able to work for three months and derailed any plans for a four-year college.
She decided to enroll at MCCC for the fall 2020 semester, which was entirely online.
"It was close by, with easy access," she said. "Montco allowed me to stay home and work more and that's what I did. It felt like the best decision for me."
When she started at MCCC, she had no idea about the scholarship and just tried to work as hard as she could as a full-time server and full-time student, giving her no time to herself.
"It was work, school, work, school," she said.
This past spring, Ouadah finally got a taste of the college experience she said she always wanted. She had a microbiology course in-person on Blue Bell Campus.
"It was so nice. Benefitted me to go in and do labs," she said. "It was just what I needed after being alone for so long online. I got my college experience and a community again and it was not just online. It was great."
Since then, she's continued to thrive. She's been able to scale back the number of hours she works to part time, allowing her to focus on her classes. She's made the Dean's list and feels confident as she begins a summer Nursing Program course. In the fall she'll start Nursing clinicals and hopes to graduate in 2023 before transferring to a four-year institution to complete a bachelor's degree.
"I'd like to work as a labor and delivery nurse in a hospital setting," she said. "Then go back to school in five to 10 years and get a master's degree in order to become a midwife. I've talked to other labor and delivery nurses about what it's like and it sounds perfect for me."
Ouadah said coming from a time in her life where money was tight and prospects limited, she's thankful for scholarships like the Ann's Scholarship.
"It's about being able to help college students in need," she said. 'When I become a nurse, I hope to give back and help people the way the scholarship helped me. It benefits people's lives.'"
Established in 1983, the Montgomery County Community College Foundation provides scholarships for deserving students, grants for faculty projects, equipment and technology, emergency funds for students in need, support for cultural enrichment activities on campus and financial resources for other college programs and activities. The Foundation is able to make a difference in the lives of our students thanks to the generosity of alumni, parents, community friends, private foundations and corporations. To see how you can make a difference and discuss how your gift can be most meaningful to you, contact the Foundation at 215-641-6324 or foundation@mc3.edu.