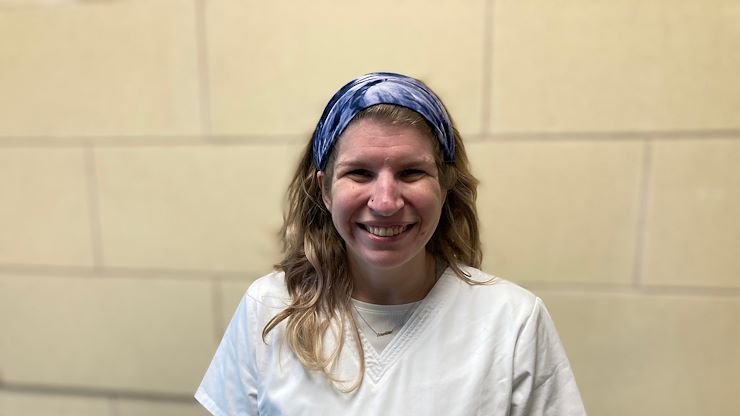 Going back to school to earn a second degree, so you can completely start your career over is never easy. Especially when you're a new mom and your spouse is sick. Yet Nursing major Kristina Reindel is proof that no matter how hard it may be to earn a degree, it's never the wrong decision.
Reindel, 33, is the recipient of the Dr. Victoria L. Bastecki-Perez Presidential Scholarship, sponsored by the Phoenixville Community Health Foundation. Last year, in honor of the inauguration of its sixth president, the Montgomery County Community College Foundation established 11 new presidential scholarships for students. The scholarship is primarily for first-generation college students. However, it's also used to help students undergoing hardships.
Reindel, who moved to Pottstown seven years ago, lives with her husband and 10-month-old daughter, Frankie. Her husband was diagnosed with testicular cancer recently and is currently undergoing chemotherapy treatment. The prognosis from doctors is good, she said. (Find out how the Wellness Center is helping this student.)
Given all that's going on in her life, news of the scholarship came at an especially good time, said Reindel.
"It's exciting. It helps. Anything helps, especially toward your education," she said. "It's an honor to be chosen."
Reindel grew up in Phoenixville and graduated from Phoenixville Area High School in 2007. She then studied fine arts at a four-year institution and graduated in 2011. After college, though, she felt like her life was at a crossroads.
"I really liked going to school for art, but it also ruined it for me. I poured so much time into it that it took my passion for it away," she said. "I didn't know what I was going to do."
So, she took a job as an activity assistant in the recreation department at a nearby nursing home and fell in love with the job.
"I wanted to help people," she said.
So, in the fall of 2018, she entered the Nursing program at MCCC. From the start, the program was challenging, but she never let it bring her down.
"It's been the hardest thing I've ever done in my life," she said. "I thought it was hard to begin with. Add a kid and it makes it that much harder. Then my husband got sick in January."
Reindel started on campus in Pottstown but then the pandemic forced her to work remotely.
"My classes were entirely virtual up until the last two semesters," she said. "We had virtual classes and simulations in person. It's been nice to finally have clinical experience."
The hard work and sacrifices have paid off. She achieved honors each semester as a student, eventually earning an invitation to the Beta Tau Lambda chapter of the Phi Theta Kappa (PTK) international honor society for two-year colleges.
Once she graduates this month, she's hoping to take some time to relax. Yet, she won't be resting for too long as she already has a job lined up in August in the Paoli Hospital working the night shift on the stroke and cardiac floor.
"I can't miss the opportunity to work at Paoli," she said. "It's a good health system."
Reindel has a message for those who've helped her get to this point, despite all the obstacles she's faced.
"Just how grateful I am for everyone's help. Grateful. Very grateful for everything. Teachers have been phenomenal this semester. It makes me feel very supported."