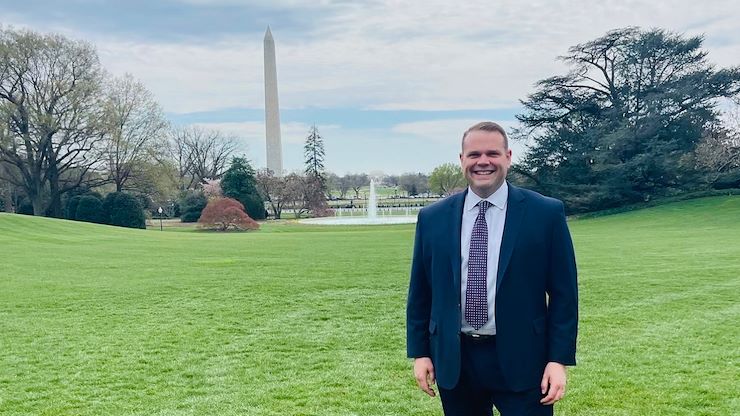 Dan Kunze, a 2006 Montgomery County Community College graduate, represents the potential of what someone can do with a community college degree. He credits MCCC for buying him some time and serving as his launching pad that included a future of obtaining a law degree, serving in the U.S. Army, marrying his wife, Kerrin, also an MCCC graduate, and today, working as an executive at an enterprise software company.
"Montco was great for me because it let me figure out what I wanted to do with my life at the time," Kunze said. "I wasn't that guy who immediately knew, and I appreciated the year and a half that I spent there."
Kunze, a father of three, credits a President's Award of Excellence he received from MCCC as one of the reasons he was able to productively manage debt along his educational journey.
"I am super grateful that I had Montco because that let me go to Temple," he said, adding he graduated from Widener University Delaware Law School in 2012. "Montco was the right place for me to get started."
After getting his Liberal Arts degree at MCCC, he went on to study history at Temple University, an MCCC partner institution.
"I went right into Temple's honors program, and all of my credits transferred where I graduated in four total years." he said.
Now, as a donor to the Dr. Victoria L. Bastecki-Perez Presidential Scholarship, sponsored by the Kunze Family, Kunze shared the motivation behind his decision to support the scholarship.
"I view the scholarship that MCCC awarded me as an investment in my potential," he said. "It was important for me to pay it forward to the next generation of students and the school when I had the chance to do so."
Kunze, who currently lives in Nashville, Tennessee and is in the process of building a house in Chester County to raise his family, has some words of advice for MCCC students based on personal experience.
"There are so many students at Montco who are looking for an opportunity and come from a humble and hungry background like me, maybe with a little chip on their shoulders – the type of people I want to help get started." he said.
Regardless of where you started, Kunze said it will give you the necessary tools you need to compete down the road.
"You don't have to go to Ivy League your first year – you can take time to figure out your path and it will all average out over time," he said. "It doesn't matter where you started – you have to get started in a general direction and figure it out over time – it's a matter of showing up, wanting to win, believing you belong, learning and growing."
For Kunze, the other most important career decision he made was joining the military in 2010. It was during his time in the Army that he learned to see the world beyond his comfort zone and meet people from all over the country.
"As I started doing more and meeting more people, I became more confident in myself," he said, adding he was 24 years old when things began to shift. "As I did more, I became more bold and more assertive."
Kunze, who received a Rising Star award on the MCCC Alumni Hall of Fame in 2011, has a message for MCCC students who are afraid to break out of the bubble.
"It's not just about this community college and this area," he said. "This is the place you start, and from here you can grow and compete anywhere. Go do things that are beyond your comfort zone. You will always have a place to return, as you need it."