It was during his teenage years when Mayor Yaniv Aronson of Conshohocken, who is also a Mass Media Studies and Sound Production Instructor at Montgomery County Community College, first fell in love with film and video. A TV lab class at Wissahickon High School, located just down the road from MCCC in Ambler, sparked a newfound passion that later took him to Penn State University and then Los Angeles.
"As soon as I graduated, I moved out to LA. I wanted to be a big Hollywood director but ended up being a producer on reality shows," Aronson said.
His first show led to several others, which included the television programs "Not Your Average Travel Guide" (Travel Channel), "Haunted Destinations" (YouTube) and "TransGeneration" (Sundance Channel).
Since Aronson was in the mode of capturing reality with tight budgets and light equipment, he eventually made an easy transition to documentary filmmaking. In 2012, his documentary "The Drowned Hogs" won "Best Documentary Short" at the American International Film Festival.
Concurrently, he was pitching shows to networks, but he wasn't getting any bites, so decided to work his way back to the East Coast.
Upon his return, he took a tour at MCCC where he had the opportunity to pitch an evening class in film appreciation and screenwriting to the Workforce Development and Continuing Education programs. Simultaneously, he was teaching at a public high school in Philadelphia where he helped develop a film and production program.
"It got me the bug for teaching" he said.
Along the way, he obtained his master's degree from Boston University where he received an MFA in film.
"Once I received my MFA, I moved to the credit-side of the College and worked as an adjunct for the next ten years," he said. "The College hired me full time in 2019."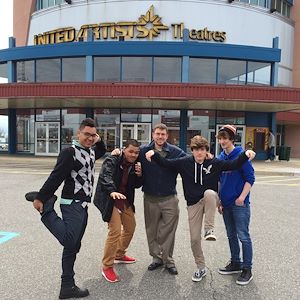 "I teach film production, movies class, screenwriting, public relations, marketing – all the fun stuff," he said.
Second term as Mayor of Conshohocken
In addition to teaching full-time, Aronson is currently serving his second term as the Mayor of Conshohocken.
"I've been mayor since 2018 and I was just re-elected last November, so I'll have another four years of doing that really fulfilling work," he said.
As mayor, Aronson utilizes many skills from his production days.
"I'm managing a team, working with PR folks, producing events, fundraising, graphic design – all of those skills are transferable in so many different ways," he said.
Conversely, he takes a lot of those experiences into the classroom.
"If my team produces a press release, I can bring that in to show my students," he said. "I can talk about building relationships with journalists and ethical and unethical reporting. On the production side, I love starting the semester as a teacher and then shifting to being more of a producer as I work with students to make sure the story works, the editing is sharp and that the audio sounds professional."
Drive to serve his community
It was a move to Conshohocken after getting his degree in Boston in 2012 that led to a drive to serve his community.
"When I moved to Conshohocken it really felt like home and the place I belonged," Aronson said. "A friend started a running club in town and that got me involved in the community, organizing events and volunteers."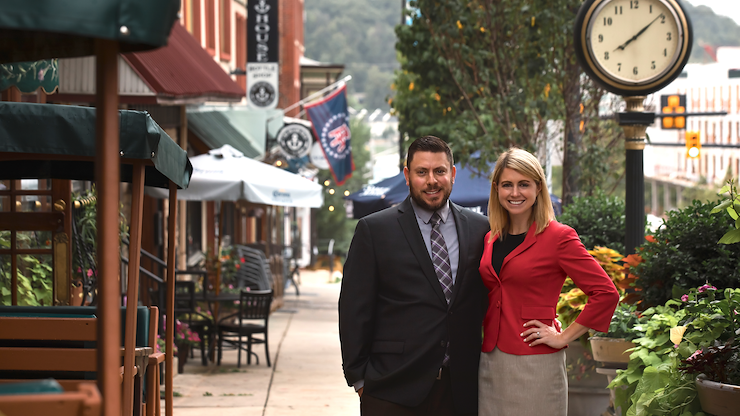 It also is how he met his wife, current First Lady Sarah Aronson, who has used the platform to bring mental health resources and trainings to the community.
"She came to a run and that was it," he said.
It was during his term as Chair of the Conshohocken Plymouth Whitemarsh Rotary Club in 2016, when he exhibited success in changing the club generationally and expanding it.
"People in the community were seeing what we were doing," he said. "They said, 'you would be great as a mayor doing this on a larger scale, would you consider running?'"
Regardless of whether he is teaching, organizing community events, or campaigning door to door, there is one thing across the board that has given Aronson great satisfaction.
"I never thought I would be so passionate for teaching," he said. "Growing up, I thought I would be a Hollywood director or a hockey player or something like that, but I got into teaching and just fell in love with it."
Appreciation for all things local
Aronson found that leaving the East Coast and returning gave him an appreciation for all things local.
"Coming back home has really given me a solid base and sense of community," he said.
What Aronson said he loves most about MCCC, and community college in general, is the school's focus on teaching.
"I am here to teach and give our students the best possible experience," he said. "That is what I love about teaching at the College – the focus is always on the students."