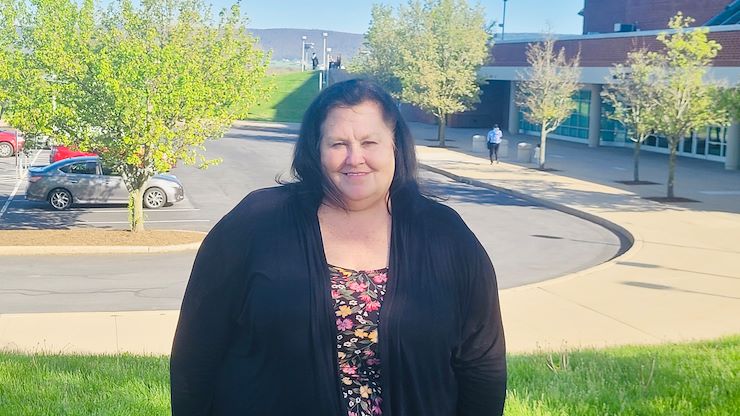 Cindy Whitley's relationship with Montgomery County Community College started in 1987 when she was an evening switchboard operator, and her mom was an administrative assistant in the Facilities Department. She knew exactly where she'd be going to college after graduating from high school.
"I took classes during the day and worked at night, so it worked out perfectly," Whitley said.
There were perks to her going to college where she already had some bonds established.
"Because I was working there before I started classes, that made my transition easier and I knew people, and people knew my mom," Whitley said. "It made me feel comfortable."
After a year at MCCC studying liberal arts, Whitley transferred to a four-year college.
"I had no idea what I wanted to do," she said. I had many interests and when I went away to a four-year college, I studied education. I wanted to work with people, that's all I knew."
The school, located two hours from home, turned out not to be a good fit at the time.
"I didn't feel like I should be there, and I didn't do well in school," she said. "My heart wasn't in it."
There were other factors that impacted her experience.
"I'm first-generation in my family to go to college and that was part of it," she said. "It wasn't my time, and I couldn't get my act together to do well in school."
Whitley, who lives in Norristown, returned to MCCC four years later when she was ready to focus on school again.
When Whitley graduated in 1994 and received an associate degree in General Studies, she shared the moment with a younger sibling.
"My sister walked the same year with me," she said. "It was fun – it was unique – I don't think many people get to graduate with their siblings who aren't twins."
After earning her associate degree, Whitley pursued her bachelor's degree at Albright College through MCCC's University Center. After receiving her degree in 2012, she earned her master's degree in Integrative Studies from Capella University in 2016.
Today, 35 years after she started working at MCCC, Whitley is a Financial Assistance Coach in MCCC's Financial Aid Office. In her role, she assists students, parents and community members in understanding financial aid and helps them through the financial aid processes.
During her career at MCCC, Whitley moved from positions in Student Activities to Accounts Payable to her current role as Financial Assistance Coach. Her varied experience and knowledge make her exceptionally able to help students, especially those balancing challenging work and personal lives. As a mother of three, including an MCCC graduate, she understands the demands of students' schedules.
In looking back at her time as a student at MCCC, Whitley expresses her appreciation.
"I felt very informed and supported," she said. "I felt I got a very good education."
In addition to her responsibilities through her position, Whitley also gives back to MCCC by serving as a member of MCCC's Alumni Association Board of Directors. The Alumni Board meets regularly and hosts engagement activities for fellow alumni. They also volunteer throughout the year in a variety of college activities, including open houses, commencement, and fundraisers.