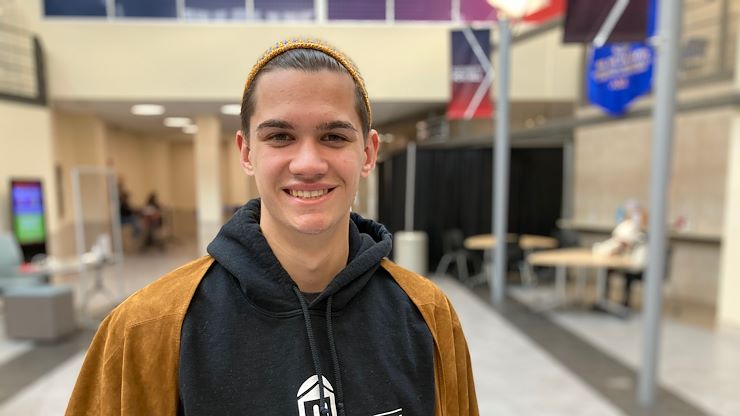 Griffin Whalen is wrapping up his time at Montgomery County Community College on a high note. At 20 years old, the Tourism and Hospitality Management major just returned from his first time overseas studying abroad. He's the current secretary of the Student Government Association (SGA), a champion on campus for student rights and he's scheduled to graduate later this year.
Whalen credits the College for the rare opportunities he's been able to pursue and the success he's had so far.
"I love Montgomery County Community College," he said. "I feel fortunate to not be in financial debt and get an amazing education."
Whalen fell in love with the hospitality industry and the program at MCCC, he said, because it has the ability to "impact people in a positive way."
The major has allowed him to explore several different facets of the industry, including internships in food and beverage at the Hyatt Regency Chesapeake Bay and as a front desk agent at the SpringHill Suites by Marriott Philadelphia Plymouth Meeting.
The program also has allowed him to travel the world. Mostly recently, Whalen and three others spent two weeks traveling across the North African country of Morocco visiting sites and learning about the culture.
"It was an incredible opportunity to immerse yourself in the Moroccan culture," he said.
The students from MCCC joined students from Temple University, who were enrolled in the Film Induced Tourism Course. The trip was organized by Dr. Benjamin Altschuler and Dr. Li 'Robert' Xiang, from Temple University's School of Sport, Tourism, & Hospitality Management program.
In addition to the food, clothing and customs that were both foreign and exciting to learn about, Whalen said he enjoyed how Moroccan merchants engaged them in a barter system.
"It was interesting to see a country use majority cash, even just using cash primarily," he said. "This was an amazing part of the immersion, especially when so many of us use online and digital methods of payments."
Tourism and Hospitality Management Assistant Professor Shawn Murray helped arrange the Morocco trip. Whalen thanked Murray for the once in a lifetime opportunity.
"Professor Murray is incredible," said Whalen. "I feel like I've had extreme professional growth from when I first started here until now."
The William Tennent High School graduate from Warminster first came to the College in the fall of 2020 and quickly became a part of the community.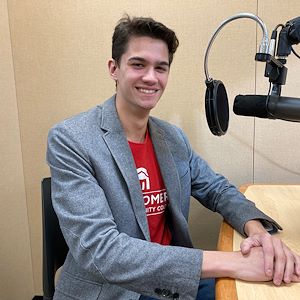 "The sense of community at Montco is incredible," said Whalen, whose mom Dara Ruiz-Whalen was a former adjunct Anatomy and Physiology instructor at the College. "I love making new friends or seeing old ones."
Over the last three years, he said he's grown as a person and student, due to the experiences at the College that have shaped him. He got his first taste of that growth in English 101 with English Senior Lecturer Judith Shabatt.
"She made me a strong writer," he said. He'd later use those writing skills as SGA secretary. "I take opportunities like running for student government to impact students."
Whalen, a member of the Alpha Kappa Zeta chapter of the Phi Theta Kappa international honor society for two-year colleges (PTK), joined SGA in the fall of 2022 to be able to speak on issues facing students and work with people at the College to impact change, he said.
"The community SGA has is amazing. I feel like we're a family," he said. "I enjoy taking notes as people are speaking. It gives me pride to look back on several months of minutes taken. It gives me a feeling of self-accomplishment."
Whalen also was recently brought on board as a student representative on the Student Support Committee. The Committee meets monthly to discuss policies and concerns students may have. Whalen appreciates the chance to speak on behalf of his classmates, he said.
"It's pretty cool. I can't wait to be a part of it," he said ahead of his first meeting.
Whalen said he's scheduled to graduate this summer, and from there he'll likely transfer to Temple University, due in part to the collaborations and connections made during the Moroccan trip, to continue his education in the Tourism and Hospitality Management field.
"I had a deep discussion with my professor and mentor, Shawn Murray," he said, "and will be having further meetings with people to figure out my next move."
In the meantime, he's focused on finishing his last few months at MCCC riding high. When asked if he had any advice for underclassmen looking to follow in his footsteps at MCCC, Whalen's advice was simple.
"Get involved!" he said. "There's some amazing, fantastic people, clubs and organizations to get involved in. Everyone is fantastic."