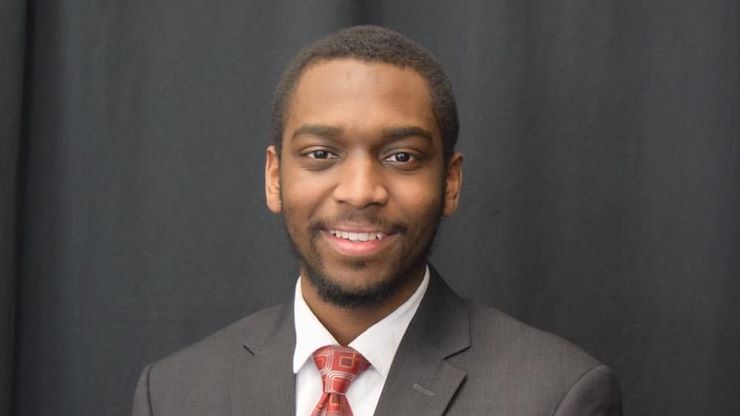 At just 27 years of age, Andrew C. Belton holds four degrees – two from Montgomery County Community College (MCCC) – and credits the College with preparing him for not only his future studies, but career success as well.
It was during his time at MCCC in 2015 that the entrepreneur established his social media marketing consulting business, Symmetrical Media Marketing, a thriving, primarily B2B company that he continues to manage along with working a full-time Marketing and Financial Services role at Brandywine Global Investment Management in Philadelphia, a specialist investment manager of Franklin Templeton.
Starting his post-secondary education at the College provided the North Penn High School graduate with more "hands-on experiences" and faculty guidance given the smaller class sizes as compared to large universities.
"I wouldn't have been in the position to attend Delaware Valley University if I hadn't attended Montco initially," he said. "I wouldn't have had the same leadership and mentorship experiences."
After graduating in 2016 with a Liberal Studies A.A. degree, the Phi Theta Kappa international honor society member and former Phi Beta Lambda chapter president transferred to Delaware Valley University on a dual admissions agreement. His hard work and impressive grades while at MCCC paved the way for him to earn an $18,500 annual merit scholarship at Del Val.
Belton's time at MCCC helped transform his outlook on education.
"In high school I wasn't a go-getter student. I didn't value education as much until I began at Montco," he said. "College is really what you make of it. It's an opportunity to start anew and study things you're passionate about and going to see every day."
Beginning his education at MCCC allowed him to "test the waters" in terms of his interests.
"I knew I was going to be in business," Belton said. "Starting at Montco allowed me to be a little more flexible as far as those options."
The College's flexibility led Belton to take "a few supplemental classes" that Del Val ultimately accepted, also resulting in Belton earning a Management A.A.S. degree from MCCC in 2018.
After graduating from Del Val with a Business Administration bachelor's degree, Belton accepted a full-time Financial Services role with Vanguard and continued his studies at West Chester University of Pennsylvania, earning a Master of Business Administration degree by the age of 25.
In terms of MCCC professors who helped pave his future academic and career success, Belton said Eileen Kearney, Assistant Professor of Marketing, was instrumental in her oversight of Phi Beta Lambda, a business leadership club.
"During the time I knew Andrew, he demonstrated success academically, as well as in working with others, showing camaraderie, understanding, responsibility and dedication," Kearney said. "He was always prepared and had such enthusiasm to participate in various activities. His spirit was contagious to other students. I am so happy I had the opportunity to leave a positive impression on Andrew. He is a winner!"
Belton's involvement in the organization provided him with the opportunity to attend three conferences, as well as assist with fundraising events.
"That was certainly one of the main highlights of my time at Montco," he said. "My involvement on campus was an integral component of my learning experience, allowed me to transition into a leadership role where I was able to lead by example and learn how to work with different people to get things done. That's a big part of what I currently do."
MCCC Marketing/Management Assistant Professor Paul Johnson offered helpful business advice, while Frank Lochetto had a unique teaching style and plenty of encouragement for Belton.
"Keep up the great work, Montco. Keep providing excellent educational resources and programming for the students in the community. I am thankful and will always be fond of my time at Montco," Belton said, offering words of wisdom to future students. "Be open to learning new things, trying new experiences, meeting new people and take advantage of the variety of classes that Montco has to offer."