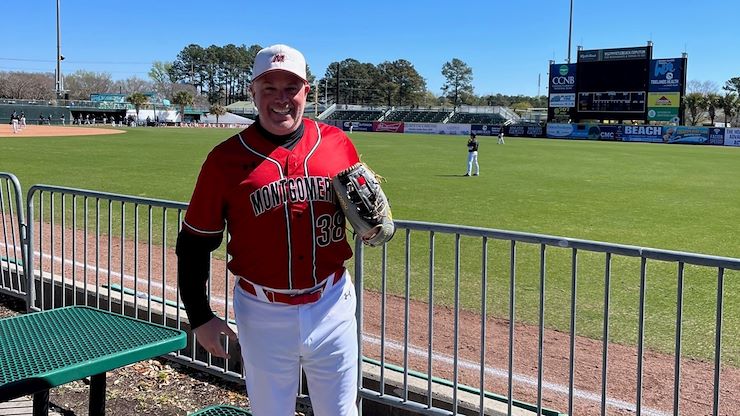 Jim Fullan's return to baseball started as a "daydream" about two years ago while watching one of his granddaughters play softball. Fullan saw her in her team uniform and wondered if he would ever have the chance to don a baseball uniform again.
Then his daughter announced she was returning to college to pursue a master's degree.
"It started to fester," Fullan, 56, of Ambler, said of his dream to play college baseball. "If she can do it with five kids, why can't I at least go back to school?"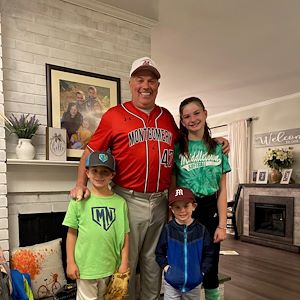 In the fall of 2022, Fullan did just that. He made his return to the classroom at Montgomery County Community College. That same semester, the 1984 Bishop Egan High School graduate tried out for and secured a spot on the College's Mustangs baseball team. It would be the first time he played baseball since his time with an adult league in his 20s and 30s. Fullan had joined an over-50 league in 2021, but he didn't have a chance to play since he had a heart attack.
"We are thrilled to be able to provide Jim the opportunity to fulfill his dream of playing college-level baseball," said Kelly Dunbar, MCCC Director of Athletics and Campus Recreation. "Like all of our athletes, he had to meet the physical requirements, be enrolled as a full-time student and maintain a GPA of 2.5 or higher, as required by the National Junior College Athletic Association."
Other than his personal fitness routines, Fullan is like any other Mustangs player.
"I start a half hour before them and start stretching every day," Fullan said. "When you're young you can get away with (not stretching). When you're old, you can't."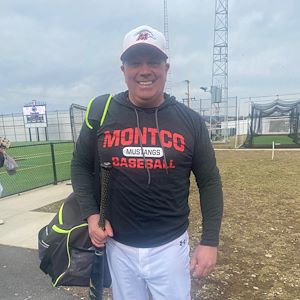 As they say, age is just a number. To hear Fullan speak of the game he holds so close to his heart, you'd think he was a traditional student rather than a man who opted to play ball and attend college after retiring from a successful career as the postmaster of the Wilkes-Barre Post Office.
A liberal studies major, Fullan is still determining if he wants to transfer to a four-year college after he graduates from MCCC in May 2024.
One thing's for certain, MCCC, its students, professors, and coaches all made Fullan feel welcome.
"It was very comfortable. The students here don't treat you any differently," Fullan said. "Once you start interacting, you get comfortable with who's sitting next to you."
Fullan found his professors to be "pretty influential" in their support of his studies, as well as his efforts on the field. In particular, English Senior Lecturer Carol Liebscher was "very positive" about his baseball playing. A statistics teacher often emailed him to ask how it was going and how the team was doing.
Looking back on his first year at MCCC, Fullan said his experience was "everything I hoped it would be and more."
"I made the Dean's list, which was nice," he said. "I wasn't expecting this. I can't wait to go back this fall."
Fullan had been living in the Poconos, near Lake Harmony, when his dream to play college baseball began to materialize. At first, he looked to play fall ball in Luzerne County, but the team ceased to exist. The following spring, he traveled to MCCC, watched a couple baseball games, and talked to the coach.
"I said, 'I'll be back next year,'" Fullan recalled, adding that the coaching staff was receptive to him playing right off the bat. "The coaches embraced me."
MCCC's Blue Bell Campus was the perfect fit as well. His children are a half hour away, his father is nearby, and he enjoys the "beautiful campus."
With his postal career behind him and the future still coming into play, Fullan is content being a full-time student and college baseball player.
"I'm looking forward to the season coming up," he said. "I plan to take it in as it goes. I've been thinking about this for several years."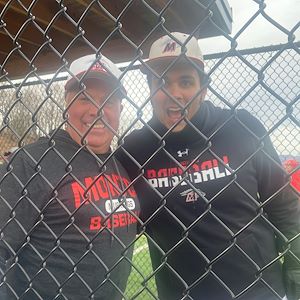 The baseball team is looking to build on their success from last season as they compete in one of the top regions in the country, said Dunbar.
"To see the camaraderie between Jim and the team is heartwarming," said Dunbar. "His positivity is contagious, and they encouraged him throughout the season. We're looking forward to seeing him play next spring."
After he graduates and has used his two years of eligibility to play baseball, he plans to continue his education and possibly pursue coaching.
"I will always want to stay involved in the game in some capacity," Fullan said.
Listen to Jim's podcast interview on Montco on the Move.
Watch Jim's interviews on NBC Nightly News and Fox News.
Read more at Philadelphia Inquirer, Washington Post and Today.com.
About Mustangs Athletics
Montgomery County Community College athletic teams compete in the National Junior College Athletic Association at the Division III intercollegiate level. MCCC places the highest priority on the overall quality of the educational and athletic experiences and looks to compete for national championships each year. MCCC Athletics competes in women's volleyball, soccer, and basketball and men's soccer, basketball and baseball. MCCC offers two all-gender athletic opportunities in cheerleading (non-competitive) and esports (Hearthstone, League of Legends, Overwatch, Rocket League, Super Smash Brothers Ultimate and Valorant). For more information, contact MCCC Director of Athletics and Campus Recreation Kelly Dunbar at kdunbar@mc3.edu.