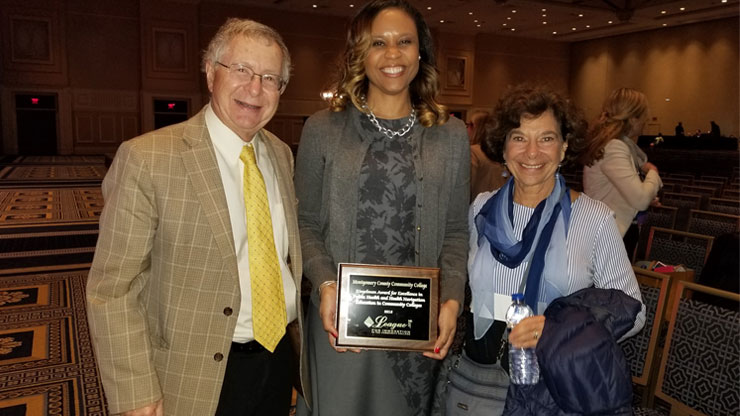 The League for Innovation in the Community College (League) presented Montgomery County Community College (MCCC) with the Riegelman Award for Excellence in Public Health and Health Navigation Education in Community Colleges recently at the League's Innovations Conference in National Harbor, Maryland.
The League is an international nonprofit organization that encourages and recognizes innovation in the community college environment. Riegelman awards are bestowed upon colleges that demonstrate excellence in planning or enhancing associate degree or certificate programs in public health and health navigation education or providing public health/health foundations courses in allied health, nursing, first responder, health foundations, or related programs.
MCCC received the award for the planning, development and enhancement of its current Public Health Program. Through partnerships with the Montgomery County Department of Public Safety and Arcadia University, MCCC is creating a new pathway for Emergency Medical Technicians (EMTs) to earn their associate's degree in Public Health at MCCC and then earn their Bachelor of Science degree in Public Health at Arcadia.
"This program enables first responders to continue their education beyond the community paramedicine training they received and advance in their careers in public health," said Natasha Patterson, Interim Dean of Health Sciences at MCCC.
With the new pathway, first responder students trained with the community paramedicine curriculum will be able to transfer 15 credits from the training to MCCC and then complete their associate's degree in three semesters. Following graduation, they can continue their education at Arcadia, which has created a specific pathway for students to earn their bachelor's degree, including funding for scholarships.
MCCC was one of three community colleges to receive the Riegelman Award for excellence in planning or enhancing programs in Public Health and Health Navigation education. The other colleges were Anne Arundel Community College of Arnold, Maryland, and Palto Alto College, Alamo Colleges District of San Antonio, Texas.
"The League is proud to recognize this year's Riegelman Award winners," said Cynthia Wilson, the League's Vice President for Learning and Chief Impact Officer. "The institutions being honored at the Innovations Conference on Sunday exemplify the connection between community colleges' longstanding role in preparing students for healthcare careers and the expansion of public health career paths into the community college sphere."
The Riegelman Awards are generously sponsored by Richard and Linda Riegelman and Jones & Bartlett Learning.