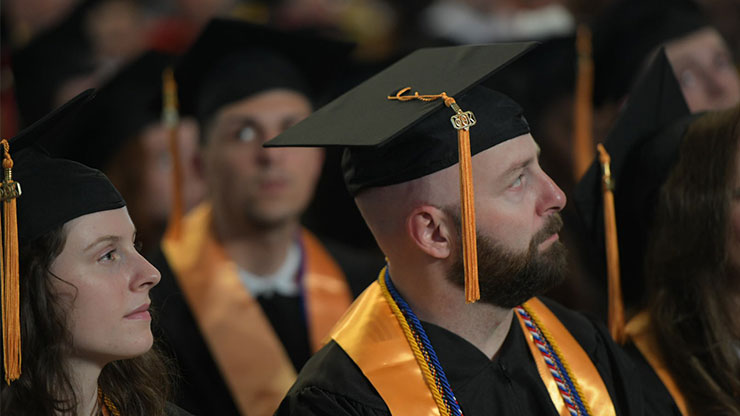 Caps off to the Class of 2018!
Gray skies and soggy weather could not dampen the excitement of the graduates and their families as they gathered under a large tent for Montgomery County Community College's (MCCC) 51st Commencement ceremony on Thursday evening, May 17.
The ceremony was a time to recognize and celebrate the accomplishments of the Class of 2018.
"All of us at Montgomery County Community College are committed to the success of our students – it is the core of our mission," MCCC President Dr. Kevin Pollock said. "Standing at 1,435 graduates who will collectively earn 1,448 degrees and certificates, the Class of 2018 is proof of that commitment."
The class, ranging in age from 17 to 77, includes 112 Police Academy graduates, 39 Culinary Arts Institute graduates, 35 military veterans and 34 international graduates. Thirteen students graduated from the Honors Program, 294 graduates are members of the Phi Theta Kappa Honor Society and 16 graduates are members of Mu Alpha Theta (Math) Honor Society.
MCCC Board of Trustees Chair Rich Montalbano congratulated the graduates and encouraged them to continue their journey.
"As you cross the stage tonight, remember your graduation is just the beginning," Montalbano said. "As you embark on your next chapter, we hope you know that your education extends well beyond the classroom and your career."
This year's Student Commencement speaker Olivia Slupski, a Liberal Studies major from Gilbertsville, Pa., spoke about grit – the courage, backbone, spirit and fortitude that enables students, including herself, to overcome challenges and persevere.
"While all of us learned so much during our time here from our professors and peers, grit isn't something we learned. Rather it's the people here who have helped us tap into our grit and have given us the support system that we needed to be successful on this journey," she said.
Slupski plans to transfer to a four-year university in the fall to major in both Biology and Psychology, with the goals of attending medical school and then law school. During her time at MCCC, she was an active member of the Beta Tau Lambda chapter of the Phi Theta Kappa Honor Society, serving as president. She also was named a member of the 2017-18 All-Pennsylvania Academic Team, receiving a full-tuition scholarship to continue her education.
In addition to celebrating its graduates, the College presented Assistant Professor Timothy Gallagher with the Pearlstine Award for Teaching Excellence for his exceptional service. Math Senior Lecturer Stephen Bartorillo and Economics Senior Lecturer Joseph Waldo received the Part-Time Faculty Teaching Excellence Awards sponsored by Barnes & Noble in recognition of their work.
Several MCCC employees had the opportunity to present diplomas to their graduating children during the ceremony. The parents and graduates included: Administrative Assistant Maura Duggan and her daughter Molly Duggan (Associate in Arts degree/Liberal Studies); Assistant Professor of Psychology Tina Frederick and Assistant Professor of Math Richard Herbst and their daughter Christa Frederick (Associate in Arts degree/Liberal Studies); Assistant Professor of Marketing Eileen Kearney and her son Keenan Mead (Associate in Science degree/ Business Administration); Manager of Nursing Simulation and Skills Suite Pamela Roberts and her son Jonathan Roberts (Associate in Arts degree/Liberal Studies); and Advising Diversity Fellow Sherita Rooney and her daughter Cezanne Fisher-Rooney (Associate in Arts degree/Liberal Studies).