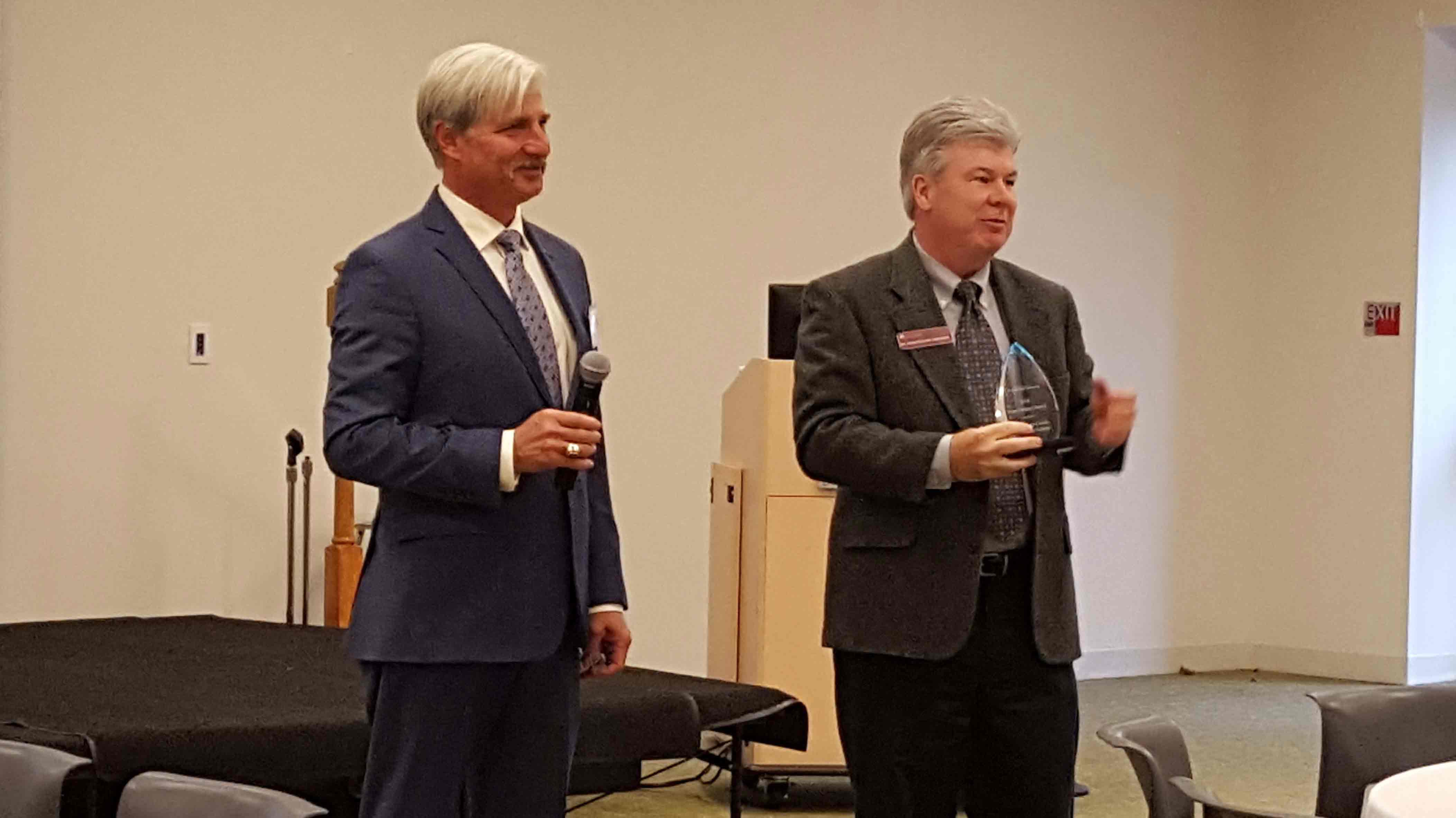 As a longstanding educational resource for the community, Montgomery County Community College (MCCC) recently was recognized for its beneficial influence on business development and economic momentum in Montgomery County.
The Montgomery County Development Corporation (MCDC) presented the 2018 Project Impact Award to MCCC on Oct. 22 during its Annual Meeting and Membership Appreciation Day.
"This award recognizes a project or development that has made a notably positive impact on the economic and business climates in Montgomery County," said MCDC Chairperson Jerry Gorski, President of Gorski Engineering, Inc.
The award was presented to MCCC for its investment in its Sound Recording and Music Technology Program with the addition of a new mixing studio, its development of job training and apprenticeship programs and its partnerships with companies to provide customized employee training so Montgomery County businesses can enhance the skills of their workforce.
"We are honored to receive this award, which recognizes the College's vital role in the economic development and business growth of Montgomery County," said Dr. Kevin Pollock, MCCC President. "The College is a resource hub for the community, providing relevant academic and career training programs combined with real-world experiences to ensure students and employees are successful in the workplace today and in the future."
MCCC enhanced its Sound Recording and Music Technology Program by adding a state-of-the-art mixing studio—a place for music professionals in the region to use for recording and producing music and networking with each other, faculty and students. Through this interactive, experiential learning environment, students develop professional business skills and relationships. The SRT Program is an example of the College's holistic approach in the formation and development of programs, recognizing students' needs for credentials aligned with industry expectations, job readiness skills and transfer pathways for further education.
The new studio has both digital and analog technology, including a Solid State Logic 9056 XL K sound mixing board, to provide students enrolled in the Sound Recording and Music Technology Program with a broad background in the production industry. The SRT Program's Director is David Ivory, a multi-platinum, Grammy-nominated engineer and producer who has worked with Grammy-winning artists, including Patti LaBelle, Halestorm and The Roots.
MCCC's Workforce Development Division provides customized training programs for businesses and organizations, helps employees acquire new job skills and offers fast-track programs in high-demand fields for people seeking new careers in health care, information technology, industrial and manufacturing, office administration, real estate and public safety. Collaborating with employers, the Workforce Development Division provides training solutions that help businesses improve their competitive advantage in today's dynamic marketplace and enable employees to advance in their careers.