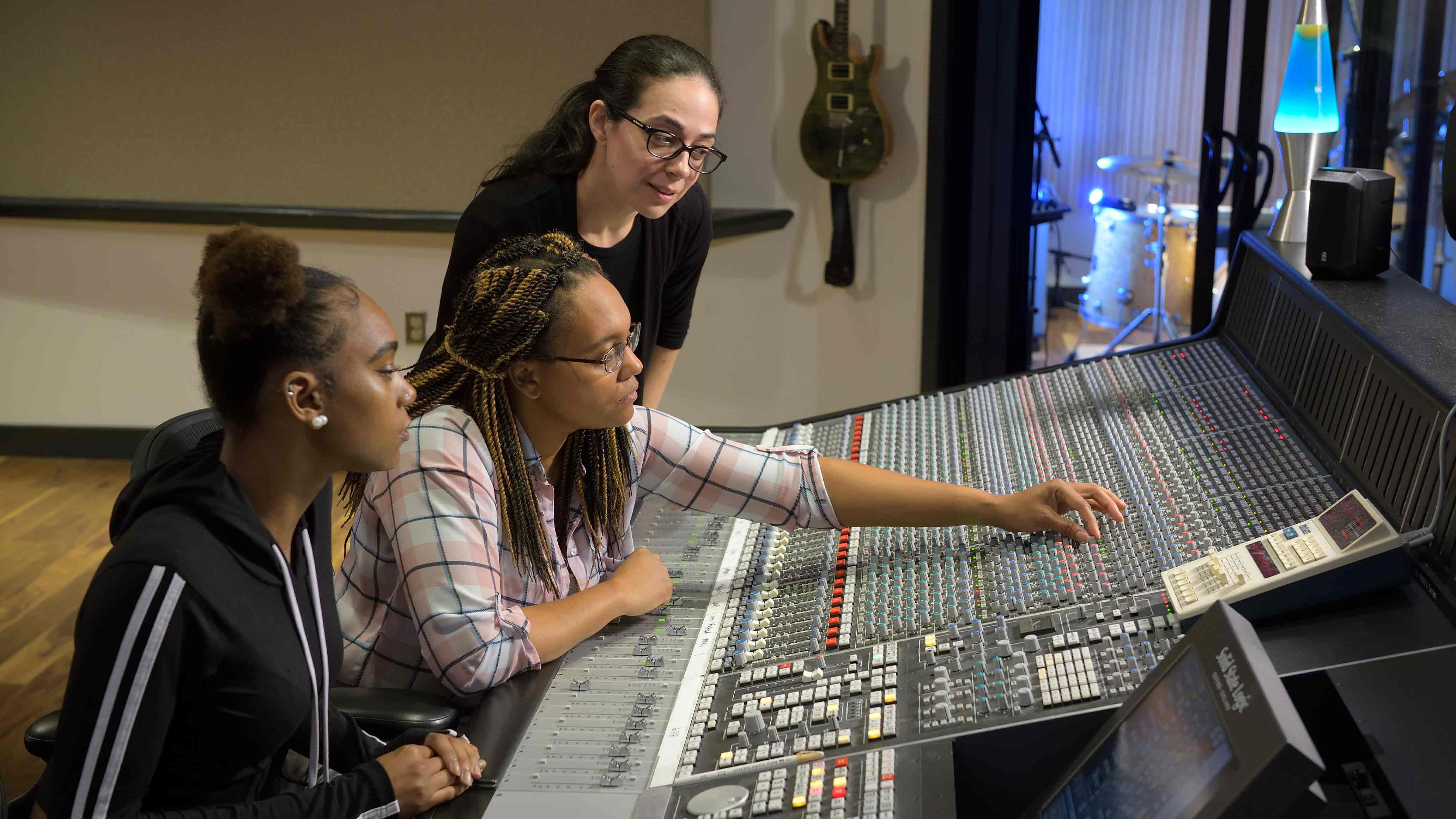 For Shea Walker, Montgomery County Community College's Sound Recording and Music Technology Program (SRT) was the answer to her prayers. The mother of nine has faced many challenges in her life, including leaving high school early and being unable to find a permanent job, even though she earned her GED shortly after dropping out.
Realizing she would need to further her education, she talked to an advisor at Montco who suggested she pursue something she loved, music. She enrolled in the SRT Program and took as many classes as she could each semester, even if it was only one.
Her persistence paid off. Today, she needs only six more classes to complete her associate degree in SRT. She also was inducted into the Phi Theta Kappa Honor Society and is on the Dean's List. She looks forward to soon reaching her goal, and as she does, she studies with her daughter Sashea, 20, who also is in the SRT program.
"After we receive our degrees, maybe we can have our own studio someday," she said. "I love this program. It has taught me so much, not just about music, but about life in general. Montco has the best equipment, and when you have the right teacher, they help you learn, and it doesn't seem like work."
Since SRT started in 2015, the class size has more than doubled. Currently, there are approximately 85 students, and only 15 of those students, including Shea and Sasha, are females—a statistic Instructor Jen Mitlas and the other SRT instructors would like to change.
Mitlas joined the faculty in May 2018 and teaches introductory to advanced sound recording technology courses. She is a musician and sound artist who took classes at Montco and then earned a bachelor's degree in Film & Media Arts from Temple University. She presently is completing her master's degree in Music Production through the Berklee College of Music in Boston, Mass. Mitlas already has made an impressive mark in the industry as a 2015 Sundance Institute/Knight Fellow for her work in sound design and music composition for film.
Since starting at Montco, Mitlas has partnered with Kendall Martin, Ph.D., professor of computer science, to form a local chapter of Beats By Girlz (BBG), the first in Pennsylvania.
BBG is a non-traditional, creative way of learning music that was started at the Berklee School of Music by Associate Professor Erin Barra-Jean. She wrote a music curriculum in response to the low numbers of women entering the field and used the Abelton Push, a new electronic instrument, to encourage girls' interest in music.
"Women are under-represented in the music technology field, and we want to change that," Mitlas said. "And we anticipate a lot more growth. Personally, I want women to feel comfortable in an environment that has been male dominated and highlight music producers so they feel comfortable."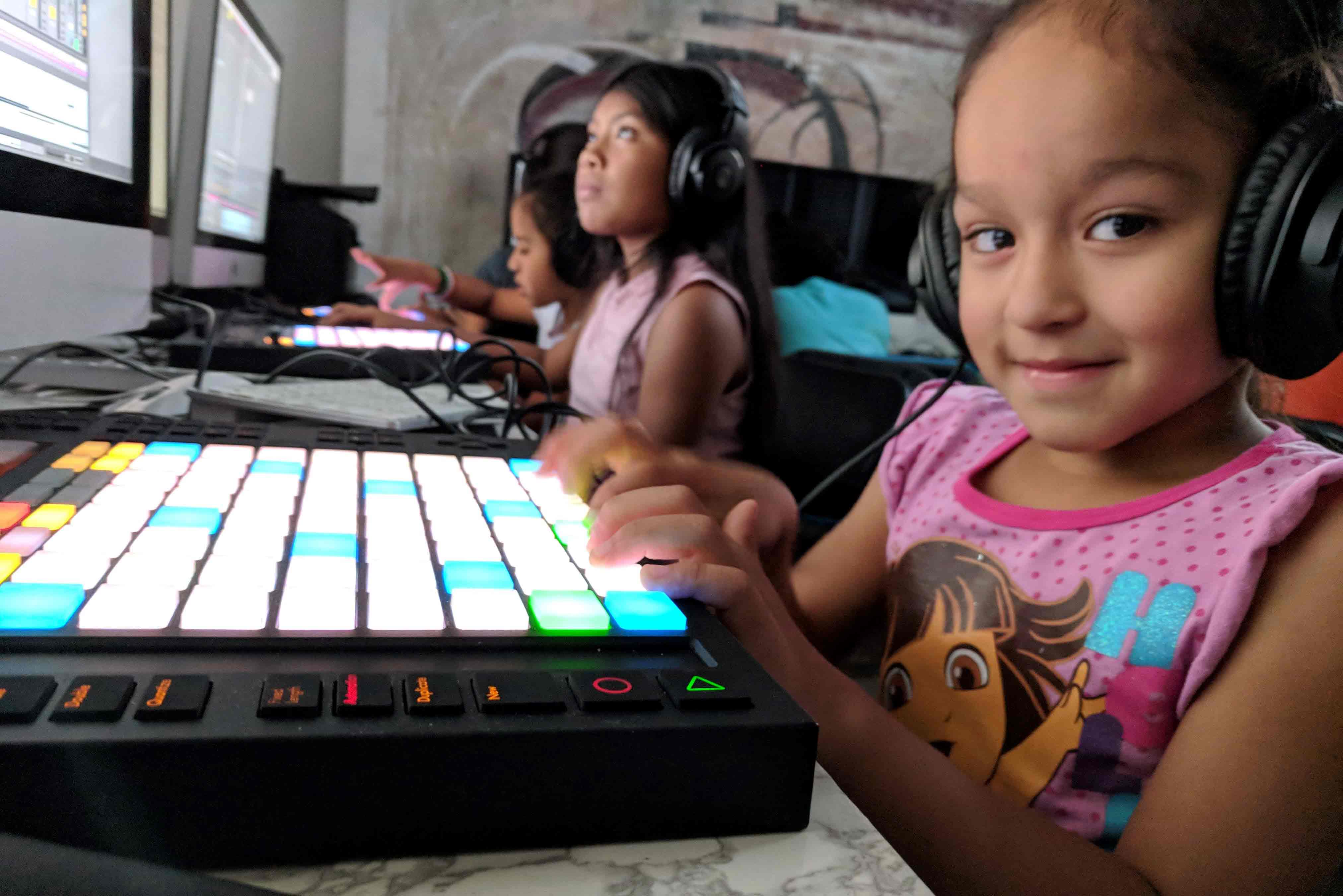 To introduce BBG to girls, Mitlas and Martin reached out to Obed Arango Hisijara, the founder and executive director of the Center for Culture, Art, Training and Education (CCATE) in Norristown and an art instructor at Montco. CCATE's mission is to develop and empower the Latinx community through the promotion of culture, art, work training and education.
CCATE has grown since its inception in 2012 from three families to 275. It operates 32 programs every week with 24 volunteer instructors, as well as interns and other student volunteers from Montco. The BBG is in line with CCATE's mission to provide opportunities for Latina females, who are often marginalized, Hisijara said.
"Working with community organizations such as CCATE allows us to give young girls an experience of the College as well as the chance to develop new skills. This is fundamental to Montgomery County Community College's overall mission," Martin said. "It is tightly tied to our role of service in the community and to our role to serve women. It is the core of who we are as a community college."
In BBG, the students push the envelope of creativity and don't just learn music theory, explains Martin. She recognizes there is a great deal of overlap in the fields of engineering, computer science and music.
"With modern electronics and software, there are no limitations; your music can develop in any direction," she said.
BBG students use the Push hardware controller with software called Abelton Live. This kind of electronic digital instrument (EDI) is now recognized as a performance instrument at Berklee, a major shift in the understanding of what an instrument can be.
They plan to incorporate Mitlas' film work into the curriculum in the future, teaching film scoring using electronic software/hardware in a program they will call "Film Beats By Girlz."
"This is a win-win for the College, for our fledgling organization and for the community," Martin said.
From their initial conversation to installing a program in place with CCATE fell into place seemingly overnight, she adds. The Push units, the devices used to create the music and make the beats, were donated by Abelton and classes started at CCATE's location in Norristown in early September with about a dozen girls.
"Students can begin to produce very musical work and add effects to it almost instantly. They can move beyond that and design new instruments with the software too. It is an incredibly powerful tool," Martin said.
"Computer science, SRT and music are fields that work well together and are important to the College," Mitlas adds. "It's an internal collaboration that is then brought out to the community."
In the short-term, the team is working on getting grants, holding fundraisers for BBG, and workshops for girls and women to learn more about BBG and music. Long-term, Martin would like to bring young students to the College, possibly holding an after-school program on Montco's campus.
"This is a completely different way to learn music," Martin said. "Our program has had a great beginning working with CCATE, and we already have plans to work with girls from St. Augustine Academy in a summer program. Our dream is to see every girl have the chance to feel confident using technology to express her creativity," she said.