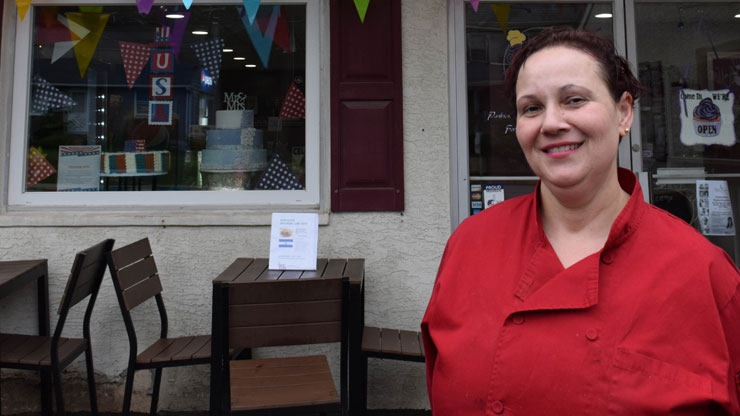 Spring has been a season of firsts for Jacqueline Ramos.
Ramos, of Hatfield, is the first graduate of The Culinary Arts Institute of Montgomery County Community College to continue her Baking and Pastry Arts and Food Service Management studies at Johnson & Wales University in Providence, R.I., thanks to the seamless pathway created by the partnership of both institutions.
Even before graduating from Johnson & Wales on May 19, Ramos succeeded in opening her business, Jacquie's Pastry Café, in her hometown—another first.
Her specialties are pastries from her native Puerto Rico and her husband's native Central America, as well as American favorites such as cupcakes, brownies, muffins and custom cakes. The café also serves breakfast and lunch and offers catering services.
While still a culinary student, Ramos, who was the 2016 student commencement speaker, had already set her sights on opening a café.
"Montco prepared me big-time for what I'm doing now," Ramos said, adding that the community college support continues. "There were representatives from Montco at my ribbon cutting. That, to me, is huge. Here I am two years later, and they still came out to support me. I'm just happy and grateful to Montco for their continuous support."
Her online studies at Johnson & Wales helped transform her baking passion into reality. With a Baking and Pastry Arts associate degree already under her belt, Ramos was able to concentrate the bulk of her Johnson & Wales studies on food service and retail management. A background in accounting and human resources from her previous career in business administration definitely made the transition smoother.
"I wasn't going in completely blind to these classes," she said. "Running and owning my own shop will definitely help me."
Taking courses online allowed Ramos, a wife and mother, to complete her degree sooner than anticipated. She earned her bachelor's degree exactly two years to the day after earning her associate degree from Montco.
"I wanted to do my classes and finish them. I wanted to get my degree," Ramos said. "I'm glad I did."