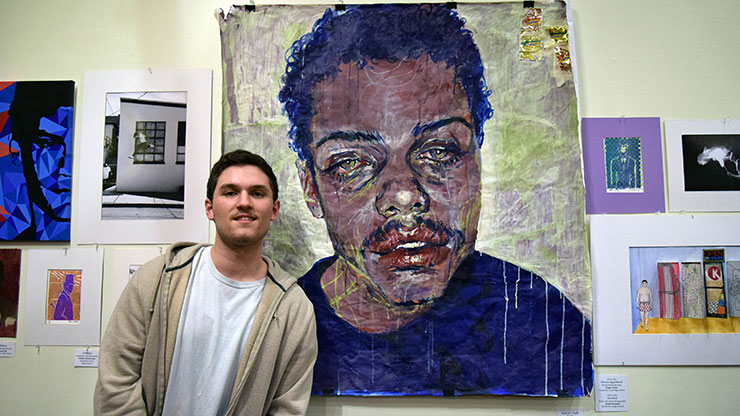 Montgomery County Community College is gearing up for its 41st annual Montgomery County High School Exhibition and Competition, which opens on Feb. 5 with a reception from 5 to 7 p.m. at the College's Fine Arts Center Gallery, Central Campus, 340 DeKalb Pike, Blue Bell. Both the reception and exhibition are free and open to the community.
The gallery will feature scores of art works from students of 15 to 20 high schools throughout Montgomery County.
"We end up with a show of 150 or more works, making it one of our biggest shows of the year, and it's one that we always look forward to holding," said MCCC Galleries Director Patrick Rodgers.
Each high school can submit 10 works in any medium, Rodgers said. The show's juror, Mary Anne Casey, creative director of Olivetree Design, a Philadelphia-based graphic design firm with expertise in museum exhibit design, will select at least a dozen pieces for special recognition and prizes. Awards will be given during the opening reception.
Casey met Rodgers while working together on exhibitions at the Rosenbach Museum in Philadelphia. She has also worked on the visual and design aspects of exhibits at Longwood Gardens and Mt. Cuba Center in Delaware.
A first-time juror, Casey said she's looking for the "wow" factor in selecting works for recognition.
"Something that really made me stop in my tracks and go 'wow, that's really interesting,'" said Casey, describing what she is seeking from the award-winning submissions. "Sometimes it's in details or materials, or how the students present things in ways I would never think of."
The College's Best in Show prize is sponsored by the Greater Norristown Art League, which provides a cash prize and student membership. Casey and her husband, Rick DeOliveira, will also make a prize donation.
"It's a terrific opportunity to really make an impact," Casey said.
When You Go
Montgomery County Community College's 41st annual Montgomery County High School Exhibition and Competition will be held Feb. 5 through March 16 at Montgomery County Community College's Fine Arts Center, Central Campus, 340 DeKalb Pike in Blue Bell. An opening reception will be held on Feb. 5 from 5 p.m. to 7 p.m. with an awards ceremony beginning at 5:45 p.m. To RSVP to the reception or for additional gallery information contact Patrick Rodgers, Galleries Director, at prodgers@mc3.edu or 215-619-7349.