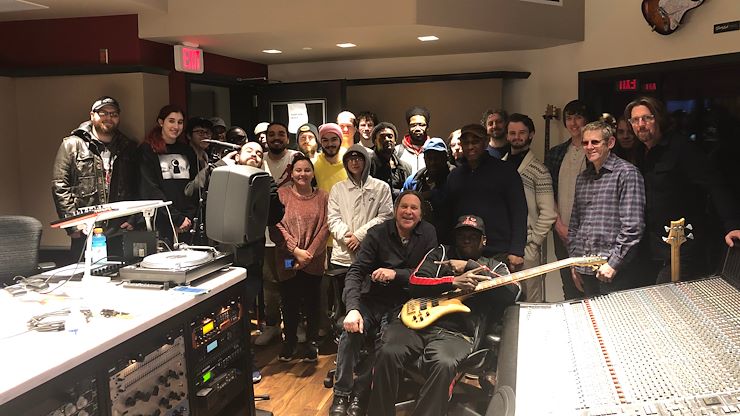 On Wednesday, Feb. 27, musicians Daryl Burgee and Doug Grigsby stopped by the
Mix Room at Montco to share their stories and inspire students. The musicians joined David Ivory, Director of the Sound Recording and Music Technology, for the latest SRT Master Class.
Burgee and Grigsby each have storied careers working with legendary musicians. Burgee played with artists like Gladys Knight, 52nd Street and the Dixie Hummingbirds, which also led him to playing Madison Square Garden with Stevie Wonder. Grigsby worked with Michael Jackson, Rick James and also Gladys Knight, separate from Burgee.
Burgee stressed the importance of the connections that he made with people. His career began because of his relationship with singer and songwriter John Whitehead and singer, songwriter and producer Gene McFadden. Burgee was able to watch when top-tier drummers played with Whitehead and McFadden, and through this exposure, Burgee learned to become a better musician.
Burgee encouraged collaboration and learning in a studio environment.
"Chemistry is based on a certain group of individuals that came together to make magic happen," Burgee said.
Grigsby recalled working as a session musician when Gladys Knight wanted to sing with the band as they were rehearsing. The band only made it eight bars into the song before they stopped because Knight's voice was so beautiful.
The pair told stories and walked the audience through their careers, but together they emphasized building connections and putting effort into musicianship.
"Hard work is always going to be the core of anything you do," Grigsby advised the class. "Students have to put in hard work to get good grades and that effort will be essential to succeed."
After the storied musicians shared their experiences, attendees were treated to a special session arranged by SRT Instructor David Ivory. Forging another connection, Burgee and Grigsby played the drums and bass respectively over a song written by Vincent Tomas, a student in the Sound Recording and Music Technology Program.
Tomas was happy to have the musicians contribute their interpretations.
"I always have my ideas about my songs and then hearing other people and their influences come and drop their ideas is an amazing thing," he said. "What I'm doing is something that they did 20 years ago. It might be a different industry or climate, but it's the same principles."
Hosted by the Sound Recording and Music Technology Program, Master Classes are free and provide Montco students and community members with the opportunity to meet with and learn from professionals in the music industry.