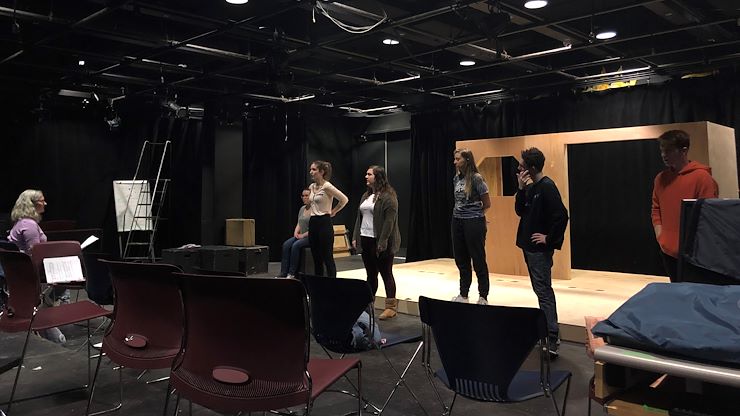 The Montgomery County Community College Drama Club and Theatre Arts program present "Mr. Burns: A Post-Electric Play­" by Anne Washburn from April 11-14 at the College's Central Campus, 340 DeKalb Pike, Blue Bell.
Performances will be held April 11-13 at 7 p.m., April 12 at 12:30 p.m. and April 14 at 2 p.m. in the Black Box Theatre in the lower level of the Science Center. General Admission is $10 and $5 for students and seniors. Purchase tickets online or call 215-641-6518.
"Mr. Burns" takes place in a post-apocalyptic world where a lack of resources and energy create new forms of entertainment, including a group of traveling performers who try to reenact an episode from the television sitcom, "The Simpsons." As the performers repeat the story over time, the pop culture references erode and change into new forms with startling results.
Produced by special arrangement with the Samuel French Theatrical Company, "Mr. Burns" is directed by Theatre Arts instructor Rob Heller, and stage managed by student Sophia Colon.
"Mr. Burns" is a collaborative production and includes students and faculty from the Theatre Arts, Fine Arts, Sound Recording & Music Technology, Music and Dance programs.
The cast includes Elbert Jean, Madison Undercuffler, Diomira Keane, Anthony Candelori, Loue Rapsik, Andrew Campbell, Mersha Wambua, and Haley Simmonds. The chorus includes Collin Kehoe, Raylee Thomas, and Barry Berglund, and the band includes Jennifer Buono, Dan Gardner, Erica Bowers, and Andrew Couchara.
Students working backstage include Chris Smalls, Gabriel Lepera, Liyah Jefferson, John Bubeck, Drew Thompson, Wesley Owens, Kieran Bates, Alaysha Gladden, Brylonde Baylis-Shepard, Ashley Sullivan, Pedro Nieves, Maya Davis-Goodstein, Jared Cubernot, Stephan Dennis, Trey Hippensteal, Victoria Scott-Romanczuk, Jesaniel Marrero, Sam Puleo and Clarena Wilson.
The chorus is directed by Music Associate Professor Andrew Kosciesza, dance is coordinated by Dance Associate Professor Dr. Melinda Copel, and the band is directed by Music Assistant Professor Michael Kelly.
The production is designed by the students of the Theatre Arts Production Workshop, taught by Tim Gallagher and Katherine Fritz. Students from MCCC's Graphic Design program are creating the production's posters and marketing images.