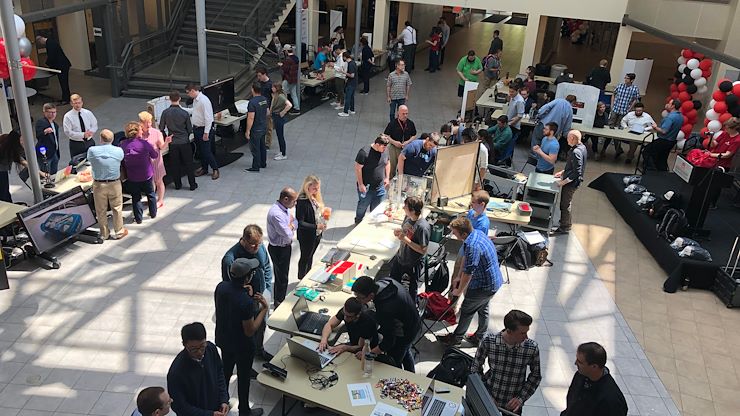 Montgomery County Community College celebrated the work of its Computer Science students at this year's Tech Connect on May 2.
Tech Connect is an exposition style event in which students can demonstrate work that they have developed through the semester. Students created innovative technology and machines in a variety of fields including health, entertainment, communication and others.
This year's event was organized by Dr. Kendall E. Martin, Professor of Computer Science. Martin taught the students working on these projects and was excited to see how they progressed.
"These student only have been programming for a few months," she said. "The students have worked hard and created amazing projects that manage health and help us communicate."
One project team developed a system to help people with diabetes. Sarah Wagner, Kevin Tofel, Wan Lu Ding and Sean Tinneny were able to modify Wagner's insulin pump to send measurements of her blood sugar level to a cloud-based data storage. The application would then be able to send instructions for the pump to automatically administer an appropriate amount of insulin. The measurements are tracked in Google Sheets, and the entire system can be monitored from an app on a computer or tablet.
The team built upon the Open Artificial Pancreas System project (OpenAPS) that is working to make diabetes-related technology more widely available. The OpenAPS project provides open source reference documentation that these Montco students were able to learn from and incorporate into their semester project.
In an effort to advance communication, Vincent Chu-Pham, Maddy Reed and Mark Murphy developed a program that could read and translate sign language. The students had a camera set up that could track and record finger positions and translate those gestures into letters on the attached computer. At the time of the Tech Connect event, the program was able to read the letters B, A and R.
In addition to the health and communication projects, two projects worked in the realm of entertainment. Sam Haas, Bryan McMonagle and John Lee created a self-drawing Etch-a-Sketch, as suggested by Martin. Their machine controlled the knobs of a small Etch-a-Sketch and drew a design based on input from an attached computer. Nick Pruit and Brandon Bailley chose to develop a tower-defense game, wherein players set up defenses to defeat oncoming enemies.
Other projects included a self-driving remote controlled car, a motion capture camera that could match body positions to images on a computer and a wireless fish feeder, among others.
Montco's Computer Science program provides academically rigorous coursework for students interested in the field. Through hands-on instruction, students will build a solid foundation that will allow them to seamlessly transition into four-year institutions.