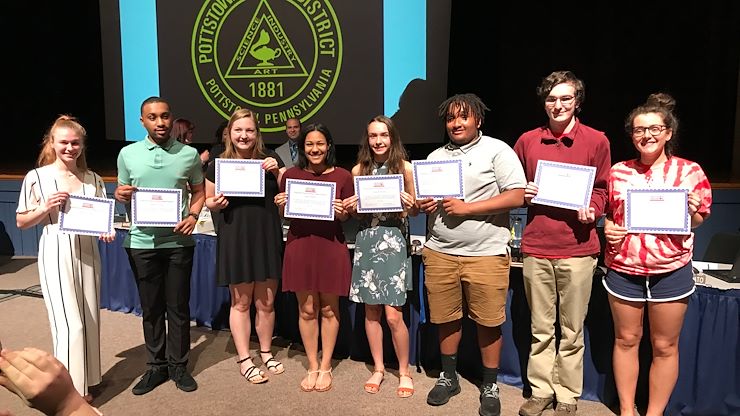 As one of the advisors at Montgomery County Community College's West Campus in Pottstown, Judy Green says the best part of her job is meeting and helping students of all ages who are at different stages of their lives. Often, they are unsure about their plans and how to get started – and that's ok.
"Together, we try to figure out which path to take," says Judy, who has been guiding students for nearly 10 years. "I also let students know they can change paths, too. My advice to students is to find your passion, study hard and go for it."
In addition to high school graduates and adult learners, Judy advises Pottstown High School students through the Pottstown Promise Early College Program. Funded by the Foundation for Pottstown Education, the program provides high-achieving, low-income Pottstown students the opportunity to finish their first year of college at MCCC during their junior and senior years of high school.
"For this year, there are 15 juniors and 15 seniors in the program," said Judy. "They will have completed one year of college with 30 transferrable credits by the time they graduate high school."
Most of the students receive full tuition paid by the Foundation, while others receive 50% reimbursement, based on their financial need.
After their graduation, students can earn their associate's degree at MCCC in one year taking advantage of the College's affordable tuition, which has not increased in three years.
Since the Early College Program started in 2014, 54 students have completed the two-year program, according to Joseph Rusiewicz, the Executive Director of the Pottstown Foundation for Education's Board of Directors.
"I feel that this is a wonderful partnership that benefits our students and their families. In the long run, it also benefits the Pottstown community," Rusiewicz said. "The relationship that the Foundation has with the staff at MCCC's West Campus is a great partnership, which fosters a successful program and experience for the students. I am extremely proud of being a part of this program."
For Kenil Patel, who participated in the Early College Program during 2015-17, the program introduced him to campus life while providing him with stimulating courses.
"By taking classes at Montgomery County Community College, I was able to experience the academics, student life and learn about what is expected from a college student," said Patel, who is now at Drexel University studying Mechanical Engineering Technology with a minor in Biological Sciences. "The program definitely prepared me for college classes and also taught me how to use the guidance and advising center, library resources and various resources on the College's website. By understanding what resources were available to me, I was able to utilize those very skills at Drexel."
"I only hope to make the Pottstown Foundation proud, as everything I am today is because of them," he added. "I thank them for all they have done, and all they will continually do for Pottstown students in the future."
One of the many resources that helps students succeed is the tutoring center at West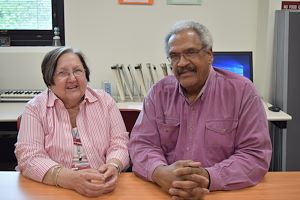 Campus, which has several experienced tutors, including Art Green, who assists students with chemistry and developmental math.
"I enjoy the one-on-one contact with each student, from the youngest to the oldest, who come in for help," said Art, who is married to Judy and has worked at West Campus for almost six years. "Often students simply lack confidence in their ability and are more capable than what they think."
In addition to the tutoring center, Art also tutors students in the College's Act 101 Scholars Program – a specialized program that provides additional support, advising, planning and outreach for students facing educational, personal and financial challenges. And, if students need help after hours, they can use MCCC's 24/7 online tutoring services, too.
Whatever your age, experience or passion is, MCCC is the best place to start your education and prepare for your career.