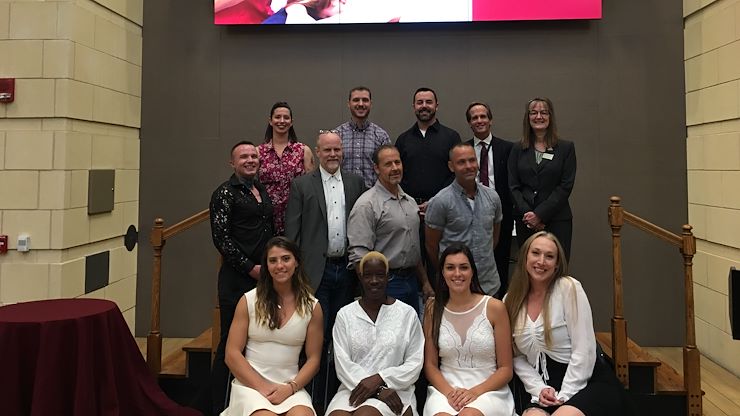 Montgomery County Community College recently celebrated the success of nine students who graduated from the Massage Therapy Program during a special ceremony held in the Health Sciences Center at its Central Campus in Blue Bell.
Graduates include Herbert W. Bailey, IV, Cheltenham; Michael T. Bowen, Wayne; Victoria Porter Gardiner, Philadelphia; Tess Elizabeth Hansler, Doylestown; Wayne Haufler, Allentown; Hannah Levy, Haddonfield, New Jersey; Daniel McGorrey, Southampton; Joel W. Snyder, Lansdale; and Vanessa Vahn, Hatboro.
MCCC's Massage Therapy Program is designed to prepare students to pass the State Board of Massage Therapy's approved licensure examination. The program teaches business fundamentals, anatomy and physiology, kinesiology, history of massage, body mechanics, massage techniques and rehabilitative aspects of massage. Additionally, students are required to practice 50 hours of practical massage time outside of class.
"Congratulations on this accomplishment. I am honored to be a part of your journey, and I couldn't be more proud of you," said Program Manager William Mullen, LMT, praising them for their hard work.
Special recognition was given to Hanna Levy, who earned top honors in anatomy and physiology; Vanessa Vahn, who earned the outstanding study of massage therapy award; Wayne Haufler, who earned the outstanding kinesiology award; and Daniel McGorrey and Victoria Porter Gardiner, who both earned the outstanding clinical performance award.
McGorrey also earned the congeniality award and spoke during the ceremony, thanking the instructors.
"All of them played necessary roles in our personal and professional and growth, and they bent over backwards for us every chance they could because they care deeply about us, which is very evident," McGorrey said. "We accomplished another foothill in our journey, but we still have miles and miles to go. Remember how far you come and the amazingly wonderful things ahead of you when you push back fear and believe in yourselves."
The next full-time Massage Therapy Program starts September 23 and will finish on March 13, 2020. Classes are held Monday through Thursday, 9 a.m. to 3 p.m. and Friday, 9 a.m. to 1 p.m.
The next part-time program starts January 13, 2020 and concludes December 18, 2020. Classes are held Mondays/Wednesdays and alternating Thursdays from 5-10 p.m.
According to the U.S. Department of Labor Bureau of Statistics, employment in this field is expected to grow 22 percent from 2014 through 2024, with growth higher than average for all occupations. Massage therapists work in a variety of settings, including spas, franchised clinics, physicians' offices, hotels and fitness centers