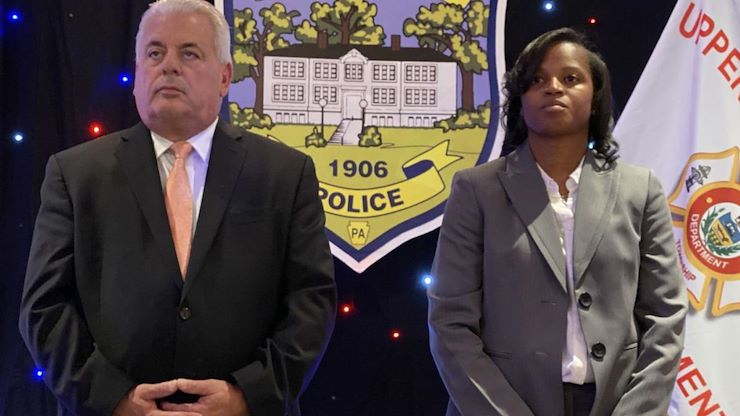 Laina Stevens continues to break down barriers at the Upper Darby Police Department.
After becoming the first African-American woman to join the force in 2014, she is now the first African-American to reach the rank of sergeant in the department's history.
"This is all surreal, really. When I started my career as a police officer I never thought that I would be promoted to sergeant so I'm very grateful to be here in this position," said Stevens Tuesday night during a promotion ceremony at the Drexelbrook Special Event Center where she and five others were honored for achieving a higher rank.
Stevens' husband, Daniel, and their son Daniel Jr. helped with her swearing-in to her new position as Mayor Tom Micozzie administered the oath.
Upper Darby Police Superintendent Michael Chitwood said the promotion of persons of color in the department is long overdue.
"I'm proud to be part of that promotional process, as I am for everybody," Chitwood said. "With respect to the Upper Darby Police Department we have 80,000 people, a very diverse community … her promotion and her assignment will show the community that we care."
Before her trailblazing path with Upper Darby PD, Stevens worked with the Philadelphia Adult Probation and Parole Department for almost eight years. She graduated from the Montgomery County Community College Police Academy in March 2014 and was named the lieutenant of her class. Weeks later she joined the force with an initial assignment in the narcotics division. She eventually moved to the third squad patrol division. Her position has expanded to included participation in the department's fifth grade mentoring program and as a guest speaker at Beverly Hills Middle School to discuss bullying, drugs, teen suicide prevention, and other pertinent issues.
"Coming from adult probation I just wanted to be a patrol officer, that's the only goal that I had," she said about her start in law enforcement.
When interviewed in 2014, she said her appointment as the first African-American woman to the department was something she tried "not to think about," noting the long process she went through to become a police officer. Stevens continued to work hard for the promotions test that she heard was "very challenging" and requiring "a lot of studying." The test was administered over the summer.
"I went into taking the test just to see what the test was about," she said. "I was glad to have passed and very surprised that I scored so well."
As a sergeant she will be picking up the duties of Anthony Vaughn, who was promoted to lieutenant Tuesday night. Continuing the safe schools programs and active shooter drills will now be part of Stevens' new position.
"With my new position I'll be able to do more things in the community than I was able to do in patrol so I'm looking forward to that," she said.
Chitwood added, "She will work closely with the schools, with the community and she will be the face of the police department."
Stevens joins Sgt. Amanda Pombo as the only two women who make up the command staff of the approximately 130-member Upper Darby Police Department.
Another historic moment of Tuesday night's ceremony was Rob Bennett's promotion to sergeant, the first time an openly gay officer reached that rank in the department. Bennett was been with Upper Darby since 2008 serving as a patrol officer, detective and, at present, an officer with the K9 unit. He has been working with his K9, Quattro, since spring 2016.
After Steven and Bennett, four other officers were promoted on Tuesday.
Captain Michael Kehrle has been with the Upper Darby force since 1996 working on the mountain bike and highway patrol units and the SWAT team. With the patrol division we was promoted to sergeant in 2003 and worked up to lieutenant. He has trained new and veteran officers for use of force and tactics since 1998.
Lieutenant Vaughn has been with Upper Darby since 1998 and worked as a patrolman until 2005 when he was promoted to sergeant. He served as a street sergeant until Jan. 2017 when he joined the administrative division under Capt. Tom Johnson. In Feb. 2019 he was named the Marine Corps Officer of the Year for Upper Darby. District Attorney Katayoun Copeland honored Vaughn for his drug addiction prevention work.
Dan Lanni is no stranger to public service. The newly minted lieutenant was in the U.S. Marine Corps Reserves at 17 and joined the police department at 22. His career with the UDPD includes mountain bike and traffic units, the five-county level B SWAT team unit, and working with the township's DEFY (anti-drug) program. He also worked special victim investigations as a police detective.
Sgt. Michael DeHoratius has been a police officer for 16 years, eight with the UDPD. He is a common fixture at the department's annual commendations ceremony where he has racked up his fair share of accolades. He is a field training officer and instructor in racial intelligence training and education, field sobriety and active shooter.
"We're a civil service organization so we don't just arbitrarily promote people," said Chitwood about the latest round of promotions. "It's a group of excellent candidates who only make the department better. That's the bottom line. People retire and they're replaced by excellent candidates."
Additionally, the police department hired two new officers Tuesday. Matthew Bruder comes to Upper Darby after working previously with Bethel Township and Folcroft Borough police departments. Rachel Keenan had a one-year stint as a patrol officer in Darby Borough before coming to Upper Darby. She also has a background as an EMT and a firefighter.
The Upper Darby Fire Department, too, made a promotion and hired a new fireman. Mike Jernegan was promoted to fire captain and Joe Meyers was sworn-in as a probationary firefighter.