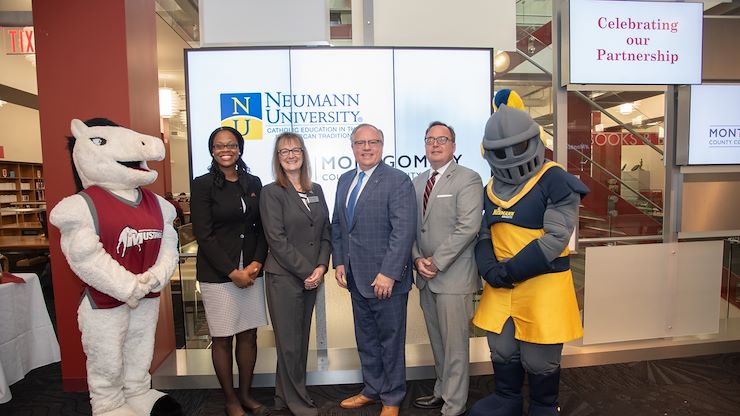 Montgomery County Community College welcomes Neumann University to its University Center partnership of higher education institutions to expand its advanced-degree opportunities for students and community members.
Neumann will be offering an online degree completion program for a Bachelor of Science in Public Safety Administration. The program is designed to prepare people who are working in the fields of firefighting, police or emergency medical services for administrative and leadership positions.
Through this agreement, Neumann will accept 90 transfer credits, creating an affordable way for students to earn their bachelor's degree by taking additional courses at Montgomery. The online format provides a flexible schedule, particularly for students who are balancing work, family and school responsibilities. The program may be completed in as little as 20 months.
MCCC is in the process of developing an associate degree program in Public Safety Administration, which will be available in the 2020 fall semester. This new program will provide a seamless pathway to Neumann's Bachelor of Science in Public Safety Administration program.
"Neumann University's accelerated online program provides a convenient, accessible pathway for students to earn their bachelor's degree and advance in their careers," said Dr. Victoria Bastecki-Perez, MCCC's Interim President and Provost. "We are pleased that Neumann is joining our University Center partnership that enables students to continue their education here at Montgomery."
"Montgomery County Community College and Neumann University understand that completing a degree is a tall order for police, firefighters and other first responders. We understand your unique needs and have worked together to create a program that will allow you to enhance your administrative and leadership skills, while working around your busy schedule," said Dr. Chris Domes, President of Neumann University.
MCCC's University Center offers advanced degrees – bachelor's, master's and doctoral - on MCCC's campuses and online through its partnerships with Albright College, Cabrini University, Chestnut Hill College, Immaculata University and Neumann University.