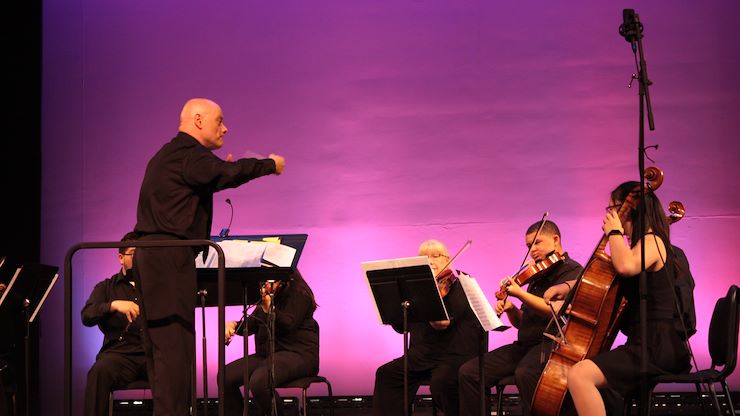 Montgomery County Community College invites the community to its Fall Dance Ensemble and Performing Arts Showcase concerts. All performances are free and open to the public. They will be held in MCCC's Science Center Theater, 340 DeKalb Pike, Blue Bell. Reserve your free tickets now.
On Wednesday, Dec. 4, at 12:30 p.m., students will present the Fall Performing Arts Showcase Lunchtime Matinee. The matinee will be a one-hour showcase of the various music and dance ensembles at the College's Central Campus. Students from the College Choir, Jazz Ensemble, Chamber Strings and Dance Ensemble will perform pieces that they have been working on all semester.
Also on Wednesday, Dec. 4 at 7 p.m., the Performing Arts Showcase (Evening 1) will feature the MCCC Choir and Friends under the direction of Music Associate Professor Andrew Kosciesza. The evening performance will feature performances by the College Choir, performing works by Franz Josef Haydn, Eric Whitacre and others; and the Chamber Choir, a select a cappella ensemble that sings both medieval and modern arrangements. This show will also feature performances by the MCCC Chamber Strings, under the direction of Ken Laskey, and selections by the Dance Ensemble.
On Thursday, Dec. 5 at 7 p.m., the Performing Arts Showcase (Evening 2) will feature the MCCC Jazz and Friends. The Performance Jazz Ensemble plays an advanced range of jazz music from bebop to funk and more. The concert will also feature a performance from the College Choir.
On Friday, Dec. 6 at 7 p.m., the MCCC Dance Performance Ensemble under the direction of Dance Professor Dr. Melinda Copel will present their Fall Dance Concert. The Dance Concert will feature a full evening of dance performances choreographed and produced by the students and faculty of the MCCC Dance Ensemble. The Fall Dance Concert will include Montco Momentum, a dance choreographed by Dance faculty member Heather Dougherty; Identity, a dance about a dancer confined to a wheelchair, choreographed by Nathaniel Betts; Pluto, a solo choreographed and performed by MCCC alumnus Lynell Vaughn about a small cat lost in the universe; and more.
Each show will also include a performance by Brandon Heffley, also known as "Brandon the Wolf" a student of the Sound Recording & Music Technology program at MCCC. Drawing inspiration from four decades of music, Brandon the Wolf takes his style from the many electronic genres spanning those eras. All shows will also include a performance by Justin Guerrini, classical guitarist, a student of Music instructor Daniel Boring.
The Dance Ensemble and Performing Arts Showcase concerts are presented at the end of every semester and are open to the community.
MCCC offers multiple opportunities to participate in a music ensemble. MCCC's Music program offers students a broad variety of opportunities to explore music. For composers or producers who wish to bring their craft to the next level, MCCC offers music theory and digital music classes that are taught in state-of-the art music labs with access to professional studios. Music classes are open to all students, regardless of their majors.