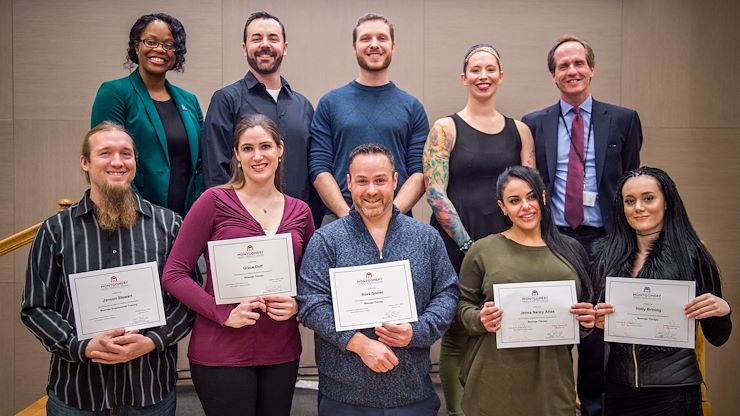 Montgomery County Community College recently celebrated the successes of nine students who graduated from the Massage Therapy Program during a special ceremony held in the Health Sciences Center at its Central Campus in Blue Bell.
The graduates include Jenna Arias, North Wales; Holly Brining, Burlington, NJ; Grace Duff, Telford; Ross Gomer, Warminster; Laura Helouvry, Lower Gwynedd; Julian Joseph, Bryn Mawr; Zoe Rodriguez, Warminster; Anthony Serpiello, Warminster; and Janson Stewart, Horsham.
MCCC's Massage Therapy Program prepares students for the State Board of Massage Therapy's approved licensure examination and to work as a massage therapists in a variety of settings. The program, with full- and part-time options, teaches business fundamentals, anatomy and physiology, kinesiology, history of massage, body mechanics, massage techniques and rehabilitative aspects of massage. Additionally, students are required to practice 50 hours of practical massage time outside of class.
"We're proud of you for achieving this goal that you set for yourselves a year ago," said MCCC's Interim Vice President of Academic Affairs Dr. Gloria Oikelome. "We're proud to call you alumni and encourage you to never stop learning."
In addition to receiving their certificates, the graduates earned nine credits that they can use if they decide to continue their education in the future. Since the Massage Therapy program started in 2017, more than 40 students have graduated. Two of the recent graduates have already been offered jobs at local massage therapy centers.
According to the U.S. Department of Labor Bureau of Statistics, employment in this field is expected to grow 22 percent from 2014 through 2024, with growth higher than average for all occupations.
Graduate Grace Duff received two awards; one for her outstanding work in the program and one for her business project.
Graduate Ross Gomer spoke during the ceremony about how much the program and graduation meant to him.
"This is a big night for me because I didn't walk at my high school graduation," Gomer said. "For the past year, school has been my life and you (classmates) were like my family. We have a special bond, and we'll always keep in touch, and this place (MCCC) will always have a special place in my heart."
MCCC offers full-time and part-time programs for Massage Therapy. The next full-time program starts March 23 and will finish on Sept. 11. Classes are held Monday through Thursday, 9 a.m. to 3 p.m. and Friday, 9 a.m. to 1 p.m. The part-time program started Jan. 13 and concludes Dec. 18. Classes are held Mondays/Wednesdays and alternating Thursdays from 5-10 p.m.
The next information sessions will be held on Saturday, Jan. 25, 10-11 a.m., Tuesday, Feb. 11, 6-7 p.m., and Saturday, Feb. 22, 10-11 a.m. The sessions are held in MCCC's Health Sciences Center Room 1380, Central Campus, 340 DeKalb Pike, Blue Bell.
For more information about the Massage Therapy Program, contact Director William Mullen at 215-641-6509 or email massage@mc3.edu.