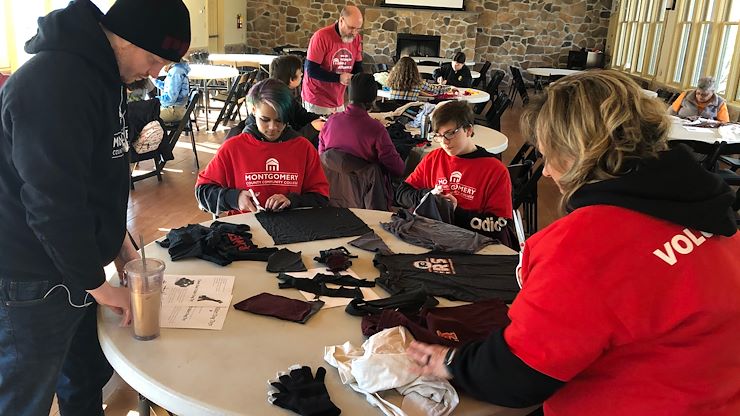 In honor of the life and legacy of civil rights leader Dr. Martin Luther King Jr., 26 Montgomery County Community College students, employees and their families spent their day volunteering at various sites throughout the community.
At the Elmwood Park Zoo in Norristown, volunteers repurposed old t-shirts into pet toys for the SPCA. Operated by the Norristown Zoological Society, the nonprofit Elmwood Park Zoo fosters an appreciation for wildlife, the environment and conservation.
MCCC Nursing instructor Kelly Lyles brought her three children, Seth, Sarah and Steve, with her for the day.
"We've always done some sort of community service as a family, and it's important for the kids to learn to give back," Lyles said. "Working with MCCC and Elmwood Park Zoo, this is a fun way to give back."
Both Radiography instructor Danielle Walker and Biology Assistant Professor Patrick Abrahams are passionate about animals and the zoo.
"I really love animals, and it's good to have a volunteering spirit and what better day than MLK Day," Walker said.
"We've been volunteering for MLK Day of Service with MCCC for about 6 years," said Abrahams, who also brought his family. "We love the zoo; we came a lot when the kids were little, so now it's important for us to give back."
For MCCC student Jacqueline Edelman, who also serves as the vice president for MCCC's Student Government Association, the purpose of the day is to volunteer.
"I try to do something every year, the whole point of the day is to give back," she said. "With my involvement in SGA, I really wanted to do something with Montco for this."
In Pottstown, volunteers served at two locations – the TriCounty Active Adult Center and In Ian's Boots.
At the TriCounty Active Adult Center in Pottstown, volunteers painted walls, fixed chairs and helped with some cleaning. Founded in 1976, the TriCounty Active Adult Center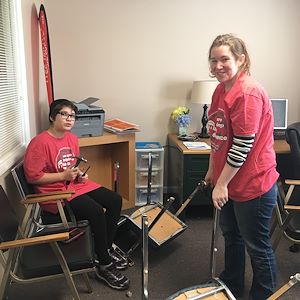 offers daily hot lunches and provides nearly 40 social, recreational, educational and exercise programs for area senior citizens each week.
MCCC students Tasia Jones, Katrina Boughter and Tori Brubaker said they are always volunteering because they enjoy giving back.
"I like helping out and getting more involved in the community, and I brought my children so they can learn the importance of helping other people," Boughter said.
At In Ian's Boots, volunteers helped to sort, clean and tag donated shoes. Created in memory of Ian Joshua Miller, who lost his life in a fatal sledding accident when he was 12, In Ian's Boots collects gently used boots and shoes to give to those in need of them.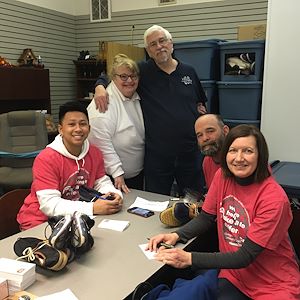 MCCC Reading instructor Lara Ferris and her husband, Paul Ferris, spent several hours tagging and sorting shoes.
"I didn't know In Ian's Boots was here until I saw a bin for shoes," Lara Ferris said. "We wanted to do something today, and this is a great way to help others."
MCCC student Nathan Do agreed, saying he "wanted to make a difference."
Ian's parents and co-founders, Holly and Ron Miller, were pleased with all of the volunteers who showed up to help.
"We've been doing this for 9 years," Holly Miller said. "We have given more than a quarter of a million shoes worldwide in 39 countries in every continent except Antarctica and Australia and in dozens of states in the U.S.
"Of course, we give priority to the local community. Anyone from the community can pick up shoes every first Tuesday of the month," she said.
"Our son was an only child, and we wanted to instill a giving spirit in him. We think he would be pleased with all of the shoes that have been given," said Holly Miller, noting that Bombas has donated more than 5,000 socks, which they have given away with the shoes. "All monetary donations we receive go to putting shoes on feet."
For anyone who didn't have a chance to volunteer on MLK Day of Service, In Ian's Boots, 1486 S. Hanover Street (Route 100) is open Monday and Tuesday evenings from 5:30 to 8:30 p.m. Anyone can stop in and help during those hours.
MCCC volunteers included Thomas Abrahams, Ian Abrahams, Ava Alessi, Jacob Alessi, Caesar Belchez, Katrina Boughter, Tori Brubaker, Sabriya Cunningham, Shalia Davis, Nathan Do, Dennis Duett, Jacqueline Edelman, Lara Ferris, Paul Ferris, Jazmine Harris, Pamela Hornby, Tasia Jones, Kelly Lyles, Sarah Lyles, Seth Lyles, Steve Lyles, Amelia Paul, Ezra Paul, Saddiqauh Ramsey, Danielle Walker and Shaday White.