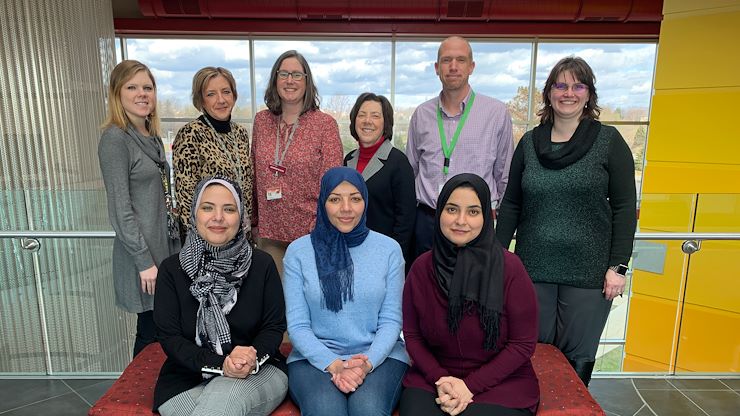 Montgomery County Community College employees continually look for opportunities to enhance student education and provide valuable experiences. The Women in Science and Technology Initiative was formed to encourage more female students to enter the computer science and technology fields.
The initiative began after Mary Beaver, Director Enterprise Software Systems, attended a session at the EDUCAUSE conference – Advice for Women Aspiring to Leadership Roles in IT. The session was run by four women vice presidents, one of whom was MCCC's Vice President for Information Tech & Chief Digital Officer Dr. Celeste Schwartz.
Dr. Schwartz recognized the concern of women's involvement in the industry.
"Technology is not a field that women are going into right now," she said. "It is a hard field to be in if you don't have the support of those around you."
Following the conference, Beaver asked Dr. Schwartz to begin a group on MCCC's campus that would support Women in Technology. Beaver, along with Dr. Kendall Martin, Computer Science Professor, Dr. Mary-Kate Najarian, Director of User Success and Learning Technologies, and Sarah Johnson, Enterprise Application Analyst started the Women in Science and Technology Initiative last fall to create a resource for women enrolled at the college and to encourage retention and completion.
Together, they created an opportunity for women students to shadow workers in the IT Department and experience the field in a hands-on capacity.
"We wanted to figure out how we can be a resource," said Mary Beaver. "We held a meet and greet for those students who indicated that they were interested in our initiative. Instead of focusing on women currently in IT, we wanted to support female students who are discovering that career path."
On Jan. 16, three students joined the IT Department for the day to learn more about the field. Marwa Dwidar, Nermin Moustafa and Noha Hafez, all Information Technology majors, joined Bill Rosenbaum, Director of Information Technology Security, Kasey Golding, Instructional Designer – Technologist, and Jennifer Scales, Help Desk Coordinator.
Each of the students transitioned into IT from a different major. Dwidar remembers being uncertain about her path but enjoyed the practice through the shadowing program.
"We all spoke with our advisors about our doubts and seeing what direction we could go," said Dwidar. "I really enjoyed working at the Help Desk; being exposed to different issues, getting all of the information and becoming more familiar with the field."
The students were excited to follow the IT workers to gain a better understanding of the industry and the day-to-day operations of the field.
"It was wonderful to see how the IT Department works," said Hafez. "This was such a great opportunity to learn about the Help Desk and IT Security as a worker."
"When you study, you do not always get to work with the programs you are learning about," said Moustafa. "Being here, we can see every department and how they work and use those programs."
Rosenbaum, Golding and Scales were more than happy to spend time with the students and walk them through an average day in IT. As a Help Desk Coordinator, Scales sees many students and faculty members throughout the day, but often only works with them briefly.
"I interact with students who come to the Help Desk all the time, but this is different," said Scales. "This is a good opportunity for the students to learn about the field, and for us to hear from them what it is like to be a student."
Rosenbaum and Golding were able to relate to the idea of changing their career paths and not knowing where to go.
"I was really excited to work with students," said Golding. "I majored in Elementary Education and transitioned into IT, so I could relate to these students changing fields, and I was excited to speak from that perspective."
"I was a student at Montco, and I can remember not knowing where I wanted to go," Rosenbaum said. "I wanted to spend time with someone to learn more about the field and it was great to be able to connect with these students."
The Women in Science and Technology Initiative plans to continue to provide spaces and events to support women students. As the program develops, they hope to offer more shadowing events and to offer more Computer Science students internship opportunities.