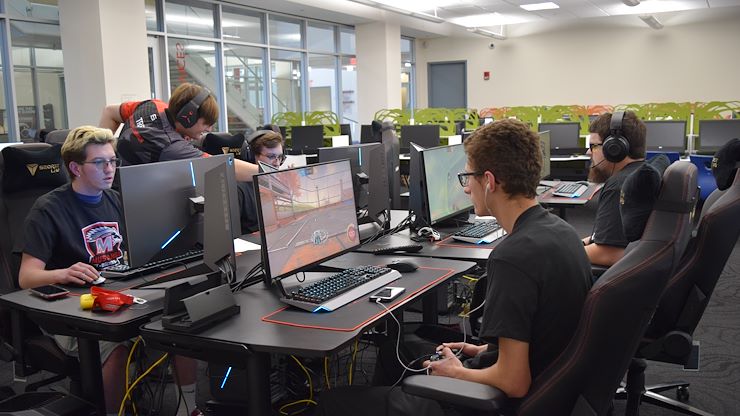 While students at Montgomery County Community College are forced to stay at home for the foreseeable future, thanks to the COVID-19 pandemic, the Mustang eSports league season play continues in the digital world, with new weekly matchups available for fans to watch live online.
Since MCCC's physical facilities are closed for now, regular practices and games for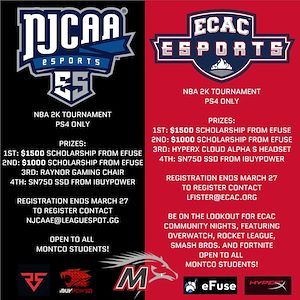 players take place at home. Team members practice and compete together simply by connecting through the internet. "Rocket League," the vehicular soccer video game the team plays, offers cross-platform play, meaning students can play on their PC, Xbox or PlayStation game console.
"We follow the same practice routine as when we were practicing in the facility," said Ryan Plummer, coordinator of Mustangs eSports, "and are exploring ways to stay active during this time. Right now we've been spending both of our hours practicing on 'Rocket League.'"
The Mustangs squad is divided into three teams: Mustangs Red, Black and White. Mustangs Red and Black practice from 7-9 p.m. Monday-Thursday, while Mustangs White practice from 3-5 p.m. on Monday, Tuesday and Wednesday.
"What we do during practice tends to change based on which of our three teams is practicing," said Plummer. "Usually though, it's a mix of technical training and scrimmages against random opponents."
Currently, the only team that competes right now is the Mustangs White team, which plays every Wednesday at 7 p.m. However, the Black and Red teams will soon resume competition on March 30, April 1 and April 6.
The team's full competition schedule can be found online. However, because the National Junior College Athletic Association eSports (NJCAAE) runs on Swiss Rounds system, the team won't know its opponent until the Monday of each week.
"We do know that we'll compete every Wednesday at 7 p.m. though," Plummer said.
The National Association of Collegiate Esports (NACE) has not yet released the March 30, April 1 or April 6 matchups.
Plummer encouraged fans interested in cheering on their MCCC classmates to stream the games. Additionally, while registration for the spring eSports season roster is closed, students interested in joining the team can register for fall online.
All MCCC students with a PS4 console can also participate in two upcoming "NBA 2K20" esports tournaments, with thousands of dollars in scholarships on the line.
The first is through the NJCAAE and is the first in its series of its "Community Nights." The tournament will include students from 256 junior colleges nationwide competing in four 64 team brackets for a chance to compete in the Final 64 bracket. The top 16 players from each bracket will be seeded in the final 64 championship bracket and will have a chance to be named the NJCAAE NBA 2K20 champion.
The winning player will receive a $1,500 scholarship, while the runner up will receive a $1,000 scholarship, respectively, from eFuse. To register and for more details, contact njcaae@leaguespot.gg
The second tournament is being run through the Eastern College Athletic Conference (ECAC) and likewise will include $1,500 and $1,000 scholarships to the winner and runner up, respectively. For more information and to register, contact lfister@ECAC.org.
Registration for both tournaments closes April 3.
Future Community Night tournaments open to all MCCC students will include "Overwatch," "Rocket League," "Super Smash Bros." and "Fortnite."