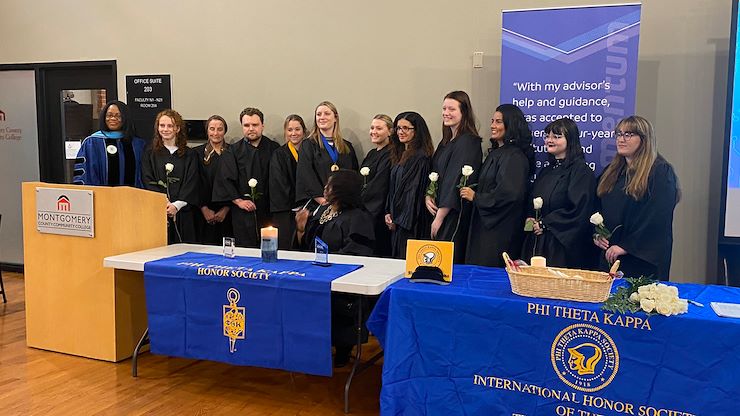 Montgomery County Community College recently celebrated the induction of 19 students into the Beta Tau Lambda Chapter of Phi Theta Kappa, the international honor society for two-year colleges, during a special ceremony held at West Campus in Pottstown. Interim Vice President of Academic Affairs Dr. Gloria Oikelome was the keynote speaker.
Inductees include Kira Gotwals of Barto; Liam Boyle, Jace Brackley and Patrick McCann of Boyertown; Jessica Westrom of Collegeville; Jacqueline Knaupp of Gilbertsville; Matthew Falcone and Jessica Neumann of Green Lane; Danielle Nacarelli of Limerick; Melanie Sammons and Julia Windbiel of Norristown; Christian Eyrich and Anthony Sitko of Pennsburg; Andrew Green, Cassandra Groff and Myra Hughes of Pottstown; Thomas Czech and Marcela Kraft of Royersford; and Alaina Petrone, Quakertown.
The Beta Tau Lambda Chapter officers are President Katrina Boughter and Vice President Ashley Tokarski. The co-advisors are Assistant Professor of Criminal Justice Dr. Monica Proffitt-Osborne and English Instructor Victoria Vetro.
To be eligible for PTK membership, students must earn a minimum of 12 credits, maintain a grade point average of 3.5 or higher and be of good moral character. The four hallmarks of PTK members are scholarship, leadership, fellowship and service.
As PTK members, students receive several benefits, including participation in the Honors in Action program, transfer scholarships opportunities, member discounts through PTK and recognition during commencement with special regalia attire.
MCCC has two PTK chapters – Alpha Kappa Zeta at Central Campus and Beta Tau Lambda at West Campus in Pottstown. Both chapters were recognized as PTK 2019 REACH (Recognizing Excellence in Acceptance and Completion with Honors) chapters due to their increasing membership growth.
Since the Beta Tau Lambda Chapter was established in 2011, it has attained Five-Star status for seven consecutive years, has earned the Middle States Gold Award for five consecutive years and has received the Reach Challenge award for three years. A chapter earns a Five-Star status based upon its participation in campus, local, regional and national activities and receives the Gold Award based upon its five-star status and participation in Middle States events. The Reach Challenge award is based upon the percentage of students who are invited and join PTK.