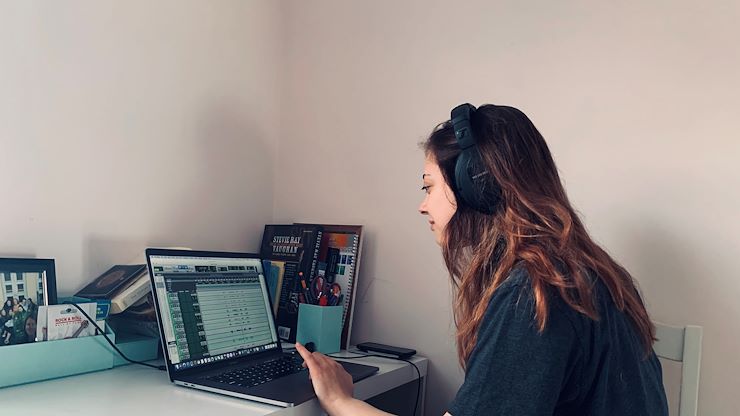 The Sound Recording & Music Technology (SRT) department wasn't going to let a global pandemic stand in the way of holding its normally scheduled classes. Just ask instructor Jen Mitlas and her students.
While the COVID-19 virus may have shut down access to MCCC's state-of-the-art recording studio and classrooms located in Central Campus's Advanced Technology Center (ATC) in Blue Bell, it wouldn't stop students from finishing their projects online from home.
Pulling that off, however, would take some creative know how. Yet as the old saying goes, necessity is the mother of invention.
Thanks to some much-needed time off during spring break to implement a strategy and plenty of assistance from the Information Technology (IT) department, Mitlas said moving classes entirely online has gone off without a blip.
"It's been fabulous. I couldn't have asked for a better transition," she said. "Students are super engaged. They've been able to think outside the box on how they're going to continue projects that are collaborative in nature without being near each other. I'm impressed at how much initiative the students are taking."
Mitlas currently teaches four SRT classes, each with about 16 students, plus two independent study courses. A big part of each class is having the ability to record quality sound using professional tools. Under normal circumstances, that wouldn't be a problem. It's not as easy, however, when everyone is working from home.
The question became how could students continue to work remotely? The SRT department used spring break in March to survey their classes and find out which students would need equipment.
Getting Equipment to Students
Then MCCC's IT department worked closely with SRT students to help them get the equipment they needed and it can troubleshoot any technical difficulties students may face going forward.
Technical Services Assistant Shawn Sealer and Director of Enterprise Infrastructure and Network Services Jim Stasik oversaw the scheduling and pickup of equipment.
"We gave a computer, interface to record with and a microphone to every student who needed one," said Sealer. "Which is not as great as using the studios on campus, but in light of the situation, we were able to meet basic needs and keep the classes running."
Sealer and Stasik scheduled appointments with students to come to the Central Campus parking lot to pick up the equipment bundles. Multimedia Specialist Frank Lieb assembled the bundles for pickup, then put them in students' cars, eliminating any human contact.
Students who had their own personal equipment to use at home were asked to use that, so there would be enough equipment for everyone to work. About 10-15 students made appointments to pick up the materials from campus, Sealer said.
Altogether, Montco provided 73 rentals to students (worth approximately $95,476) and 76 rentals to faculty and staff (worth approximately $130,835).
Students have appreciated the effort to help them through this difficult situation, he said.
"Students wrote to us and said how grateful they were that we were always there answering questions," he said. "The situation isn't ideal for anybody. But faculty and staff and the administration have been doing everything they can to make it a smooth transition."
David Ivory, director of Sound Recording and Music Technology, said the situation hasn't been ideal, but everyone is putting their best foot forward to make it work.
"Working from home is good," he said. "To be honest, in our particular program, it's a little more challenging because of the hands-on nature of the classes. But students are doing great."
Making it Work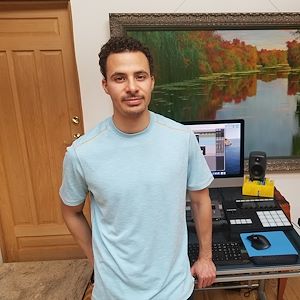 Mitlas credited students for taking the unique situation and running with it. For example, her Introduction to Sound Recording Technology classes were tasked with collecting sounds and editing them together to create a soundscape. Students have used the project as an opportunity to explore what a pandemic sounds like in their world.
"I'm fascinated by the discussion board posts about how they're taking on this project without me even saying 'all right you've got to do this about being quarantined,'" said Mitlas. "They're all doing it on their own. It's become this therapeutic exercise for them in my opinion."
For students, adjusting to classes online is a challenge they are meeting head on.
"There's a learning curve of getting acclimated to online courses— online studying is normally laid out far in advance and there's an easy flow to everything," said Hunter Howard, 24 of Philadelphia. "This was so much more abrupt that I think the shock from the change of physical class to online learning was pretty intense."
That said Howard had nothing but praise for the department's instructors for helping him continue to learn while he's on his own. Chris Peter, 24 of Fort Washington, agreed.
"Everyone has been helpful. Zoom (video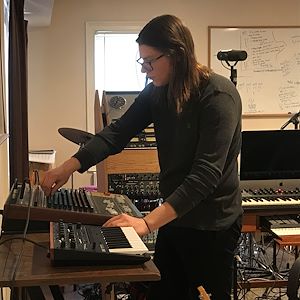 conferencing) is relatively easy to use," he said. "Our major's weird. It's not like English where you can just read the book. There's a hands on component to it as well."
Erica Bowers, 19, of North Wales, Pa., was initially concerned about not having all of the right equipment, but was relieved to get one of the bundles from the College and her instructors found free trials of many of the software programs she needed.
The experience is similar to situations industry professionals face every day, Bowers said Mitlas told her class. "You might not always have access to a studio," she said. "A session artist might be in another country or state. This is like a real-life scenario."