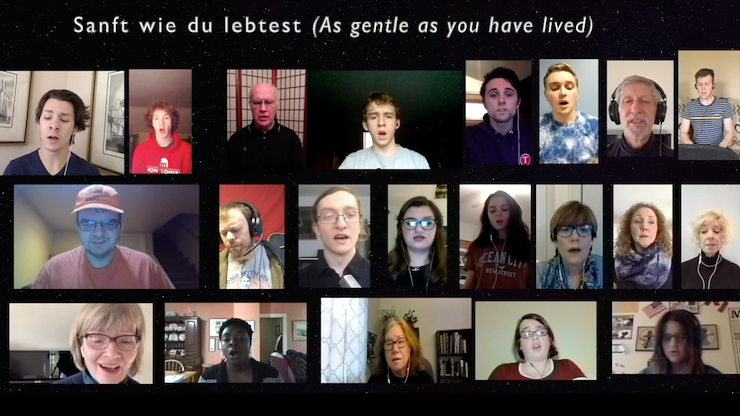 Keep calm and carry on. Students and faculty in Montgomery County Community College's Arts and Humanities Department have certainly taken this mantra to heart, after the COVID-19 virus pandemic turned their worlds upside down.
With a statewide stay-at-home order forcing all College facilities to close and classes to move entirely online, each of the individual disciplines within the department has had to come up with creative ways to move forward. It hasn't always been easy and there have been plenty of hurdles to overcome along the way, but the results so far have been inspired to say the least. Just ask Theatre Assistant Professor Timothy Gallagher.
The Show Must Go On
Rehearsing a play or musical can be a challenge in its own right. Yet it becomes even more of a logistical nightmare when the cast and crew are all forced to practice from home. So far though, Gallagher's students have been up to the challenge.
Students at Central Campus in Blue Bell had been rehearsing "The Last Days of Judas Iscariot" and students at West Campus in Pottstown had been preparing "The Long Christmas Ride Home," when the pandemic first struck. That hasn't stopped them from using video conferencing technologies like "Zoom" to keep working, even if performances have been postponed for now.
"What I've found most impressive is the way these students continue to work on productions that are still on hold," said Gallagher. "They're still meeting with directors and holding online rehearsals. They're still designing and tweaking designs, so that when we return to do the play, they'll be ready to jump right into it. They're really buying in. Once a week they're rehearsing online. They'll continue throughout the summer until they do it live. They made a commitment to the audience and are going to finish what they've started."
Theatre students have also been preparing scenes together online using video conferencing technology and uploading the footage to YouTube for their classmates to watch.
Likewise, Gallagher and his colleagues have used the stay-at-home order as an opportunity to invite special guests to talk to their theatre classes, who might not otherwise have been able to do so.
For his Theatre Production Workshop class, Gallagher welcomed two prominent theatre insiders to talk with production students: Washington D.C. and New York Costume Designer, Mariah Hale and her husband, Hank Hale, Carpenter Department Head at the Broadway Theatre. Gallagher said he's known the two for 25 years when they used to work together in theatre.
Meanwhile, Theatre Instructor Jessica Dalcanton welcomed guest artists of her own into her classes including Actor, David Pica; Actor and Director, Jessica Bedford; Award-Winning Director and Dramaturg, Harriet Power; and AfterGLO Films Artistic Directors, Bethany Ditnes (editor), and Brian Troy (cinematographer).
Having industry professionals talk to classes inspires students to continue working and know that their efforts can pay off, Gallagher said. Hank Hale, he said, told students he attended a community college in Atlanta, and slowly made a name for himself in the business.
"Students really dug that," said Gallagher. "I think him coming from a community college gave us hope that we can make a difference and a career out of this."
Signs of Life
It's not easy to move media production classes completely online halfway through the semester.
"It has been difficult to replicate what we do in class in a remote setting," said Gerald Collom, Mass Media Studies and Production Instructor. "The main thing we do in production classes is teach people to use cameras and microphones, record footage and edit stuff together. It's close to impossible to do that remotely."
Thankfully, Collom said, most students had already learned the basics of using the equipment and the department worked closely with the Information Technology department to make sure equipment got into the hands of students that needed it.
One of the more challenging aspects, though, has been finding ways for students to demonstrate their newly acquired skills. Collom decided to assign a project called "Signs of Life" to students.
"Things are still alive and coming to life," he said. "Springtime is a good time for that in the midst of dark, depressing news. There are still signs that life will go on."
Students were encouraged to use cell phones or other video equipment they had to capture their own definition of signs of life. "Shoot as much footage of anything that says signs of life," said Collom. "Flowers blooming, trees blossoming, interviews with neighbors and family, without breaking social distancing, asking how they're dealing with life moving on."
Collom established a Dropbox folder where students could upload the hours of footage they'd recorded. Then they and their classmates could download it all and edit it together however they'd like to create a series of short stories under the Signs of Life umbrella.
The project has been successful so far, Collom said, but he hopes facilities will be able to reopen soon.
"I hope by fall we're face to face again," he said.
Stay on Your Toes
While all of their classes may have moved online, students taking dance courses managed to step up to the plate.
Dance Professor Melinda Copel restructured her classes so students could perform the coursework from anywhere in the world.
"They can dance in the house, the yard, at the park or in the street," she said. Students can then record themselves on video and upload the footage online.
She said for all of her classes, she's been reaching out to see how she can help.
"These are challenging times for students," she said. "I want to offer any support I can and let them know I'm flexible."
Students in the Dance Performance Ensemble met on Zoom to discuss plans for their performance which will now take place on Dec. 12. "They will continue to rehearse on Zoom over the summer, so they will be prepared to hit the ground running when we return to campus," said Copel.
Copel is working on a new dance about social distancing. She plans to rehearse on Zoom over the summer to capture video footage of the dancers dancing in their own homes and yards. The performance will combine video projections of the dancers with live performance. The dance is organized to maintain a minimum of six feet between dancers at all times.
She hopes this experience overall will end up being a positive one, once life returns to normal. "I think we'll learn a lot when we come out the other side," she said. "Teaching will be stronger. We'll have a lot more methods for interacting with students."
Playing it by Ear
As a signal that the music department was alive and well, despite the stay-at-home order, 21 students in a "virtual choir" recently performed "Beethoven's "Elegischer Gesang (Elegiac Song) Op 118."
Andrew Kosciesza, Associate Professor of Music, organized the undertaking, which he began by recording backing tracks that each singer could use to rehearse. Then singers would send videos of themselves singing for him to review and he'd coach them on their performance.
Then each performer recorded a final video singing their individual part of the song and sent the raw file to Kosciesza to piece together. He stacked the video files into small squares on top of one another to resemble a physical choir and shared the "virtual performance" on social media.
"I think this selection is doubly appropriate in that this is the 250th anniversary of Beethoven's birth," said Kosciesza, "and the piece is a wonderful short elegy for those who have passed."
The global pandemic may have forced the MCCC community to stay home, but it hasn't stopped its members from continuing to share their art with the world.
Read more about other projects the Arts and Humanities program has created and Earth Day 2020 ceramic art installation by students in Art Assistant Professor Michael Connelly's classes. Or find out how students and faculty in the Sound Recording and Music Technology program successfully transitioned to fully remote work due to the COVID-19 pandemic.
Learn more about the Arts and Humanities program by visiting online at mc3.edu today.