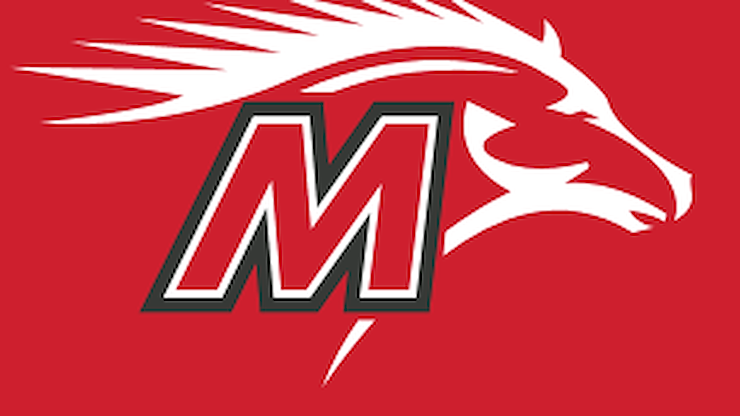 Whether they're on the playing field, in the classroom or working remotely, Montgomery County Community College student-athletes continue to make the grade when it counts.
The 2020 spring sports season was cut short due to the COVID-19 pandemic, yet remarkably 37 MCCC students were still recognized for their outstanding academic performance.
The Eastern Pennsylvania Athletic Conference (EPAC) announced its 2020 All-Athletic Academic Team for the spring semester, which includes 18 MCCC students. Eligibility for the team requires a GPA of 3.25 or higher for full time students.
The EPAC is part of Region XIX of the National Junior College Athletic Association (NJCAA). The organization was established in 2012 to help promote athletics at two year colleges in the region.
In addition to the EPAC team, 19 other student-athletes were named to the 2020 Mustangs Academic Team, which requires a GPA of 3.0 or higher.
Mustangs Athletics Director Kelly Dunbar praised the efforts of all 37 students recognized during the spring semester. They proved once again that even during these unprecedented times, MCCC student-athletes continue to deliver in the classroom, she said.
"I can't say enough about our student-athletes," she said. "This has been a difficult time for everyone, but especially for student-athletes, who are required to maintain their eligibility status, which adds an extra layer."
According to NJCAA requirements, in order to be eligible to play a sport, student-athletes must maintain a minimum 2.0 GPA and be progressing toward a degree earning 12 credits per every full-time semester taken.
"Our student-athletes worked hard to embrace the changes that took place because of this global pandemic, helped each other and continued to make progress," said Dunbar. "The results speak for themselves."
Dunbar also noted that the number of spring semester student-athletes who made the academic team this year actually increased from last year, "which speaks to their determination and drive to overcome any obstacle to be successful," she said. "I'm really proud of them."
Men's Basketball Coach Nyere Miller agreed with Dunbar, praising the work of each student.
"I think it shows our student-athletes resilience and willingness to accept new challenges and adapt," he said. "They always put their best foot forward and this is a testament to that."
2020 Spring Semester Student-Athlete Academic Honor Recipients
Men's Basketball
Nigel Cooke: 3.34 - Limerick, PA, Spring-Ford Area High School
Blaise Blomstrom: 3.81 - Collegeville, PA, Perkiomen Valley High School
Nate Hartman: 3.84 - Lansdale, PA, North Penn High School
Donte Graves: 3.77 - Royersford, PA, Perkiomen Valley High School
Jake Schalki: 3.17 - Horsham, PA, Hatboro-Horsham High School
Women's Basketball
Therese Keating: 3.89 - Bryn Mawr, PA, Plymouth Whitemarsh High School
Baseball
Michael Kelly: 3.5 - Schwenksville, PA, Pope John Paul II High School
Trey Livingstone: 3.25 - Pennsburg, PA, Upper Perkiomen High School
Colt Narciso: 4.0 - Jeffersonville, PA, Pope John Paul II High School
Nate O'Donnell: 3.42 - Hatfield, PA, North Penn High School
Ryan Orr: 3.60 - Willow Grove, PA, Philadelphia-Montgomery Christian Academy
Tom Pistorius: 3.42 - Sellersville, PA, Lansdale Catholic High School
Justin Wornham: 3.75 - Pennsburg, PA, Upper Perkiomen High School
Elias Gehman (soccer): 3.10 - Hatfield, PA, Christopher Dock Mennonite High School
George Jacob: 3.08 - Glenside, PA, Abington Senior High School
Daniel Prevost: 3.13 - Columbia, MD, Howard High School
Stephen Vogl: 3.23 - Abington, PA, Abington Senior High School
Softball
Maggie Kraus: 3.87 - Harleysville, PA, Souderton Area High School
Abigail Waldbrunn: 3.06 - Royersford, PA, Spring Ford Area High School
eSports
Daniel "Dezwick" Valdes: 3.8 – Telford, PA, Souderton Area High School
Kira "Pacapyon" Ariyamitr: 3.72 – Ambler, PA, Upper Dublin High School
Danielle "xNightClaw23x" Passifione: 3.79 – Douglasville, PA, Daniel Boone High School
Jessica "MsWolv3rine" Passifione: 3.8 – Douglasville, PA, Daniel Boone High School
Women's Volleyball
Brianna Clemmer: 4.0 - Schwenksville, PA, Susquehana Valley High School
Paula Kramer-Rodriguez: 4.0 - Chesterbrook, PA
Megan Stoler: 3.25 - Hatfield, PA
Milijana Vukoslavovic: 3.79 - Serbia, State Educational Institution
Women's Soccer
Chantel Brannan: 3.71 - Schwenksville, PA, PA Leadership Charter School
Devan Demarco: 3.82 - Glenside, PA, Ridley High School
Regan Detweiler: 3.5 - Harleysville, PA, Souderton High School
Mary Grace Maddonald: 3.79 - Abington, PA, Archbishop Wood High School
Abigail Nice: 4.0 - Hatfield, PA, Christopher Dock Mennonite High School
Olimpia Sansone: 3.75, Plymouth Whitemarsh
Kelsey Breisch: 3.33 - Schwenksville, PA, Perkiomen Valley High School
Renee Hernandez: 3.08 - Coatesville, PA, Collegium Charter School
Men's Soccer
Zakariyae Lahjouji: 3.26 - Lansdale, PA, North Penn High School
David Skiendzielewski: 3.33 - Huntingdon Valley, PA