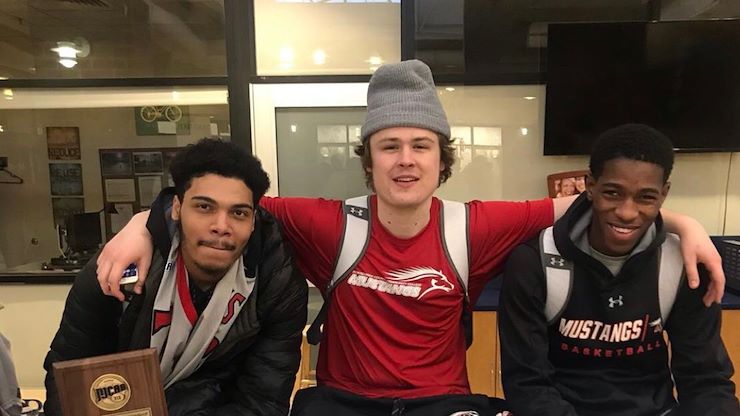 Just a few months after helping the Mustangs punch a ticket to the National Junior College Athletic Association (NJCAA) championship tournament in Rochester, Minn., three leading members of the 2019-2020 Montgomery County Community College Men's Basketball Team announced where they'll play next.
Seth Compas, 20, will travel to Barbourville, Ky., to play for the Bull Dogs of Union College. Ryan Black, 21, is set to play for the Aggies at Delaware Valley University in Doylestown. Cameron Reid, 22, who received Most Outstanding Player Honors at the end of the regular season, becomes a Bleu Devil once he steps on campus at Dillard University in New Orleans, La.
Before they say goodbye to Blue Bell, they each reflected on the winning season, what they've been up to during the pandemic and their plans for the future.
Each player said they were proud of how far they'd come during the 2019-2020 season. While the team lost both of its games, the players still went home feeling like champions.
"I'll always remember this season. I'm going to miss it," said Black, a 6-foot, 2-inch guard and forward from Horsham. "It's a shame we lost. We could have won both. We had an amazing time and I enjoyed every second of it. I made a lot of friends. We said we'd make it to Minnesota at beginning of the year and got there which is cool. We met our goal."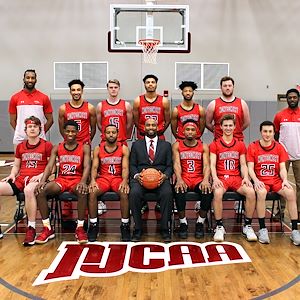 "We made improvements to the team over the last couple years," said Reid, a 6-foot, 6-inch center from Royersford. "We were able to reach most of our goals as a team. It was a good feeling to get to Minnesota. It felt like we accomplished what we wanted to accomplish. Sometimes losses can be wins. It gave us exposure."
Since flying home from the tournament in March, the three men finished the spring semester working from home due to the COVID-19 pandemic.
"When Corona started, it gave me more time to catch up with school work," said Compas. "Everyone was online more, so it was easy to do the work."
Outside of school, Compas, a 6-foot, 3-inch shooting guard from Blue Bell, said he's been exercising and practicing his game to stay sharp for the season.
"It was a good feeling to get to Minnesota. It felt like we accomplished what we wanted to accomplish." -Cameron Reid
For Reid, the pandemic felt chaotic at times, but he's slowly begun to adjust.
"It's OK because it's giving people time to settle down, reevaluate things, take a step back and look at things for what they are," he said. "Focus on what's important in the world and what's really going on. It's given me time to work on my game to put some extra work in."
All three players are ready to get back on the court at their respective schools. Though no one knows for sure if there will even be a season to play just yet.
"I'm not concerned. My school has a great academic program," said Compas. "If the season is canceled, I don't lose eligibility. I'm a student first, athlete second."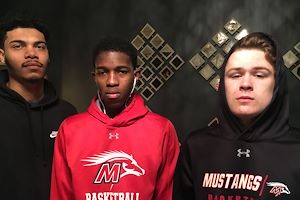 "I do think the virus will affect the season," said Black, who will commute to campus from home. "I think it might affect this season coming up. There will be a second wave and everything will be shut down. I'm trying to get as much in as I can before we're all locked in quarantine again."
"I'm a little worried. It's interfering with the most important time. The transferring process is the most important time. I'm a little worried but whatever happens, happens," said Reid. "I don't have any control over it. If it does get canceled, it's a win. I'll have more time to focus on my game, take classes and get my grades better. I do want to play basketball. But if something were to happen, it's not the end of the world."
Neither Compas nor Reid has visited their new school yet, but the coaching staff at each recruited them, and they felt like they could make a difference.
"It's a winning program in sports, especially basketball," said Compas, who will be one of the tallest players on the team. "We've had a winning program the last two seasons at Montco. It felt right to keep playing for a winning team and keep achieving in the classroom."
"I had some other offers and opportunities from a few different schools," said Reid, who will move to a small forward position on the team. "I evaluated my options, and they were the best fit."
Reid said his goal is to continue improving as a player in the hopes that he could play basketball professionally. He thinks his new position on the team will allow him more shooting opportunities.
Mustangs Head Coach Nyere Miller, who was named the Eastern Pennsylvania Athletic Conference (EPAC) Coach of Year and NJCAA Coach of the Year for the North Atlantic District in Division III basketball, after leading his squad to a 22-4 regular season, called it a testament of each of his players' hard work that they will continue to play basketball at each of their new schools.
"I'm so proud of them," he said. "They set goals on and off the court and set out on a path to get it done. At the beginning of this journey, we talked about using Montco as a stepping stone to further their education and athletic careers. They have set the bar for Montco basketball. When they started at Montco, the basketball team was coming off a one-win season. In two years, they were crowned Regional champions! I know the entire Montco family is proud of them. I am so proud of what they were able to accomplish on and off the court, and I am looking forward to seeing what the future holds for all of them."
All three in fact do have plans after graduation. Black and Compas are both studying sports management to be able to stay involved with athletics after college. Reid has aspirations of playing basketball for an overseas team or even one day in the NBA. If those dreams fall through, he'd like to earn a degree in economics and start a business of his own someday. He'd also like to coach a team to "give what I've learned to younger generation or people coming up after me."
While they'll be saying goodbye to MCCC, it appears not even the sky is the limit for these three men. They have big shoes to fill and all three will be watching the next generation of Mustangs closely to see who can fill them.
"I want to say we worked hard for our season," said Reid. "To anyone coming up, if you don't want to work hard, don't come to Montco."