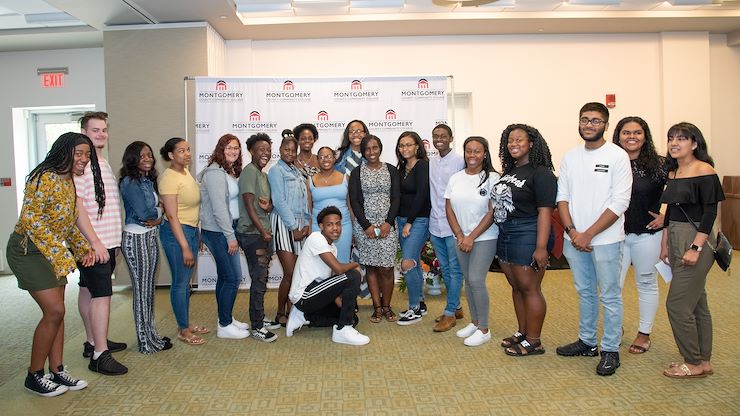 The R.O.S.E. Foundation, the charitable arm of Alpha Kappa Alpha Sorority Incorporated Phi Beta Omega Chapter, recently presented a $3,000 gift to the TRIO Upward Bound Program at Montgomery County Community College.
Upward Bound is part of the U.S. Department of Education's TRIO Programs that serve and assist low-income, first-generation college students and individuals with disabilities to progress through the academic pipeline from middle school to post-baccalaureate programs. Upward Bound provides support to participants in their preparation for college entrance.
Since 2007, MCCC has been collaborating with Norristown Area High School and Pottstown High School to provide student support services to students through the Upward Bound Program. Currently, there are 61 participants from both of these Montgomery County school districts.
"We are very appreciative of this generous gift in support of the students and their families, especially during this difficult time when many are facing hardships due to the impact of COVID-19," said Angela Ferencin, Director of the TRIO Upward Bound Program at MCCC.
The gift from the R.O.S.E. Foundation will be used to help students and their families in several ways. Parents and guardians will receive gift cards to local supermarkets for food; students will receive backpacks and school supplies at the beginning of each academic year; and summer academy participants will receive daily meals (delivered weekly). Additionally, the gift will cover the cost for future volunteer and/or community activities.
"In these times we are all facing COVID-19. Families have experienced devastating impact to their overall safety and well-being resulting in economic and food insecurity, as well as uncovering the inequities in healthcare in communities of color," said Dr. Latesha Colbert-Mack, Chair, The R.O.S.E. Foundation. "So, when the TRIO program pivoted to support COVID-19, I am proud The R.O.S.E. Foundation was able to heed the call to help enhance the parent/guardian experience. Helping our community is the core of The R.O.S.E. Foundation."
In March, the Upward Bound Program transitioned to a virtual format in which the staff and students interact online. Students receive academic support and enrichment in the areas of math, science, English, college and career readiness, Spanish, SAT/ACT test preparation and virtual college tours. Through the Virtual Parent University, parents and guardians can learn more about financial literacy, voter registration, diet and nutrition, career and job resources and other resources.
Throughout the years, the Upward Bound Program at MCCC has helped to prepare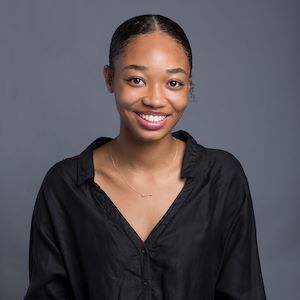 numerous high school students for college and careers, including Imani Flowers.
As a hard-working student, Flowers always knew she wanted to go to college, but she wasn't quite sure of her options.
During the summer before her senior year at Norristown Area High School, she participated in the TRIO Upward Bound Program at Montgomery County Community College. Through this college preparatory program, she visited colleges and universities and learned about the opportunities available for her.
"The program kept me focused on getting ready for college," said Flowers, who learned valuable study habits and skills while making new friends.
The extra work paid off for Flowers, who graduated in 2013 with a 4.2 GPA and headed to Villanova University with a full-tuition scholarship to major in English and minor in Africana Studies and Communication.
"Going to college was life-changing," Flowers said. "I had the chance to follow my passions to learn more about people and culture."
While at Villanova, Flowers took advantage of the opportunity to try new experiences, including studying abroad in Shanghai, China, and Milan, Italy, and interning in the former; writing for the university's newspaper, "The Villanovan;" and serving on the English Department's Student Advisory Board. In 2014, she became a member of Alpha Kappa Alpha Sorority, Inc., Tau Xi Chapter, where she held numerous leadership positions, including chapter president, secretary, social media chair, and was awarded the 2016 Miss AKA and a Leadership Fellow. She also interned at Customer 1st Marketing, Fox 29 Philadelphia, and Allied Integrated Marketing.
Following her graduation from Villanova, Imani moved to New York City to pursue her career in marketing. Starting at Ogilvy in its Associates Program, she was placed on the brand planning team, working on accounts such as IKEA, Citizens Bank, IBM, and Ad Council. Most recently, Flowers is working as a project coordinator at The Soze Agency in New York City.
Looking back, Flowers greatly appreciates what she learned in the Upward Bound Program and especially the guidance she received from Dr. Ronald Whittaker, who was the program coordinator at the time.
"My advice for students is to pay attention and take full advantage of every opportunity you can," she said. "You don't have to figure it all out, but make a plan and work at it."