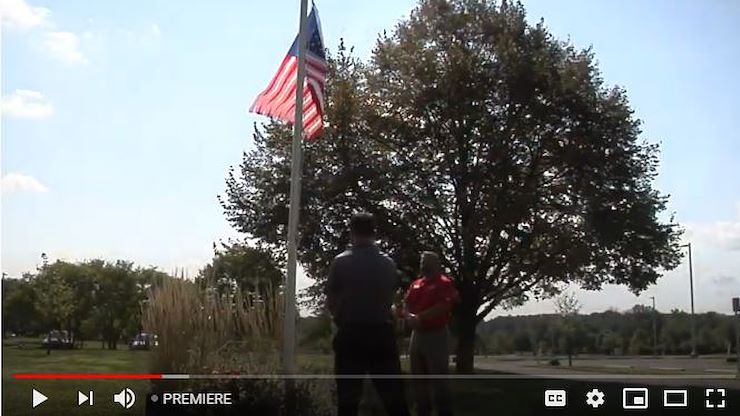 Montgomery County Community College shared a special online tribute today to remember those who lost their lives and their families who were affected and to honor the brave first responders and the military who risked their lives on 9/11 and continue to risk their lives every day to protect us.
Matthew Benko, MCCC Manager of Veterans Services and a veteran of the U.S. Air Force, and Russell Del Rosario, MCCC Director of Campus Safety of West Campus in Pottstown, who was a police officer in New York City on 9/11, hosted the tribute.
The video tribute started at 8:40 a.m. with the lowering of the flag at MCCC's Veterans Resource Center in Blue Bell followed by a moment of silence at the time of the first attack on 9/11. As Benko explains later in the video, the flag flying at the Center is one that flew with him during his several deployments in Afghanistan, Iraq and the Kuwait area.
The tribute includes comments by Dr. Victoria Bastecki-Perez, MCCC President; Sean Kilkenny, Montgomery County Sheriff, MCCC Board of Trustee and veteran; Michelle Brown Nevers, MCCC Executive Director of Enrollment Management who was in New York during the attack; Brad Herron, MCCC alumnus and veteran of the 82nd Airborne Division of the U.S. Army; Eric Bullen, retired Gunnery Sgt. of the U.S. Marines Corps; Russell Del Rosario and Matthew Benko.
MCCC President Bastecki-Perez reflected on the tragic events and the sacrifices that were made.
"It is important that we continue to stand together and never forget those lives that were lost. It is equally important to honor our heroes, those public servants and everyday citizens who were courageous and sacrificed far beyond what we can imagine," said Bastecki-Perez in the video tribute. "Today and every day, I forever remember and show my gratitude for those individuals who perished and are heroes. I encourage you to do an act of kindness today in service to honor and remember."
As part of the tribute, Sheriff Kilkenny spoke about 2001 when he was a captain in the U.S. Army and was stationed in Tuzla, Bosnia. He recalls seeing the planes strike the Twin Towers, and as a former New Yorker, he was concerned about the safety of friends and family, especially his mother who taught second grade in Long Island. He also recalled his visit last year to the Flight 93 National Memorial in Shanksville, Pa., and hearing the phone recordings of those on the plane.
"So people think of Flight 93 and 'Let's roll' and the bravery of those passengers storming the cockpit, which was truly an act of patriotism, but what I remember most are those phone calls and the birthdays and anniversaries missed," Kilkenny said during the online tribute.
Brown-Nevers was working at a college in New York when the terrorist acts occurred and spoke about fearful and anxious everyone felt, but also the strength they found in the time after as they pulled together.
"Again 9/11 is a horrible tragedy and one that I hope this country never sees again. But, it was also a time for all of us to come together. So, to the men and women of the Armed Forces, thank you for all you do, all that you did and all that you continue to do to allow us to keep our freedoms in this country," said Brown-Nevers.
MCCC alumnus and veteran Herron spoke about his time in Afghanistan and the impact of the events of 9/11 on his life.
"What I take from 9/11 now is how precious life truly is," he said in his reflection. "Let's not waste our time tearing down what we dislike about each other, but let's celebrate our common goals and what makes us similar. It's the only way we got through it then, and it's the only way to get through these times now."
During the tribute, U.S. Marines veteran Bullen described the invasions of Afghanistan and Iraq that followed the attacks to dismantle al Qaeda and the Taliban after Osama bin Laden claimed responsibility for the attacks.
"Sept. 11 isn't just the loss of Americans on our own soil, but for me, it's also the friends and Marines I lost in the Iraq War," said Bullen, as he described the events that resulted after the terrorist attacks.
The tribute also includes destruction photographs of Ground Zero shared by Del Rosario, who was a police officer in New York City during 9/11. He spoke about the loss of friends, co-workers and his teammate, Jason DeFazio, with whom he played football.
"I honor those first responders who lost their lives that day. I honor law enforcement and our military who continue to keep us safe and free. I honor them by living life to the fullest, giving back to the community and never taking what I have for granted. And I challenge all of you today, especially our Montco students, to do the same - to reach for your goals and dreams, give back to your community and to never forget," said Del Rosario.
In the final comments, Benko shared the importance of sharing the American flag that was with him and his crew during his deployments and what it meant to them.
"I feel it represents what we have been coming together for as a nation. To preserve our freedom, securities and sacrifices that we all continue to make, those in uniform and those who are not, everyone across the board. It's truly amazing to see this flag, and it's humbling for me to share it with you and the words about why it's so important to me," said Benko, concluding the ceremony.
MCCC remembers 9/11 every year with special ceremonies held on its campuses in Blue Bell and Pottstown. With COVID-19, the College created an online tribute to share with students, employees and the community.