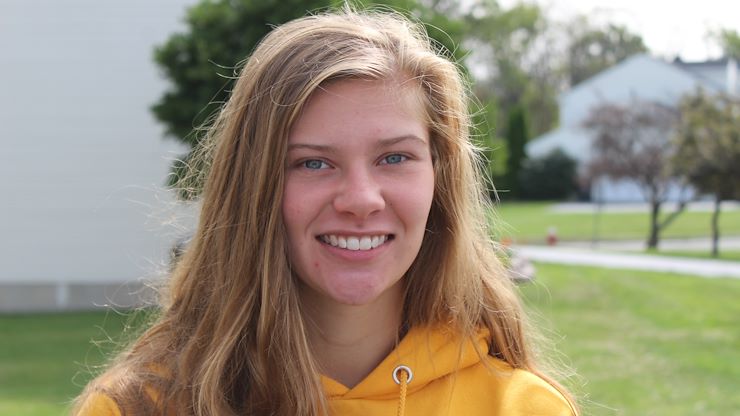 Riley Simon knows what it takes to be a good leader. In and out of the classroom at Pottsgrove High School, the 18-year-old senior from Pottstown, acts as a role model every day as president of the National Honor Society, and as a teammate on the school's field hockey, basketball and lacrosse teams.
This year, Simon did something else that any good leader should do: she followed the advice of her peers and became a dual enrollment student at Montgomery County Community College, setting herself up for a bright future.
"A lot of my friends last year took Montco classes, mostly English, and had good things to say about it," said Simon. "They highly recommended it. They said it helped prepare them for college. So I thought, I might as well give it a try."
The program allows students 15 and older to take campus-based, or online college classes at the College, or at their high school by certified teachers, and earn undergraduate credits, which can be transferred to a four-year college or university. Heading into the fall 2020 semester completely online, Riley admitted she had a few jitters.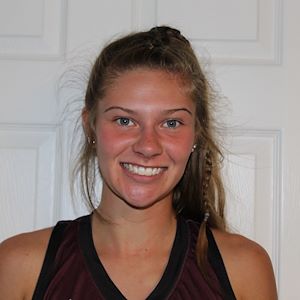 "I was concerned about not being able to get in the class," she said. "At Pottsgrove, we use a program called Schoology where teachers post assignments. I'm comfortable with that. For Montco, I had no idea where to go. After reaching out to friends, they helped me. I figured it out and it was super easy."
Despite any challenges due to the pandemic, Simon enjoyed her first asynchronous dual enrollment course and appreciated the flexibility it gave her weekly schedule. On Monday, Tuesday, Thursday and Friday mornings she attended her psychology and physics classes at Pottsgrove, saving Wednesdays and afternoons every day to work on her assignments for the College.
"The experience was really nice," she said. "(English Senior Lecturer Tammy) Hoffman-Jones was amazing. With everything going on in the world and with us not being allowed to go in and be in person, she still managed to do an exceptional job to the best of her ability. She organized folders in Blackboard, answered emails and I really liked how she gave assignments a week in advance, which gave us the entire week to do it. For the past 11 years, I worked 8 a.m. to 2 p.m. As a senior, it's nice to be done by 11 a.m."
Simon was also glad to be able to close out her last (shortened) season playing field hockey, playing 12 games instead of the usual 18-21 games. While the team's record didn't turn out the way its players would have liked, Simon ultimately was just "glad to have a season."
The dual enrollment program helped Simon grow as a person, said her parents Chris and Lisa Simon.
"The program has been great," said Chris Simon. "One of the main reasons we wanted Riley to experience this is obviously she'll be a freshman next year. We thought it would be a great idea for her to experience college atmosphere, the professors, workload etc. It's been a great experience. Riley has always been responsible, and it was good to see how she handled it all on her own."
"She handled this experience really well," agreed Lisa Simon. "Riley had to take initiative and I think she's definitely grown through this experience."
Outside of school, Simon is a leader in the community. She has worked for five years part time at a local golf course and has gained the trust and respect of her employers to the point where she can be counted on to do whatever they ask of her. "I enjoy it," said Simon. "It's fun, easy and I love the people that work there."
She also gives of her time as a volunteer, though the pandemic has prevented her from doing that as often as she'd like, due to social distancing restrictions. "I used to volunteer at a local soup kitchen," she said. "On Mondays, we would go make a dish of food and help serve it. That's what I miss a lot right now."
Pottsgrove High School Principal Dr. William Ziegler said Simon was one of his school's finest students.
"Riley is a model student at Pottsgrove; she's someone students can look up to," he said. "It's important that she's a three-sport athlete but what's more important is the kind of person she is. She's a person of character and integrity. She's humble and serves other and understands the importance of community."
For the last 10 years, the dual enrollment program partnership between Pottsgrove and MCCC has worked out well in that it's allowed several students to earn a college degree at an affordable rate, he said.
"We've had students graduate high school with an associate's degree," he said.
Simon, like many dual enrollment students, is "laser-focused" on achieving her goals, said Ziegler.
"She's like so many students doing great things," he said. "She's a hard worker, who is committed to what she wants to achieve."
Students in the dual enrollment program also receive access to MCCC's resources, including academic advising, 24/7 online and in-person tutoring, health and wellness services including Talkspace online therapy, digital and technical support, libraries, career services and disability services. In addition, dual enrollment students may participate in student clubs, organizations, activities and events to enjoy the full college experience.
This spring, Simon will take a second English course at Montco and finish her physics and psychology classes at the high school. After that comes graduation, and then she'll transfer to Lebanon Valley College to study secondary education. Then someday soon, she'll be back in a classroom, this time leading the next generation of learners toward their bright futures.