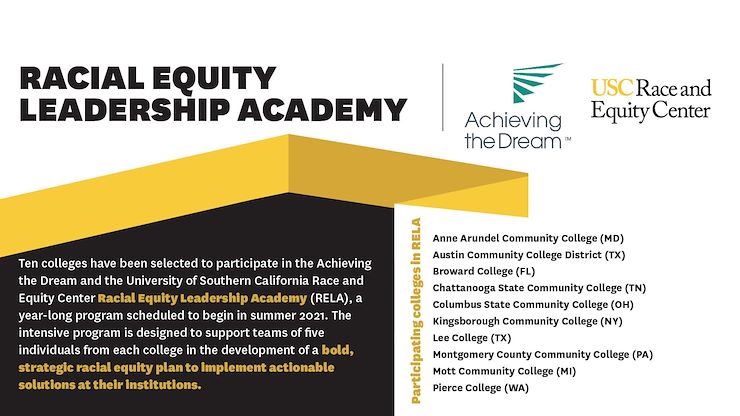 Ten colleges have been selected to participate in the Achieving the Dream and the University of Southern California Race and Equity Center Racial Equity Leadership Academy (RELA), a year-long program scheduled to begin in summer 2021. The intensive program is designed to support teams of five individuals from each college in the development of a bold, strategic racial equity plan to implement actionable solutions at their institutions.
Representing nine states, the ten colleges selected to participate in RELA are:
Anne Arundel Community College (MD)
Austin Community College District (TX)
Broward College (FL)
Chattanooga State Community College (TN)
Columbus State Community College (OH)
Kingsborough Community College (NY)
Lee College (TX)
Montgomery County Community College (PA)
Mott Community College (MI)
Pierce College (WA)
"Achieving the Dream and our network colleges are facing an urgent call to action to address racial inequity on our campuses and in our communities. The Racial Equity Leadership Academy, delivered in partnership with the USC Race and Equity Center, will give colleges the tools needed to drive transformation that is required to meet this moment," said Dr. Karen A. Stout, president and CEO of Achieving the Dream. "We are eager to work alongside these ten colleges as they develop a new vision for their campus equity work."
"COVID-19 exacerbated longstanding racial inequities in higher education, and created new disparities that undermine success for community college students of color," said Dr. Shaun R. Harper, founder and executive director of the University of Southern California Race and Equity Center. "Our partnership with Achieving the Dream will be a significant step in equipping college leaders with the knowledge and tools they need to address these challenges and other racial problems that confront their campuses."
Community colleges who are part of the ATD Network and were in good standing at time of application were eligible to apply for RELA. ATD and USC received an overwhelming response, and selected the top applicants based on a rigorous application and review process. The college teams selected for RELA will convene virtually for an initial orientation during DREAM 2021 on February 19, 2021.
Initially announced at the DREAM convening in February 2020 and slated to take place in July 2020, RELA was delayed until 2021 due to the COVID-19 pandemic as colleges across the country prioritized the transition to remote learning.
RELA has received financial support from The Kresge Foundation and Greater Texas Foundation.
"Kresge is delighted by the strong response to this opportunity, which demonstrates how many community colleges are increasingly prioritizing racial equity and striving to make the changes needed to become more equity-focused," said Caroline Altman Smith, the Kresge Foundation's deputy director of education. "We congratulate the selected colleges and look forward to following their progress on this journey."
With programming based on ATD's Institutional Capacity Framework and tailored to community colleges working to overcome equity-focused challenges, RELA will take place July 26–29, 2021. College teams will work together to develop a strategic racial equity change effort that will be launched at their institution during the Fall 2021 semester.
By the end of RELA, college teams will have identified a racial equity change effort, participated in coaching engagements, developed a new vision for their campus's racial equity work, and launched the rollout of their racial equity change effort with a comprehensive, prioritized action plan. The overall expected outcomes are an increase in student persistence and completion through an intentional design to eliminate structural barriers to equity.
Updates are available on Achieving the Dream's RELA blog.
About Achieving the Dream:
Achieving the Dream (ATD) leads a growing network of more than 300 community colleges from 45 states committed to helping their students, particularly low-income students and students of color, achieve their goals for academic success, personal growth, and economic opportunity. ATD is making progress in closing equity gaps and accelerating student success through a unique change process that builds each college's institutional capacities in seven essential areas. ATD, along with nearly 75 experienced coaches and advisors, works closely with Network colleges in 45 states and the District of Columbia to reach more than 4 million community college students. Follow ATD on Twitter, Facebook, and LinkedIn.
About the USC Race and Equity Center:
The University of Southern California is home to a dynamic research and organizational improvement center that works with professionals in educational institutions, corporations, and other contexts. We help our partners strategically develop and achieve equity goals, better understand and correct climate problems, avoid and recover from racial crises, and cultivate sustainable cultures of inclusion and respect. Evidence, as well as scalable and adaptable models of success, inform our rigorous approach.